"...do not mind what [I] am telling you but also keep on studying your books and work hard because hard work pays....Keep Education first is the key to succes[s]." This advice was offered to me in a letter by a girl at Waa Primary School in Mombasa, Kenya.
It is evident that this girl, like so many other girls at Waa, sees the value of education. I first understood this while conducting an Agree-Disagree debate activity with a group of girls, age 13, at Waa. At the statement "Education is important", all 30 girls flocked to the Agree side of the room. Furthermore, they all intended to continue on to Form 2 (secondary school) after the primary education that was mandated of them by the Kenyan government. They wished to be pilots, doctors, lawyers.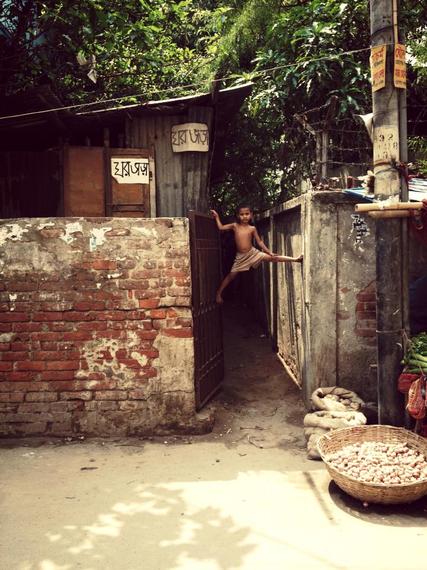 When it came to the statement "I want to be a wife and mother someday", there was a partition in the classroom. First, there was a general movement to the Disagree side. Then, after a few seconds' worth of thought, about eight girls trickled over to Agree. The girls that disagreed, that did not want to have a husband or children, said they didn't wish to be distracted by anything, and that "education is more important".
While they were being sincere, they also managed to be very politically correct. The other girls, the side of the minority, meekly described that they wished to have a family of their own someday, and all nodded in agreement when one girl said that she wished to "give someone parental love." However, even these girls maintained an aura of political correctness--they quickly clarified that they did not wish to have children until their education was completed.
The disconnect between their idealism and potential realities shone when these young women were presented with the statement "I know someone who has dropped out of school." All but five of the girls congregated to my left to signify that they could, indeed, relate to this statement.
The answers were rattled off instantly and didn't take much thought:
1. Poverty
2. Early Marriage
3. Early Pregnancy
The girls had little extra detail to offer. All they knew was all that had been drilled into them like a rudimentary math problem: Education plus prudence equals a good future.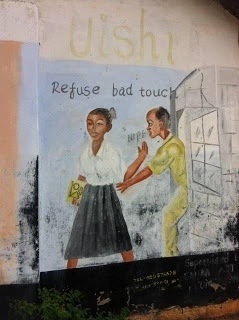 However, if children across Kenya are educated to refuse bad touch, then why is the reality of the situation in Kenya still such a shocking one? According to the International Labor Organization, 13% of all of the world's children experienced sexual exploitation (either community-based or commercial) in 2008. The number in Kenya specifically was 41.3%.
The simplest explanation is one that even the girls at Waa Primary can answer with solemn confidence. They have seen enough to connect the practices of sexual exploitation with general poverty. One girl in Standard Eight had her heart set on being a lawyer. When asked why, she replied,
"I want to help the kids on the street, who have bad homes, so they aren't sold."
The reality that this girl identified is the context in which Rosemary Kamanu works daily. She is the Project Manager of AMREF Kenya (African Medical and Research Foundation--Kenya), and she supervises the rehabilitation of vulnerable street children. Kamanu agreed to speak with me on the phone from Nairobi.
She highlights poverty and instability at home as a key factor in the trend of children forsaking school and entering into world of sex-work. Many of these children come from single-parent households, and this parent often doesn't have regular employment. Subsequently, the child starts offering the one thing that they can--their bodies--to supplement the household income and provide food, rent, and school uniforms for the family.
According to Kamanu, the two primary forms of sexual exploitation of children in Mombasa/ Nairobi are relatively far from the proverbial street corner. The first trend is that of coerced sexual "friendship". Children, primarily girls but also young boys, offer themselves to relatives or acquaintances for a monetary reward, and can then bring home maize flour for the day with the money that they receive at the end of the so-called friendly exchange.
Exposure to this type of sexual friendship with older members of the community, and from an early age, opens the door for children to the second: The bar or club, which doubles as a massage parlor, which is a front for a sort of brothel. Pimps run the brothels, manage the money, and bring in clients. Ultimately, a small sum is left to the young workers themselves, as if they're factory children in 19th century England.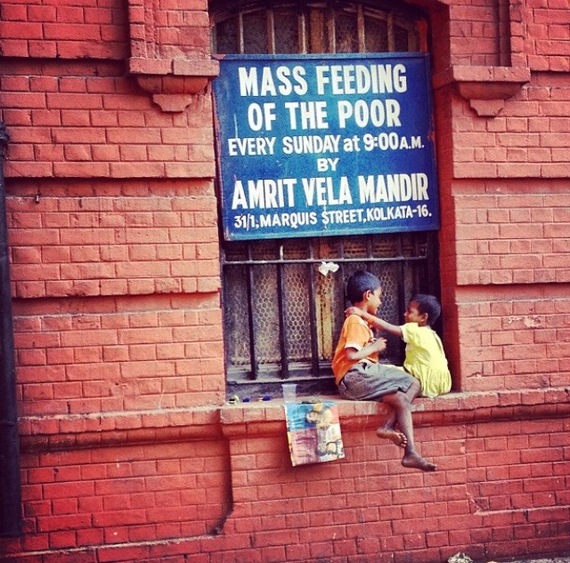 Even if this money is enough to keep them in their uniforms, the nights that children spend in these brothels drain them of the energy they need in order to be mentally and physicaly present in school. Therefore, school becomes less and less of a priority until it dissolves completely from their lives, perhaps making the occasional recurrence.
Often, the issue is deeply rooted in the home environment. Kamanu gave the example of a young girl that her program is continuing to support. This girl comes from a single-parent household with five additional siblings, and she feels the pressure to supplement her mother's income. For a number of reasons, starting with her alcoholic mother's initial inability to pay for a school uniform, she could not manage to stay in school for longer than a term at a time. At the age of nine, she was already involved in multiple "sexual friendships." Currently, she is not enrolled in school, and she also doesn't spend the majority of her time at home, as home is where her mother brings her own clients.
According to Rosemary Kamanu, who works with cases like this daily, the primary factors contributing to children being sexually exploited rather than educated are "...poverty, alcoholism, and especially single-parent households."
The child-friendly mural of an older man approaching a strong-headed schoolgirl with the caption "Refuse Bad Touch" sprawled above is not unique to Waa Primary School; schools across Kenya are proliferated with such anti-sexual exploitation propaganda, and rightfully so. Yet, 50 girls from the ages of 10-15 in Mombasa/Nairobi continue to enter into the sex trade--forsaking their education -- every week.
REAL LIFE. REAL NEWS. REAL VOICES.
Help us tell more of the stories that matter from voices that too often remain unheard.