An exhibition to open in Philadelphia takes on one of Rembrandt's boldest and most controversial innovations: the invention of a more human, humble and accurate face of Jesus.
One of Rembrandt's greatest paintings normally resides on the north side of the Louvre, the 1648 Supper at Emmaus. While small in scale (60 x 60 cm), it is the crowning achievement of Rembrandt's great obsession with his favorite story of the gospels. It shows the moment after the resurrection, when an unrecognized Jesus casually joins two dejected disciples leaving Jerusalem after his crucifixion. They've heard rumors about his resurrection, but are confused and he explains the meaning and necessity of his death to them, and they pull him aside in nearby Emmaus for dinner. As he breaks challah bread, they recognize him in great shock, but just then he disappears.
Rembrandt loved the story's potential for showing ignorance, revelation, miraculous appearance and the problem of showing a resurrected Jesus realistically. This painting has been cleaned, and is now a revelation of light, texture and subtle color. In this painting, Rembrandt debuted his new, humble Jesus, but it was only one of many ways he tried to make the scene more primitive and historically accurate. Below the table, the dog (probably a reference to the gentiles) has a solid red eye, a psychotic touch in this mystical yet earthy work.
When Rembrandt sought bankruptcy protection in 1656, the detailed inventory of his handsome house in the Jewish quarter listed three paintings called Head of Christ. One of them, in the small studio (where you would expect to find sketches) was called "Head of Christ after life," showing that even the court clerk knew what is otherwise obvious yet still controversial today: that Rembrandt had posed a living and probably Jewish model for this experiment.
These three "heads" are likely among the eight small oil sketches on wooden panels that he (and his studio?) made, seven of which survive. In Rembrandt and the Face of Jesus, powerful and emotional panel portraits of Jesus are reunited for the first time since 1656. When the exhibition is presented at the Philadelphia Museum of Art (Aug. 3-Oct. 30) and the Detroit Institute of Arts (Nov. 20 to Feb. 12), the great Supper at Emmaus will also appear for the first time in the United States since 1936.
The oil sketches depicting Jesus show a humble, gentle face in contemplation with different expression and different casts of the rich subtle light by which we know Rembrandt.
We don't think of Rembrandt, a Protestant artist in a remarkably free country, as being tied to tradition and using canonical models. Up to his own day, however, sticking to models for the face of Jesus that had miraculous beginnings was still an important, if not a dominant rule that we see followed in his early works. Representing the Christ with the high forehead, shallow feminine features, long nose and narrow mouth familiar from early Christian and Byzantine icons, artists were obsessed with the true image of Jesus. The stories of Veronica's veil, the Lentulus letter and the Mandylion of Abgar of Edessa were still being printed and used by artists in the age of Newton and van Leeuwenhoek, all the more so after the Protestant reformation.
Rembrandt was raised in a liberal reformed family in Leiden, and worked for Baptist, Lutheran, Catholic, Mennonite, Jewish as well as Liberal and Orthodox reformed clients. He was a manic illustrator of the Bible, taking on many subjects never before seen in art, clearly reading the Bible carefully for himself and also using other books, like Josephus' Jewish Histories (he had a German version) as well for extra details to improve the accuracy of his images. This freedom to interpret the Bible for himself is familiar from Protestant theology, but he takes on a new task in making Jesus human, as well as divine, through his realism.
One of the most controversial aspects of this exhibition has been the question of the Jewish Jesus, the subject of two recent exhibitions, one in Amsterdam and the other in Paris, which were divided on the question of whether Rembrandt was a "friend of the Jews." The myth of the Jewish Rembrandt, one who used Jewish models for a huge range of works, has undergone dramatic revision in recent years, so, for example, we understand the famous "Jewish Bride" as a illustration of a theatrical play of the time, and not a portrait of a Jewish couple, and that not all of the old men in Rembrandt's works are Jewish.
Nevertheless, the bare fact that he illustrated a messianic tract on the Book of Daniel for the renowned Rabbi Menasseh bin Israel (Spinoza's teacher) cannot be refuted. He did so at the moment the Rabbi was engaging Protestant theologians in an unprecedented dialogue on common ground. Documents about his financial quarrels with the Pinto family on the right side of his house, for instance, are lately taken as evidence of anti-Semitism, rather than as more obvious signs of worsening financial peril on Rembrandt's part. While there's no proof the famously querulous artist had any friends, Jewish or otherwise, his engagement with humanity in his art, including his images of Jewish subjects, show an intense engagement with their common humanity.
Rembrandt's house was in the middle of what had become the favorite quarter for Sephardic refugee merchants, where they would soon build the imposing Esnoga or Synagogue. Scholars are correct to point out that his accurate portrayal of challah in the Supper at Emmaus, the details in Christ and the Woman taken in Adultery (London) taken from the Bible and Josephus, and the sketches of Jewish models from life are all ways Rembrandt sought to deepen the expression and impact of his Christian art, rather than explorations and signs of respect for contemporary Jewish practice after the manner of Romeyn de Hooghe and Emmauel de Witte. As a "history" painter and portraitist, we should not expect him to be a reporter on contemporary life, and frankly it cannot be more respectful than to find common ground, common faith and common humanity with his neighbors.
Lloyd DeWitt
Associate Curator, John G. Johnson Collection/Philadelphia Museum of Art
Editor of Rembrandt and the Face of Jesus published by the Philadelphia Museum of Art in association with Yale University Press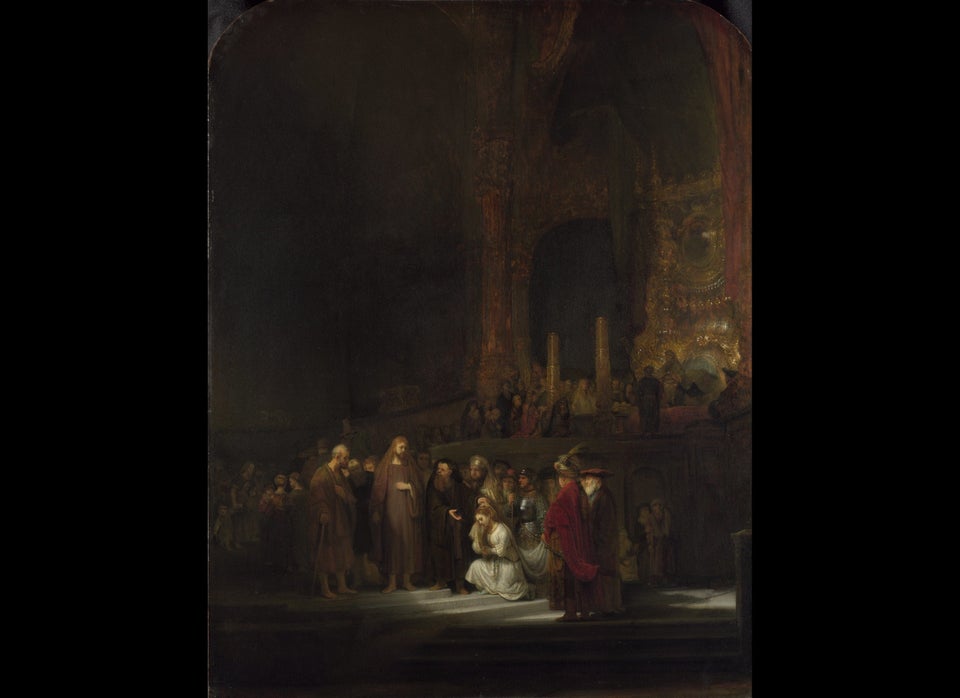 Rembrandt and the Face of Jesus
Popular in the Community