The world of public health and vaccines got a little dimmer on Wednesday, May 28, when one of our leading lights, Dr. Ciro de Quadros, passed away at the age of 74.
In describing Dr. Ciro de Quadros, I could list the dozens of awards and accolades he received for his groundbreaking contributions to the field of public health. I could talk about his personal charm, sense of humor, fiery belief in his principles, or the energy that kept him working well into his 70s.
The most important thing to know about Ciro is that he was a tireless champion for children, and his efforts have saved countless lives and spared millions from unnecessary suffering. He was also a wonderful mentor and friend to many in the field of global health.
Our personal lives have been intertwined since the 1970s, but our professional lives only came together in the past 20 years. Ciro and my father, Dr. Myron Levine, became close through their work as "smallpox warriors" in the 1970s--my father in Bangladesh and Ciro in Ethiopia as the World Health Organization's Chief Epidemiologist for Smallpox Eradication. On October 31, 1977, the world's last case of endemic smallpox was diagnosed and contained in Somalia. It was a groundbreaking achievement in which Ciro, who led the World Health Organization's program in neighboring Ethiopia, played a pivotal role.
With smallpox eradication achieved, Ciro returned home to join the Pan American Health Organization (PAHO). By 1981, he set his sights on eradicating polio in the Americas--another goal considered unrealistic by his colleagues. A testament to his drive and passion, Ciro strategically orchestrated immunization efforts in spite of civil wars and armed conflict in Colombia, El Salvador, Peru and other countries, and by 1991, Peru reported the last confirmed case of wild polio in the Americas.
In typical Ciro de Quadros style, he was still unsatisfied, still eager to aim higher and achieve more. So, after smallpox and polio, Ciro next applied his expertise and passion to stopping the transmission of measles (in 2002), and then rubella (in 2009) in the Americas. In his later work in immunization financing and increasing vaccination against pneumonia, rotavirus, typhoid and neglected tropical diseases, Ciro reinforced the value of clear objectives and collective buy-in--but underscored the importance of flexibility in translating approaches to different countries and different diseases.
Although I knew Ciro a long time--believe it or not, he was at my Bar Mitzvah in 1980--our professional relationship got off to an uneven start. In the mid-1990s, I was working as a CDC epidemiologist and trying to get Hib vaccine introduced into developing countries in Latin America (and elsewhere) by advancing an agenda that included using fractional doses of Hib--essentially buying a single dose vial and then using it to vaccinate two or more kids by splitting the dose into two or more smaller doses.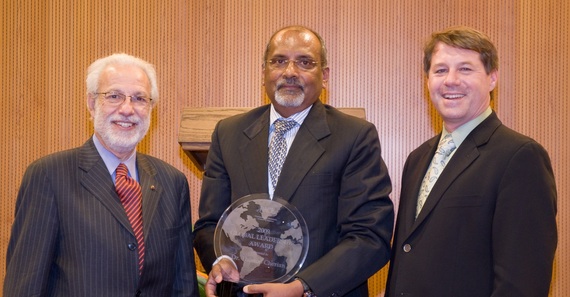 Ciro de Quadros and Orin Levine deliver the PACE Global Leadership Award to WHO's Thomas Cherian, 2010
Ciro, who was head of vaccines for PAHO, heard about the work and summoned me into his office to find out why I was making this fuss in his region about off-label vaccine use. The meeting left an indelible memory. Ciro maintained that this was off-label use and shouldn't be promulgated.
I asked him, had he ever bucked the establishment or bent the rules to meet a public health objective when he was young? (In fairness, I knew he was a bit of a maverick in his younger years). He responded by telling me that he was going to solve the Hib introduction problem in PAHO on his own (he did), and that the studies we were doing weren't needed (they ultimately weren't). But at the same time, with a wry smile and a wink, he also let me know that while he needed to take the official position now, he remembered being a young rule-breaker himself and wasn't really all that mad about it. I left feeling both frustrated by his official position and feeling like we had connected on a certain level.
By 2006, Ciro was Executive Vice President of the Sabin Vaccine Institute and he invited me to co-chair the Pneumococcal Awareness Council of Experts (PACE). Through our work to improve uptake of pneumococcal vaccines in country after country around the world, Ciro taught me a great deal and became a valued mentor and friend. Above all, he taught me to have high expectations for my team and higher expectations for myself. He was a leader by example. Most importantly, to me, he exemplified what can be accomplished through the determination of a single, visionary individual.
When Ciro was asked to say a few words to commemorate the 30th anniversary of smallpox eradication, he said, "My experience with smallpox eradication changed my life entirely." He went on to explain how it helped him appreciate the power of public health and the tools we use to achieve it.
But in reality it was Ciro who changed so many lives. His experience with smallpox eradication and the dedication, expertise and drive he brought to everything he did for global health in the years that followed entirely changed the lives of millions of others as well.
Ciro de Quadros showed us all that world's biggest, most ambitious and most challenging problems are the ones that are most worth solving--and the ones that will leave the most important legacy. And on an individual level, as a mentor and a friend, he changed the lives of many people in public health and vaccines, including mine. For that, I and many others will always cherish his memory.