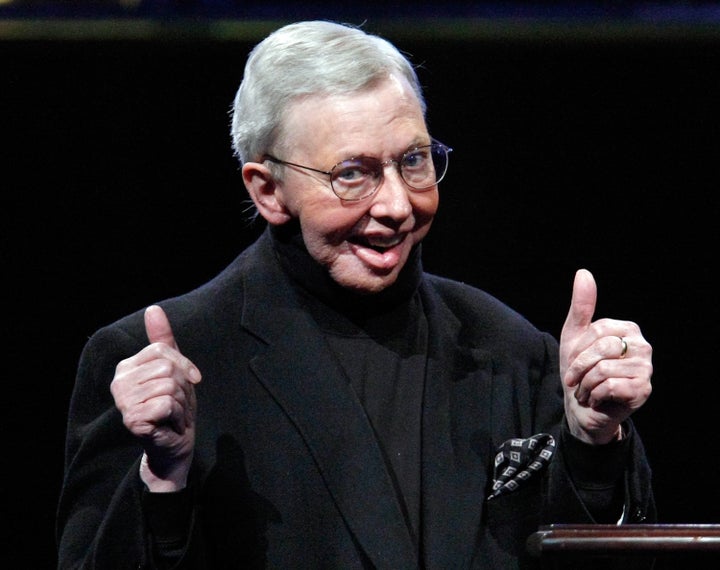 I emailed Roger Ebert yesterday morning with "healing thoughts." When I got the news a few hours later that he had died, the shock rivaled the sadness. He had been living for so many years in a diminished physical condition -- but an ever-brilliant mental state -- that we almost forgot it couldn't last. After bouts with cancer of the salivary gland, he was unable to speak or eat, but that didn't stop him from writing passionately about films.
It's common knowledge that Roger was a smart, witty, opinionated cinephile. He didn't just review movies, but contributed to film scholarship with DVD commentaries and books that revealed his gift for appreciating each film within its own terms. But I got to know another aspect of Roger through our many years of co-hosting the Cannes Film Festival Closing Night for Bravo and IFC -- namely his generosity. It was Roger who recommended that I be his on-camera partner, and he always treated me with respect, kindness and unfailing humor.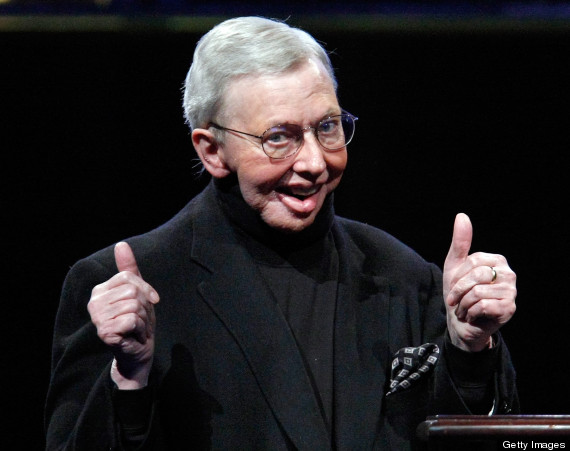 In 2000, we did our Closing Night show live, with me backstage and Roger on the red carpet of the Palais. Although he was leery of having to catch celebrities ascending the stairs while hundreds of fans cheered a few yards away, he gamely waved to a few stars. Jodie Foster stopped on her way up to Cannes President Gilles Jacob, and she spoke to Roger on -camera -- which led to the French bemoaning her late arrival at the Palais entrance on top of the stairs.
After the show, he asked me to remind him never to do celebrity catching again. He even e-mailed me the following year, still shaken by this experience: "I was intensely uncomfortable standing there like a goon shouting at the stars to come over, while the guards threatened to evict me." Roger was never one for sound bites, preferring substantive discussion.
He was a real gentleman about my books. When he learned about the impending publication of Double Lives, Second Chances: The Cinema of Krzysztof Kieslowski, he quickly read the manuscript, and sent the blurb, "An invaluable introduction to one of the greatest of all filmmakers." It therefore seemed appropriate that the film I was showing in my class at Columbia University when I learned of Roger's death was the first segment of Kieslowski's "Decalogue." It was not only because he championed the work of this brilliant Polish director (whose even more untimely death was at the age of 54). "Life is a gift," says one of the characters to her inquisitive young nephew, who is asking her the Big Questions about life, death, and faith.
Roger probably experienced the meaning of this line this more intimately than most people. For many years, he had been close to death, bravely refusing silence even when having a voice could no longer be literally true. A lesser man might have succumbed to grief and depression, but Roger developed a resounding "virtual" voice online, continuing to celebrate the films worthy of attention.
More to the point, a lesser woman than his wife Chaz might have yielded to despair. Instead, she enacted a supreme daily devotion that enabled him to watch movies, write about them, and share his insights with fans: what other film critic could boast 800,000 Twitter followers?
When I wrote to Roger in 2010 that my mother had died, he replied, "I'm sorry to learn that about your mother. I guess no one is indestructible, me included..." He knew that his days were numbered, and he filled them with as much intelligent love of film as possible.
For those of us who were lucky enough to know Roger, his life was a gift.
Annette Insdorf, Director of Undergraduate Film Studies at Columbia University, is the author of PHILIP KAUFMAN.
Popular in the Community