In 2000 I purchased a diamond ring for my future wife. My trip to the jewelry store was slightly stressful (not to mention expensive), but I left with a diamond and married shortly afterwards. That summed up my experience with diamonds until June 2015, when I traveled to Botswana through the US International Information Programs (IIP) Speaker Program. Botswana is a country in Southern Africa with just over two million people and one of the largest diamond-based economies in the world. Diamonds have allured brides and grooms for eons as they continue to be one of the few goods that rarely lose value. The discovery of diamond deposits in 1967 transformed Botswana from one of the poorest countries in Africa to one of the fastest growing economies in the world. But Botswana's diamond revenues are on the decline, and mining is projected to end in 2050. To survive, the country has an urgent need for economic diversification..

Though it's not obvious at first glance, my hometown of Cleveland, Ohio, has a lot in common with Botswana. A century ago Cleveland had a booming manufacturing economy (the equivalent of Botswana's diamond deposits). At that time Cleveland was the fifth largest city in the US and was full of leading entrepreneurs including John D. Rockefeller.

Cleveland's business and political leaders never envisioned a time when their manufacturing power would decline, but within a few decades, Cleveland's population dropped to the 47th largest city in the US as its economy spiraled downwards. In 2001, Entrepreneur Magazine ranked Cleveland 61st out of 61 US cities for support of entrepreneurship. Cleveland had hit rock bottom.

To address the situation, Cleveland's business, political and foundation leaders came together about ten years ago and developed a start-up community with an array of initiatives to provide investment and support for entrepreneurs. (If you're interested in learning more about Cleveland's recent journey in supporting entrepreneurs, I invite you to peruse "Beyond Silicon Valley: Growing Entrepreneurship in Transitioning Economies," a free online course that I developed for Case Western Reserve University on Coursera. You'll be joining a whole host of people tackling this issue around the world! Since my course launched in April 2014, I've traveled to many cities and met with some of my 55,000+ students who are searching for creative and implementable strategies to support entrepreneurs in their communities.)

The US Embassy in Botswana invited me to meet with entrepreneurs and representatives from small and medium enterprises, business associations, the Government of Botswana, and commercial banks. For several days, we explored how Botswana might continue to develop a local entrepreneurial ecosystem and diversify its economy. The Microsoft Innovation Center hosted the discussions at the Botswana Innovation Hub in Gaborone.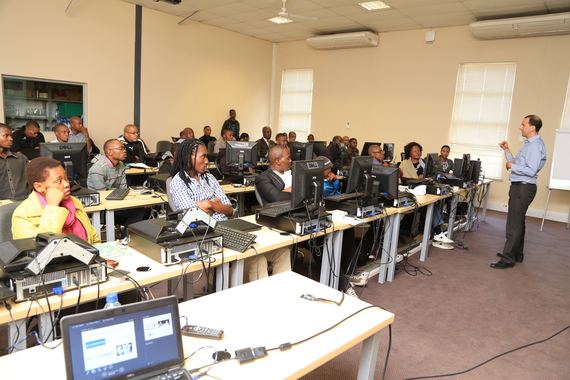 Case Western Reserve University Professor Michael Goldberg leading a discussion on strategies to support entrepreneurship at the Microsoft Innovation Centre Botswana

Botswana's entrepreneurs face challenges in finding strong mentors and access to early stage capital. The government has funded several agencies and initiatives to support entrepreneurs, but the effort has not been enough. For two days, we examined tax incentives for angel investors, government and donor funding for seed accelerator programs, government sponsored venture capital funds, and other assistance programs the government offers to entrepreneurs. The roundtable discussion was intense and engaging--I listened as people worked out how they might implement some of the programs "Botswana style."

Botswana's leaders had common interests but had not "engaged one another in a round table manner to find solutions," according to Banusi Mbaakanyi, Chief Commercial Officer from the Economic Diversification Unit of the Botswana Ministry of Trade and Industry.

After two days, participants formed concrete, realistic plans to support entrepreneurs in Botswana in the near future. "The roundtables were very helpful in looking at the issues and challenges of entrepreneurship in Botswana, especially the funding of technology based start-ups," noted Patel Barwabatsile, Director of the Microsoft Innovation Centre Botswana. Patel and others pointed out that growing angel investment in Botswana was an area of opportunity for entrepreneurs in Botswana.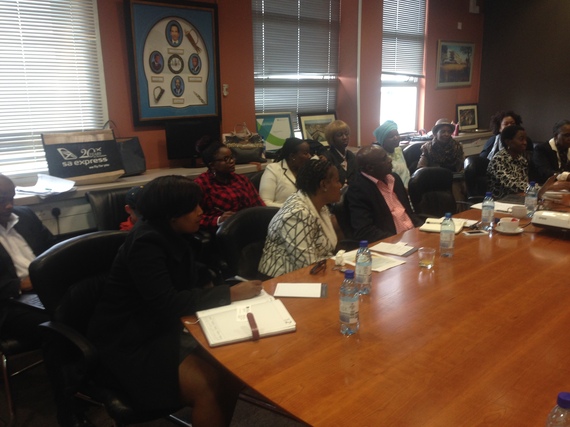 Roundtable participants sharing ideas regarding how to increase access to capital and mentoring in Botswana

"The roundtable discussions were very useful because Botswana stakeholders clarified access to finance and business mentorship resources as the key challenges facing entrepreneurs," said Earl Miller, US Ambassador to Botswana. Ambassador Miller, who hails from Flint, Michigan, a community which like Cleveland, is working to reinvent its economy from its traditional manufacturing base added: "We are committed to assisting Botswana to meet these challenges so Botswana can continue to diversify its economy and address unemployment."

Sometimes just getting together for a conversation is what people need to spark a discussion and take action. I am thrilled that I could be a part of starting an important dialogue in Botswana and am eager to see their entrepreneurial community take off!
REAL LIFE. REAL NEWS. REAL VOICES.
Help us tell more of the stories that matter from voices that too often remain unheard.