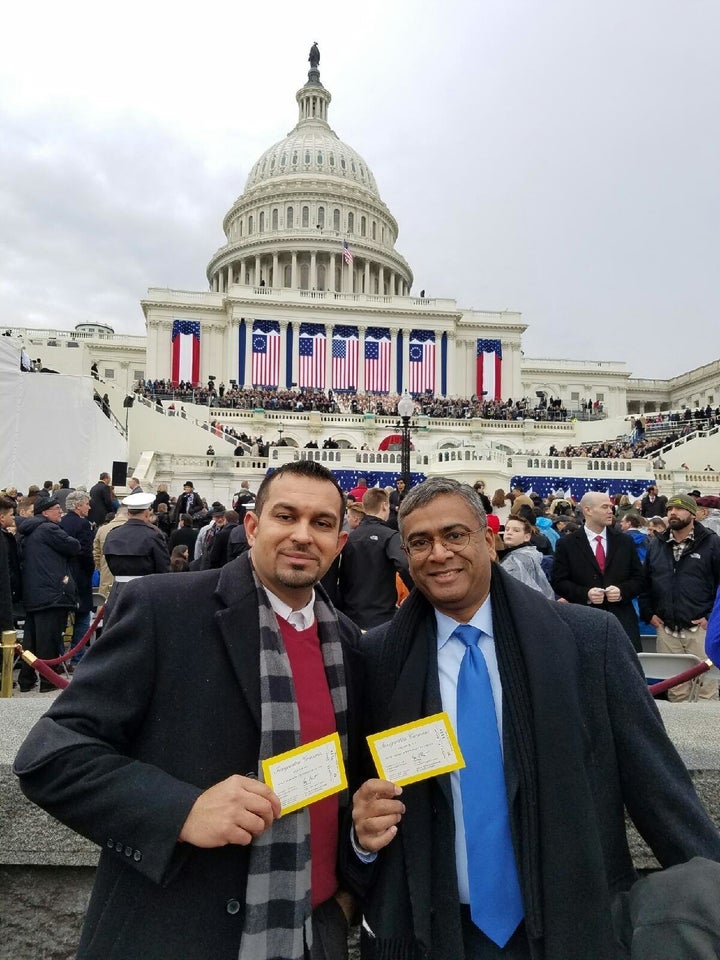 This is Ritesh (his friends call him Rick) Desai and Tony Patel. They're in Washington D.C. for the inauguration. Desai is the one in the red sweater. He is a staunch Republican and believed all along that Trump would win. Patel is the one in the blue tie and shirt. He's a die-hard Democrat. He supported Hillary Clinton. He calls her "Hillary."
The two Indian-American men own an architectural and construction material business together in Georgia and have been politely bickering about politics for years. At a time when partisan politics seems to have split the country into a bitter place, Desai and Patel offer proof that it's entirely possible for Ds and Rs to be Fs (friends, that is).
"Right now he's on a high. He gets to put Trump stickers everywhere," the 52-year-old Patel says of his Republican friend.  "I'm letting him enjoy the moment."
Desai laughs remembering the time in 2008 he came into work one day, and Patel had put up Clinton stickers everywhere. "It was OK," the 40-year-old Desai says now. He put up Romney stickers at work in 2012.
The morning after Election Day this year there was no rubbing it in. Desai knew his friend was in shock ― like a lot of other people Patel had thought Trump didn't have a shot. Desai gave him his space. "I took the high road in not rubbing it in," he said.
They traveled up to D.C. from Georgia on Thursday afternoon to attend a fundraiser with a business partner. Desai told The Huffington Post on Friday morning that he was feeling "amazing" to be at Trump's inauguration. 
Patel had a different take. "Honored to have seats to witness the inauguration," he said in a text message. "Campaign 2020 starts soon for my team, but today is about America."
Over the years their discussions about politics have been heated, for sure, they said. Recently they had some intense exchanges over Donald Trump's tweets about revered civil rights icon Rep. John Lewis (D-Ga.).
However, both agreed that it's pointless to demonize the other side. You have to be able to talk to those you disagree with, they said. "You can have a conversation," Patel said, adding that you can't just reflexively shoot down everything a Republican says. "Some Republicans were doing that to Obama. That's not the right move. You should meet in the middle."
Calling all HuffPost superfans!
Sign up for membership to become a founding member and help shape HuffPost's next chapter