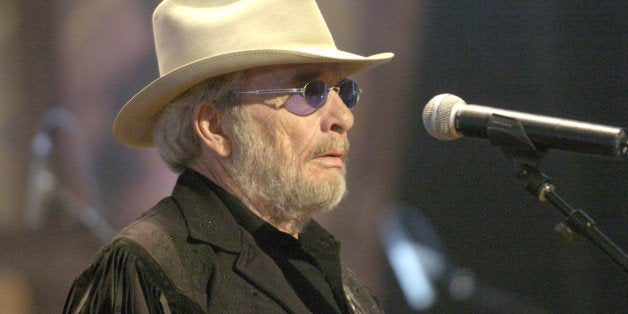 With the death of Merle Haggard, an often overlooked, underestimated era of American culture has almost passed. Willie Nelson is now the last man standing. He, along with Dolly Parton and Loretta Lynn, are the last living giants of country music's golden age.
Perhaps there's a new such time already in the making. Or there'll be another somewhere down the line. But, as of today, those three are the last of a certain breed of truly greats.
If there is ever a Mount Rushmore of country-music icons, Merle and Willie will be carved into it. So will Dolly and Loretta. But the list of other worthy candidates figures to be a mite crowded. The "Ol' Singing Brakeman," Jimmy Rogers, would be high on it, since he ushered in the period and invented the genre during the 1930s. So would Roy Acuff, he of "Wabash Cannonball" fame. Hank Williams, certainly. And, of course, George Jones, Johnny Cash, Patsy Cline and maybe Waylon Jennings. It would take a big mountain to accommodate the whole lot of them.
Opera, symphonic music, rock, the blues, hip-hop and so on all have their influences on our culture. Country music, when it's mentioned at all, often is treated as a kind of bastard child. Sometimes as just an afterthought, even as an embarrassment -- "white trash" talk and all that. But there is nothing more American than the best of country music. Yeah, and I subscribe to the old theory that if you really want to know what's going on in our United States -- if you want to understand the hearts and minds of a large segment of America at any given moment -- listen to country music and you'll know.
The struggles and heartaches, the fears and hopes, the angers and resentments are all there, in songs about mama, broken romances, alcohol, pick-up trucks, trains and prisons; raw and real, with the texture of tears, the smell of dirt and sweat, and echoes of our past -- a haunting reminder of from where we came and who we are when we're not pretending.
So, so long Merle. See you on the other side. In the meantime, rest in peace knowing that your music is eternal.
REAL LIFE. REAL NEWS. REAL VOICES.
Help us tell more of the stories that matter from voices that too often remain unheard.