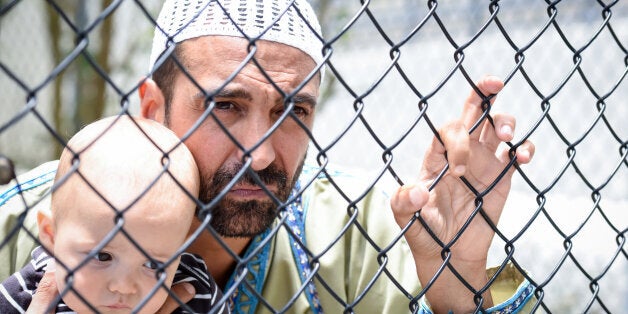 Growing up as a child in a land more than 8,000 miles away, I found myself struggling to discover my career goals for the future: a terribly colossal WNBA player with sublime power and agility, a frightening detective with an unprecedented ability to catch murderers, a princess with blinding radiance and pulchritude. Within a matter of weeks or months, however, these potential career choices lost their appeal. It was not until I had become 10 years old and had visited Al Husn with my uncle that I became certain of exactly what I wanted to do.
A makeshift refugee camp fraught with abject poverty, rampant corruption, and--perhaps most afflicting of all--preventable deaths, Al Husn is a Palestinian refugee camp in Jordan that is home to more than 55,000 evacuees. Denied easy and affordable access to basic health care, residents of this camp frequently rely on the aid of pro-bono doctors, like my uncle, to offer them health services. The sights from my first visit continue to resonate strongly with me, even after 13 years. I saw an elderly tuberculosis patient whose brittle body looked as if it could shatter into a million pieces. I heard a haunting outcry from an elderly woman pleading for my uncle to see her husband, a decrepit, jaundiced old man with a severe case of Hepatitis A. I listened as Alia, a 15-year-old wife and mother, expressed her yearning to go back to a time when she was not married to a 53-year-old man and exposed to grueling and debilitating rape on a regular basis. Fearing the stigma and the risk of reprisal, Alia remains silent. "Atfali bihtajooni oo lazem adeer bali a'lehom. Hada naseebi." My children need me, and I must support them. This is my fate.
Every summer, when I go back to Jordan, my uncle and I continue to visit the residents of Al Husn. In the meantime, here in the US, their stories influence my daily decisions. It is directly because of my early experiences at Al Husn that I chose to obtain a bachelor's degree in Psychology at UC Berkeley and a master's degree in Global Health Sciences (mental health emphasis) at UC San Francisco. Now, I spend my days working at Stanford University with children and families who have various mental health problems.
I recognize the immense privilege I have had so far in my life; most notably, enough money to arrive to this country and resources to help me apply, enroll, and subsequently graduate from these universities and pursue professional experiences afforded to relatively few people. I did not experience war and did not have to worry relentlessly about the safety and security of my family. As a native Syrian whose family settled in Jordan and subsequently in the US and at a time when at least 12 million Syrians have been forcibly displaced from their homes, I do not take these privileges lightly.
Perhaps more important than acknowledging my privilege--although generally less discussed--I am aware of the responsibilities that emanate from my privilege. I have a responsibility to raise my voice on behalf of those whose voices are not heard and raise awareness about the refugee crisis. At a time when the US continues to deliberate over the number of Syrian refugees we will accept into the country, I have a responsibility to push our government to accept one more refugee--a refugee who, under different circumstances, could have been me; a refugee who, under these circumstances, is one who deserves the same chance at being in the States as I. With the educational and professional experiences I attain from the US, I have a responsibility to ensure Alia understands that being exposed to invasive rape on a daily basis is not her fate. And today, 13 years later, Alia is working on obtaining her PhD in Counseling Psychology at the University of Jordan, having left her abusive husband 5 years ago, but yearning to go back to Al Husn and remind women like her that their fate lies in their hands.
REAL LIFE. REAL NEWS. REAL VOICES.
Help us tell more of the stories that matter from voices that too often remain unheard.