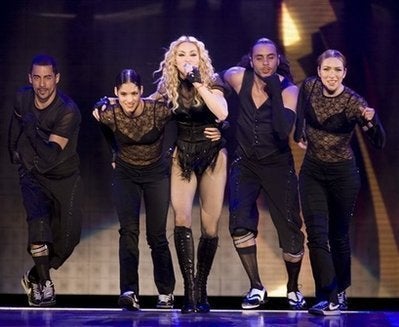 Hit Man
By David Foster with Pablo F. Fenjves
Pocket Books, Simon and Schuster
November, 2008
209 pages
The most entertaining celebrity memoirs have more than a strong central character. They have a star-studded supporting cast. That's what made Barbara Walters' Audition a bestseller. She's hung out with movie stars, presidents and dictators -- how many other people can describe what it's like to be ogled by Fidel Castro? David Foster's Rolodex can't quite match Barbara's, but the record producer's new autobiography, Hit Man, has enough juicy celebrity tidbits to satisfy even the most rabid fan of Entertainment Tonight.
In 40 years of creating hits and winning 15 Grammy awards, Foster has worked with many of the biggest names in pop music. And since Foster, unlike many musicians, never got into drugs, he actually remembers everything that happened. What was Madonna doing lying on the floor of a recording booth moaning, "I just need a man, I need to be with a real man"? What reptile slithered over the sound board at a Michael Jackson session? What perfectly reasonable proposal that Foster made to Frank Sinatra brought this response: "Why the fuck would I want to do that?" And how did Foster get Barbra Streisand to do something she never does: stand up at a private party and burst into song?
Foster himself is an interesting centerpiece. Raised on Vancouver Island, British Columbia -- not exactly a show business mecca -- he became fixated at age five on playing the piano. He dropped out of high school when he and some buddies decided to take their band to London. They gained a bit of exposure playing behind Chuck Berry on a British tour, and Foster was so nimble on the keyboard that he was invited to go around the world with Cat Stevens. But the young Canadian, still in his teens, was too homesick to accept. He asked his parents to send him plane fare to get back to B.C.
His first big break came as keyboard player for a Vancouver band, the one-hit wonder Skylark, which cracked the Canadian and American charts with a song Foster co-wrote called "Wildflower." That brought him to the real music town of Los Angeles, where he found his life's work-- not as a performer but as a session player and eventually a songwriter and producer. Foster's success came from self-confidence and sheer audacity. How many white boys from Canada would have thought they could write a song for the great Earth, Wind and Fire? Foster did. The result was his first Grammy winner, "After the Love Has Gone." Early in his career, Foster wrote and produced many hits with Chicago, but only after he bullied the group into changing course. In their first encounter, the group played 13 songs they intended to put on Chicago 16. Foster's reaction, as he remembers it, went like this: "I've been a fan, but these songs suck. If I'm going to produce this album, we're going to have to write 13 new songs, because this isn't even close to what you should be doing."
More than his work with established artists, Foster's greatest gift to the world is his ability to recognize and nurture new singing talent. He helped make international stars of a French-Canadian child prodigy who didn't start learning English until she was 18 (Celine Dion), an Irish family band complete with fiddles (The Corrs), a 17-year-old LA kid whom Foster first heard on a tape sent by a voice coach (Josh Groban) and a young man from a family of Canadian fishermen who was "doing lots of forties stuff" (Michael Bublé).
With a highly commercial artist roster like that, Foster will never be a favorite of music critics and hipsters. He produces popular music -- really popular music for the masses. And as long as he keeps forging gold and platinum, he sees no reason to kowtow to music snobs. Romance is his forte, and he knows it will never lose its appeal. "I can't be Bruce Springsteen," writes Foster, "much as I might fantasize about being a rocker. I can only be who I am, and who I am is a guy who writes music that people make babies to -- and I'm not going to apologize for it."
While Foster obviously thinks well of himself, his writing style is self-effacing, and he doesn't mind admitting things that a less secure professional might find too embarrassing to publish. For example, one of his biggest hits, his classic production of Whitney Houston's "I Will Always Love You," was not the mix he really wanted. It was an early mix that Foster had rejected but record mogul Clive Davis insisted on. On other occasions, Foster's hit radar failed him totally, as when he passed on producing the soundtrack for Flashdance. He recalls thinking, "Welder by day, disco dancer by night? Are you fucking kidding me?"

Foster also lays bare his personal foibles. He's so claustrophobic that he will climb up 20 flights of stairs rather take an elevator, and one time when the stairs were locked, he did a radio interview with Howard Stern from the sidewalk below Stern's high-rise studio. A confessed workaholic, Foster mournfully surveys the wreckage of three marriages, while taking consolation in the fact that five daughters, including one he gave up for adoption, have turned out all right. He reveals what possessed him to broadcast his dysfunctional life with third wife Linda Thompson and two spoiled stepsons in the TV reality series The Princes of Malibu. The show was so real that Foster left the family soon after production wrapped.
By far the most bizarre episode in Foster's busy life was the time decades ago that he was driving his Chevy Suburban on the Pacific Coast Highway near Malibu in the middle of the night. He suddenly saw something on the pavement and before he could stomp on the brakes, he smashed into a nearly naked man, knocking him 90 feet down the road. The victim, wearing nothing but a pair of shorts, turned out to be Ben Vereen. Yes, it was the famed actor-dancer, and he survived and recovered, as we know. In fact, David Foster saved Vereen's life that night. He would have died for sure if Foster had not accidentally run him down. Sorry to be a tease, but you'll have to read the book to see how that could possibly be true and why Vereen was wandering across the road in the first place.
The most entertaining memoirs, and Hit Man qualifies, have elements that are stranger than fiction. Michael Jackson? Madonna? Running into Ben Vereen on the highway? You just can't make this stuff up.
Calling all HuffPost superfans!
Sign up for membership to become a founding member and help shape HuffPost's next chapter