Richard Sherman walked the walk. Then he talked the talk. He talked it LOUDLY. The Seattle Seahawks' All-Pro cornerback delivered a WWE-style, post-game rant for the ages after he sealed his team's spot in Super Bowl XLVIII.
In the climatic moment of the Seahawks' 23-17 win in the NFC Championship Game, Sherman tipped away the San Francisco 49ers' bid for a go-ahead touchdown with 22 seconds remaining. The pass thrown by 49ers quarterback Colin Kaepernick had been intended for wide receiver Michael Crabtree. It never reached him. Sherman deflected the ball and it was intercepted by Seahawks linebacker Michael Smith in the end zone.
When Erin Andrews of FOX caught up with Sherman on the field a short while later, he was understandably fired up about the win and surprisingly fed up with Crabtree.
"Well, I'm the best corner in the game! When you try me with a sorry receiver like Crabtree, that's the result you're going to get," Sherman shouted when asked by Andrews about the decisive play. "Don't you ever talk about me."
Asked by Andrews to identify who had been talking about him, Sherman continued.
"Crabtree," he responded. "Don't you open your mouth about the best, or I'll shut it for you real quick. LOB!"

The heated remarks by Sherman sparked a Twitter firestorm. While many appreciated the passion and candor of the 25-year-old Stanford grad who majored in Communications, there were others who claimed he lacked sportsmanship, class or any sort of media savvy. As chronicled by Deadspin, some of the anti-Sherman tweets were explicitly racist.
If you're trying to show your kids what to be like when they grow up, show them Richard Sherman and tell them to do the exact opposite.

— Chris Cotillo (@ChrisCotillo) January 20, 2014
Perhaps unaware of the response -- and Mean Gene Okerlund references -- that his interview with Andrews had generated, Sherman continued conducting post-game interviews with ESPN's Ed Werder and the crew of FOX analysts at CenturyLink Field. He would lower the volume but not back down when it came to criticizing Crabtree.
When Sherman made his way over to the set of FOX's on-site, post-game show, panelist and former NFL star Michael Strahan seemed at least as concerned what happened with Andrews as with what happened with Crabtree.
"I think you scared Erin Andrews," Strahan joked to Sherman before asking about what had transpired with the 49ers' wideout.
"I'm a competitor and I don't like people saying negative things about me," Sherman said. "I don't like people running their mouth. So, I told him, 'Good game and good try but I'm the best corner in the league.'"
Based on his reaction on Twitter, Crabtree remained unimpressed.
Andrew would also eventually comment on the interview via Twitter.
Not surprisingly, Sherman had the last word.
Before You Go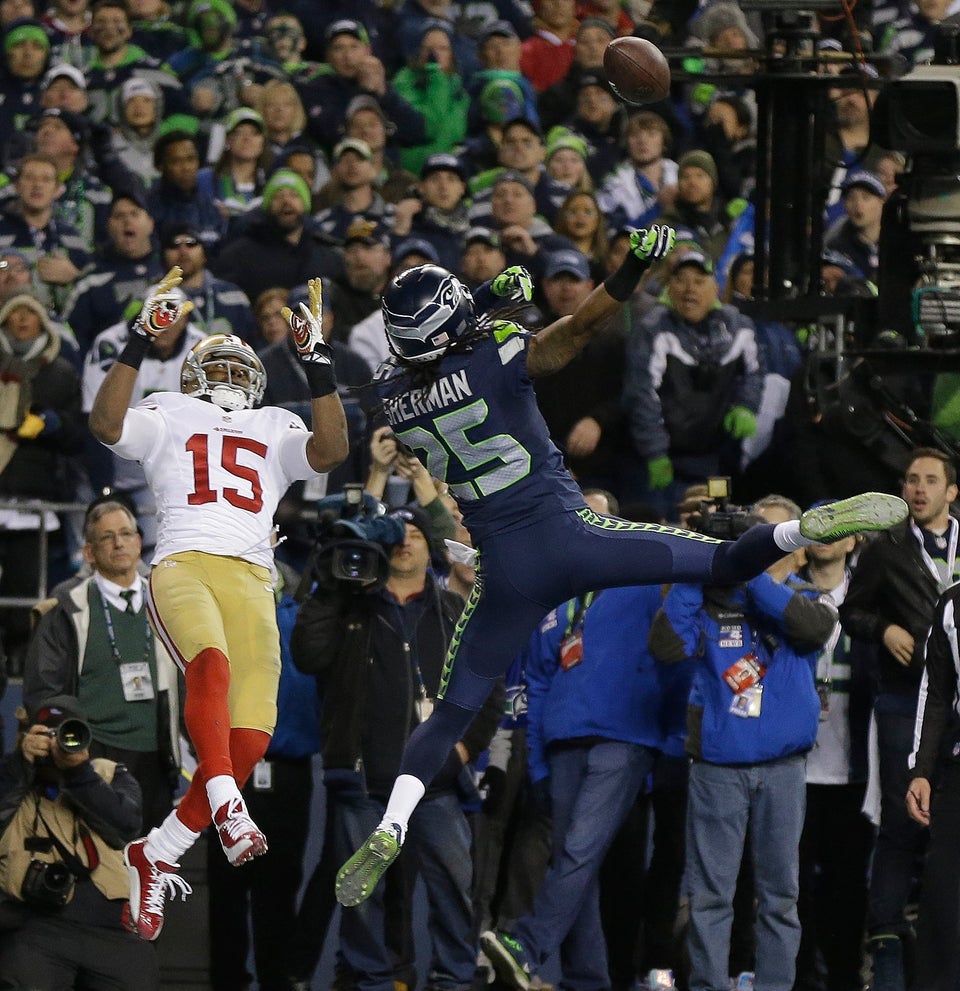 PHOTOS: 49ers vs. Seahawks
Popular in the Community