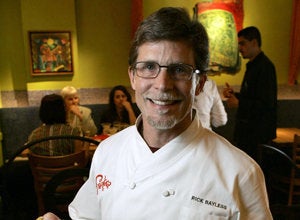 When Sen. Barack Obama and his wife, Michelle, want a special night out in Chicago, they often head for the award-winning Mexican restaurant Topolobampo. But don't equate the word "Mexican" with burritos and refried beans.
Chef Rick Bayless founded "Topolo," as locals call it, almost 20 years ago to prove to Americans that genuine Mexican cooking can be as sophisticated as French and Italian.
In fact, the dishes you might find on the menu on a typical night -- perhaps lobster napped with a sauce of arbol and chipotle chilies, or seared, line-caught marlin in a toasted ancho chili crust -- might be too elaborate to make easily at home.
Related
Popular in the Community