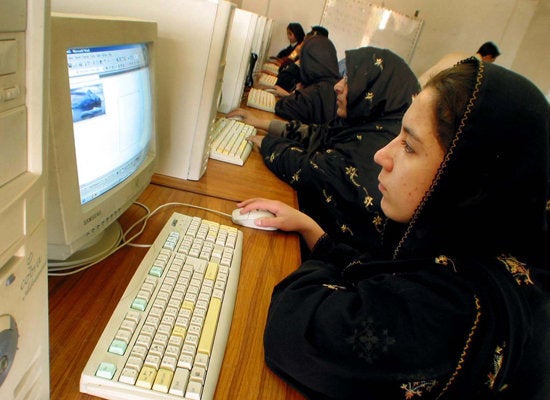 A report released on Tuesday calls out former hospital CEO Rick Scott for sitting on the board of a company used by Saudi Arabia and Iran to suppress Internet access. In recent months, Scott has become the most high-profile conservative activist working to oppose the health care reforms backed by the Obama administration.
The newly formed organization Media Matters Action Network released a document on Tuesday detailing Scott's links to the Internet monitoring company Secure Computing, and the use of that company's software by some of the world's most oppressive regimes.
The findings add another politically provocative element to the battle over health care reform. While officials with Secure Computing did not immediately return requests for information on Scott's work or compensation, the optics could be problematic. Scott has pledged to spend more than $5 million of his own money to build resistance to greater government involvement in the health care industry. Where that money comes from changes the perception of his opposition.
Scott secured his board position in early 2006 after the company for which he previously worked -- CyberGuard -- was bought by Secure Computing for $295 million. According to Hoovers.com, Scott received $35,000 per year for serving on Secure Computing's board. He also received a half share of Secure stock and $2.73 for each CyberGuard share that was purchased. According to the company's website he remains in his Secure Computing post, though an SEC filing says he left in November 2008.
At the time of merger, Secure Computing was already facing criticism for allowing its SmartFilter software to be used by governments eager to limit public Internet access. As far back as 2001, Saudi Arabia had been using Secure Computing's content filtering technology to block access to certain websites. Often the prohibited sites were pornographic in nature. Occasionally, however, the censorship was of political, religious or culturally sensitive content.
Secure Computing's work for Saudi Arabia continued well into Scott's tenure on the board. In May 2007, the site OpenNet did a country profile that concluded that the Saudi Arabian government used "Secure Computing's SmartFilter software for technical implementation and to identify sites for blocking."
In November 2008, Business Week reported that Saudi Arabian Internet "censorship is considered among the most restrictive in the world." The government, the story went on, "uses more sophisticated software from San Jose-based Secure Computing that offers a menu of 90 categories of sites to block."
Perhaps more controversial was the use of Secure Computing's technology by the government of Iran. In 2005, OpenNet reported that "Internet content regulation in Iran" was occurring "at multiple levels, through multiple methods." The filtering, it added, was being enabled by "Secure Computing's SmartFilter software" and was blocking such sites as: www.lesbians-against-violence.com, www.gayegypt.com, www.gay.ru, and gaytoday.badpuppy.com.
The company insisted at the time that they had "sold no license to any entity in Iran" and were taking steps to stop the "illegal" use of their products. That said, in May 2008 (with Scott now on the board), the group Reporters Without Borders issued a report that said Iran was using "filtering technologies" that were "supplied by Secure Computing," allowing "users to block Internet website addresses."
"According to Secure Computing," the report read, "this software makes it possible to block millions of websites in over 60 categories. It is therefore easy for the Iranian government to block websites for political reasons."
OpenNet has also reported that the governments of the United Arab Emirates and Tunisia have used Secure Computing's technology to restrict Internet access among their populace.

Secure Computing did not return a request for comment about the extent of Scott's involvement or the use of its software in Saudi Arabia and Iran. In the past, officials have noted that the company provides a technology and is not in the business of policing how clients use the product. ''Once we sell them the product, we can't enforce how they use it," said sales executive Matthew Holt in a 2001 New York Times article on Saudi Arabia's internet censorship efforts.
That said, the Media Matters Action Network report -- which follows on similar efforts among progressive groups to target major GOP donors -- seems likely to find its way into the current health care debate. Scott is more than just a bankroller of the movement to defeat health care reform. He has lent his voice to television advertisements, spent (already) more than $1 million, conducted polls and coordinated a PR campaign to influence the debate.
Popular in the Community