After having spent all of about 25 days on Twitter, Ricky Gervais quit the social networking service in January 2010, calling it "undignified" for adults and suspecting that celebrities just seemed to be showing off by tweeting with their other famous friends. If he wanted to tell his celebrity buddies about what he ate for breakfast, he'd just text them, Gervais said.
Perhaps they were ignoring his messages about Weetabix, because Gervais is back.
The British actor/writer/comedian rejoined the site two days ago, with a simple, "Hello. Anybody there?" And after a few tweets promoting "An Idiot Abroad" and trying to prove that it was, indeed, him tweeting, Gervais confirmed his new love for the network, writing, "I f*cking love twitter now. I'm still not sure of the point, or how it will end, but its fun trying to work it out. Just like life really."
From there, he's mostly gone on to promote his new show, "Life's Too Short," with Warwick Davis. Still! Lots of fun and controversy to look forward to, given that everyone will take his tweets literally, as is the general practice on Twitter, no matter how unserious their authors.
As long as he continues to write tweets like the following, we're happy:
"To protect Warwick from scary mice, me and Johhny Depp put him safely in the toilet. Anything for a friend."
PHOTO: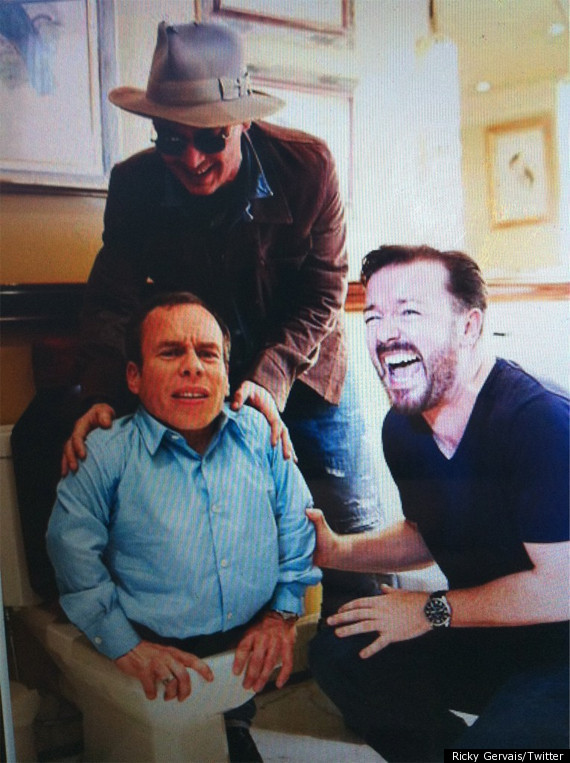 Popular in the Community