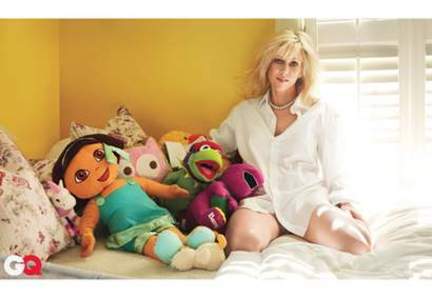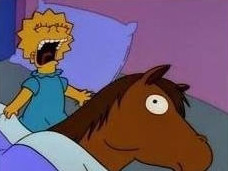 In the film, As Good as it Gets, Jack Nicholson's character quips when writing about women, "I think of a man, and I take away reason and accountability." That about sums up Rielle Hunter (and to think of it, John Edwards).

Given her upbringing, it's no wonder the GQ interview exposes her as a new-aged, solipsistic space cadet. Rielle Hunter was born Lisa Druck into an insanely wealthy family. Not only a member of the rich and unfaithful eschelon, Hunter's father, James Druck, was part of the horse-murder scandal that spanned ten years, from the late 1970s and 1980s. He was accused of hiring Tommy 'the Sandman' Burns to electrocute his daughter's showhorse, Henry the Hawk, to collect mortality insurance. Not only that, but Burns alleged that Druck showed him how to electrocute his daughter's horse using "a stripped extension cord and a wall socket." He who orders the execution never drops the blade.
Burns' method made the horse appear to have perished from colic, which allowed Druck and many others to collect the insurance check. This scheme permeated the show circuit and also involved trainers who preyed on naive rich ladies purchasing over-valued horses. When a cheated heiress threatened to report the scam and was subsequently murdered, the FBI became involved. Druck was under FBI investigation when he passed away, thus never being formally charged. And to this multi-millionaire, was a $150,000 insurance check really the desired reward? That would be like collecting five-dollar gift card to White Castle.

Speaking as a former equestrian, to a young lady, a horse is her passion, pride and confidant. The horse-rider relationship is part the companionship of a dog and the goal-oriented passion of an athlete. With Hunter's own father killing her beloved animal, the loving foundation of family and four-legged friend was ripped from the earth. Add an internecine parental relationship and you have the woman that rode John Edwards into the ground.
REAL LIFE. REAL NEWS. REAL VOICES.
Help us tell more of the stories that matter from voices that too often remain unheard.