The 2012 MTV VMAs had some jaw-dropping moments -- like Gabby Douglas flipping across the stage, Frank Ocean performing "Thinkin Bout You" or Miley Cyrus showing off a major mohawk. But few viewers caught one of the biggest moments of the night -- when Rihanna and ex-boyfriend Chris Brown kissed and hugged right on the VMA stage.
"Rihanna goes directly up to Chris Brown and throws both arms around her ex-boyfriend in a mutual embrace," according to a post on RyanSeacrest.com. "After giving a quick hug to his neighbor, Rihanna also snickers and tousles Chris' newly bleached hair in a playful manner."
Rihanna and Brown split in 2009 after he physically assaulted her during an argument about a text message from another girl. Rumors have swirled since then that the two music stars had secretly gotten back together, though Brown is very public about his relationship with model Karrueche Tran.
In 2009, Rihanna described Brown's attack to ABC's Diane Sawyer, saying: "He was clearly blacked out. There was no person when I looked at him. It was almost as if he had nothing to lose. He had so much to lose. But it was almost as if he had nothing to lose. It wasn't the same person that says I loved you. It definitely wasn't those eyes."
At the time, Rihanna said she was unsure if she could ever be with Brown again. "You never know what the future holds. He was my best friend, the person I loved. We spent two years of our lives together," she said. Adding, "I don't have a desire at all to be with him ... I don't see how we could get back together. But I'm not God, so I can't predict the future."
She reiterated those statements last month to Oprah Winfrey during an interview for "Oprah's Next Chapter": "I truly love him," she said, crying, during the emotional interview. "And the main thing for me is that he is at peace. I'm not at peace if he is unhappy or he is still lonely. I care. It actually matters that he finds peace."
Rihanna admits that she and Brown have maintained a "very close friendship" since the restraining order dropped.
Brown, who has had a difficult time making a professional comeback since the 2009 incident, scored the award for Best Male Video on Thursday for "Turn Up The Music."
PHOTO: Screen grab of Rihanna and Chris Brown at the 2012 MTV VMAs.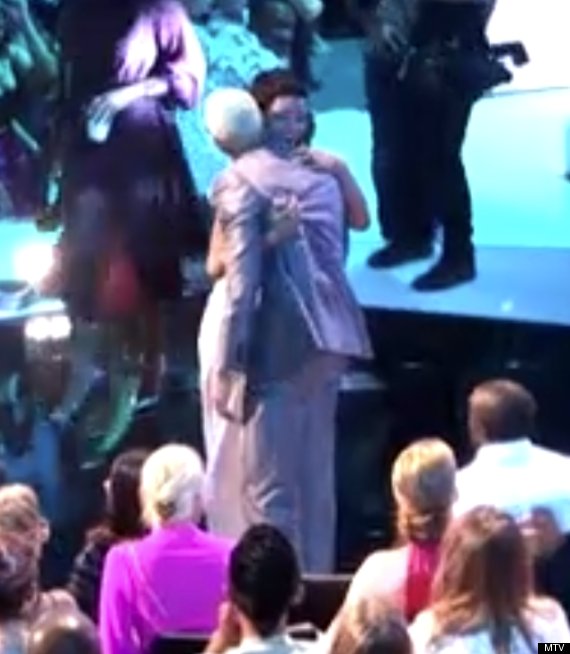 Before You Go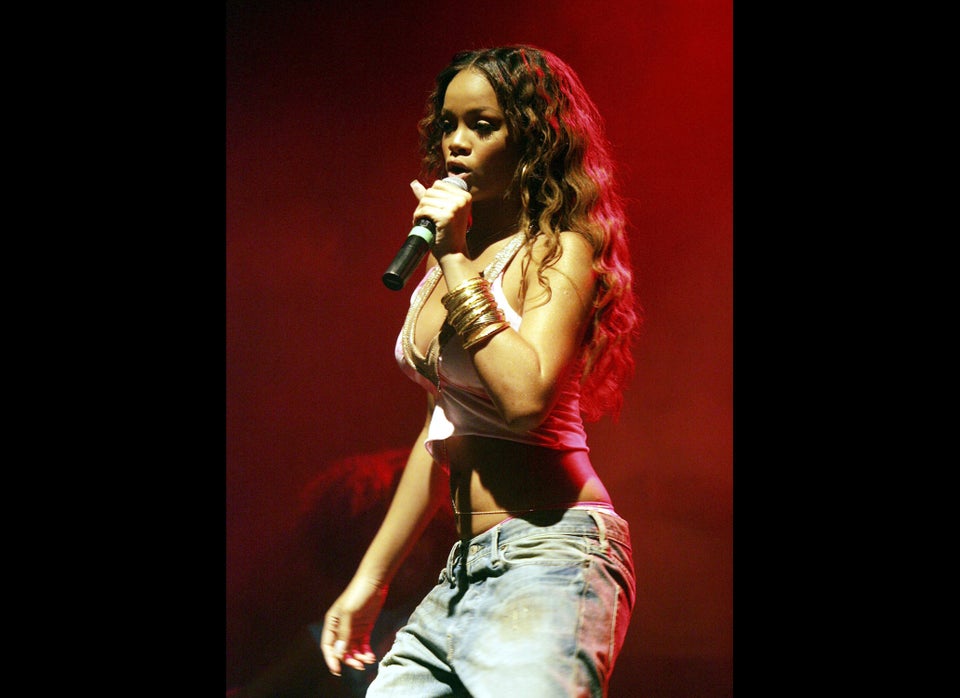 Rihanna Photos
Popular in the Community