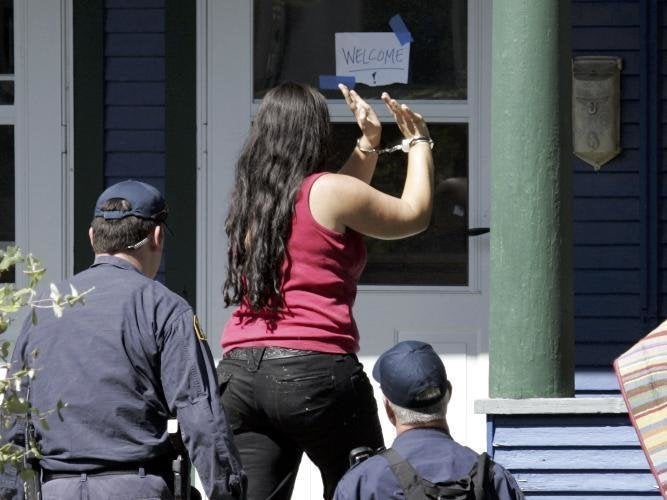 SEPT 3 -- Police Infiltrated Anti-RNC Group: An affidavit shows that informants were spying on the RNC Welcoming Committee.
Almost a year to the day before the Republican National Convention began, members of a self-described anarchist group gathered to talk about ways to disrupt it, including kidnapping delegates, sabotaging air vents at the Xcel Energy Center, blocking bridges and "capturing federal buildings" in Minneapolis and St. Paul.

Unbeknownst to the RNC Welcoming Committee, two police informants and an undercover investigator had infiltrated their ranks, according to an affidavit and search warrant application filed Tuesday. The informants and investigator accessed group e-mails, attended meetings, talked strategies with members and participated in camps and workshops.

The 17-page document, signed by Ramsey County District Judge Joanne Smith, laid out the evidence that led the Ramsey County Sheriff's Department to raid a St. Paul business and three Minneapolis homes Friday night and Saturday morning.
SEPT 1 -- Thousands March, Some Turn Violent: Protesters clashed with police at the Republican National Convention.
Protesters smashed windows, punctured car tires and threw bottles Monday during an anti-war march to the site of the Republican National Convention. Police used pepper spray in confrontations with demonstrators and arrested five.

Instead of the single coherent march that organizers had hoped for, fringe groups of anarchists and others wrought havoc along the streets between the state Capitol and the Xcel Energy Center where the convention was taking place.
SEPT 1 -- 50,000 Expected To Protest: Protesters say they aren't deterred by Bush and Cheney's absence or police raids.
Despite the big-name cancellations and the preconvention police raids, organizers expect thousands of anti-war demonstrators to march this afternoon from the State Capitol to the site of the Republican National Convention.

They say their passion will not be dampened now that President George Bush and Vice President Dick Cheney are skipping their convention speeches because of Hurricane Gustav. If anything, they say, the storm enhances their message that investing in human needs must outweigh waging an expensive war.

But the protesters are also concerned that aggressive police tactics could cull their numbers, which they estimate could reach 50,000 today.
AUG 31 -- Federal Government Involved In Raids On Protesters: Glenn Greenwald reports that it is increasingly clear the federal government is involved in raids on protesters at the Republican National Convention:
As the police attacks on protesters in Minnesota continue -- see this video of the police swarming a bus transporting members of Earth Justice, seizing the bus and leaving the group members stranded on the side of the highway -- it appears increasingly clear that it is the Federal Government that is directing this intimidation campaign. Minnesota Public Radio reported yesterday that "the searches were led by the Ramsey County Sheriff's office. Deputies coordinated searches with the Minneapolis and St. Paul police departments and the Federal Bureau of Investigation."

Today's Star Tribune added that the raids were specifically "aided by informants planted in protest groups." Back in May, Marcy Wheeler presciently noted that the Minneapolis Joint Terrorist Task Force -- an inter-agency group of federal, state and local law enforcement led by the FBI -- was actively recruiting Minneapolis residents to serve as plants, to infiltrate "vegan groups" and other left-wing activist groups and report back to the Task Force about what they were doing. There seems to be little doubt that it was this domestic spying by the Federal Government that led to the excessive and truly despicable home assaults by the police yesterday.
AUG 31 -- Protest Groups File Court Order: Protesters try to prevent police from seizing equipment.
Two organizations said today they filed an emergency motion with the court Saturday to try to prevent police from seizing video equipment and cell phones used to document officers' conduct.

....

The release said "examples of police interference with the right to document their conduct" included seizure of equipment in Minneapolis from three journalists with Glass Bead Collective and targeting of journalists during a raid in St. Paul on Saturday.
The National Lawyers' Guild have volunteers to deter and document police abuse at the RNC.
AUG 30 -- RNC Protest Sites Raided By Police: Five people were arrested and more than 100 detained in a raid targeting the RNC Welcoming Committee.
Ramsey County authorities conducted raids across Minneapolis and St. Paul Friday and Saturday as a pre-emptive strike against disruptive protests of the Republican National Convention.

Five people were arrested and more than 100 were handcuffed, questioned and released by scores of deputies and police officers, according to police and elected officials familiar with the raids.

In a statement Saturday morning, Ramsey County Sheriff Bob Fletcher said the St. Paul raid targeted the RNC Welcoming Committee, a group he described as "a criminal enterprise made up of 35 self-described anarchists...intent on committing criminal acts before and during the Republican National Convention."
There were five raids conducted over 24 hours, the Minnesota Independent reports.
Calling all HuffPost superfans!
Sign up for membership to become a founding member and help shape HuffPost's next chapter