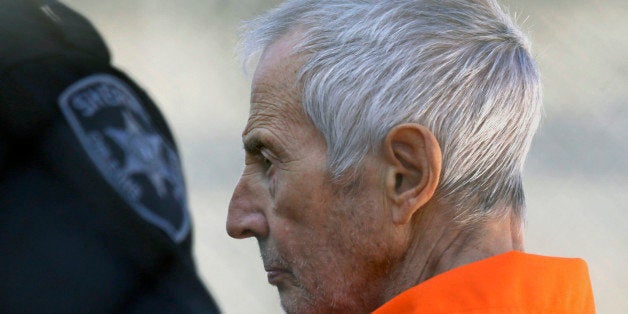 NEW ORLEANS, March 23 (Reuters) - Robert Durst, the real estate scion awaiting extradition to California to face a murder charge, is set to appear in a New Orleans courtroom on Monday on local weapons charges, with a judge expected to weigh how big a flight risk he represents.
Durst's attorneys have said they plan to seek both to expedite his extradition to Los Angeles County, where he has been charged with the 2000 murder of longtime friend Susan Berman, and to challenge the basis for his arrest on a Los Angeles County murder warrant earlier this month in New Orleans.
The final installment of the HBO documentary "The Jinx: The Life and Deaths of Robert Durst" broadcast evidence that Durst's handwriting appeared to match that of Berman's likely killer.
The 71-year-old Durst's voice was then captured on a microphone saying to himself that he had "killed them all."
Long a suspect in the disappearance of his wife, Kathleen Durst, in 1982 in New York, Durst was acquitted in the dismemberment killing of his male neighbor in Texas in 2003.
The final HBO episode aired one day after Durst's arrest at a hotel in New Orleans, where he was staying under an assumed name and had in his possession more than $42,000 in cash, a revolver, a stash of marijuana and a latex mask that could fit over his neck and head, authorities have said.
FBI agents arrested Durst out of fear he would flee the country, an FBI spokeswoman has said.
Durst, long estranged from his powerful family with its major New York real estate holdings, was charged last week with one count of possessing a gun as a convicted felon and one count of possessing a weapon with a controlled substance.
His lawyer, Dick DeGuerin, has expressed frustration with the charges, saying he is eager to get Durst to California to clear his name in Berman's killing.
Durst was transferred last week to a facility 70 miles outside of New Orleans equipped to handle acutely mentally ill inmates after the local sheriff's office asserted he was suicidal, a contention his lawyers disputed. (Reporting by Jonathan Kaminsky; Editing by Michael Perry)
REAL LIFE. REAL NEWS. REAL VOICES.
Help us tell more of the stories that matter from voices that too often remain unheard.
BEFORE YOU GO
PHOTO GALLERY
Robert Durst