Co-authored with Brenna Gautam, a J.D. Candidate at Georgetown University Law Center.
Imagine waking up tomorrow and having to flee your home with only the food and supplies you can carry, not knowing when or if you will ever be able to return.
Your homeland could be a paradise: its climate dips into lush tropical temperatures, and its mountain ranges soar to beautiful heights. But as a displaced person, heavy rains and heat slow your escape, and the mountains become a death trap, stranding thousands of your people without food.
No matter how dangerous escape is, you can't go back: there is only "fires, bullets, knives" from where you came. So, you keep forcing yourself forward, stumbling onwards for miles over rough terrain. There is no end in sight, and the hope of finding safety as a refugee beyond your own borders seems idealistic at best.
This situation is playing out in the lives of hundreds of thousands of people fleeing Myanmar. Conflict has erupted in Mynamar's Rakhine state. The government is driving out members of the Rohingya minority: more than 200 villages have been burned and refugees have recounted harrowing stories of mass murder and rape.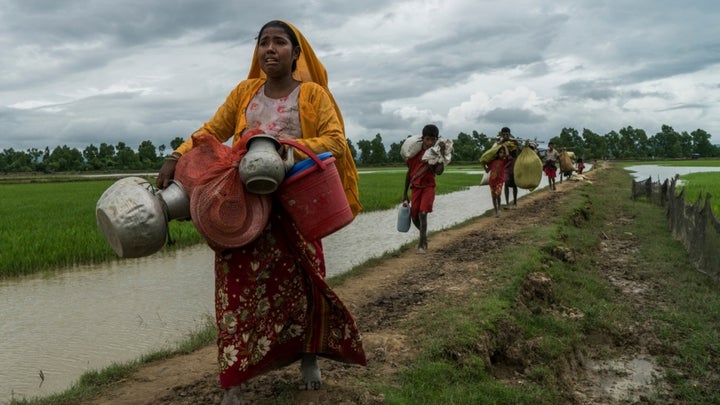 Desperate for survival, the Rohingya people are fleeing into Bangladesh. Waiting for them there is the World Food Programme (WFP), the largest humanitarian organization fighting hunger. After a physically treacherous escape involving crowded boat rides across rain-swollen rivers and exhausting treks through swampy fields, the rice and high energy biscuits provided by the WFP begin to restore energy: for children, the elderly, and the injured, these supplies could be the difference between life and death.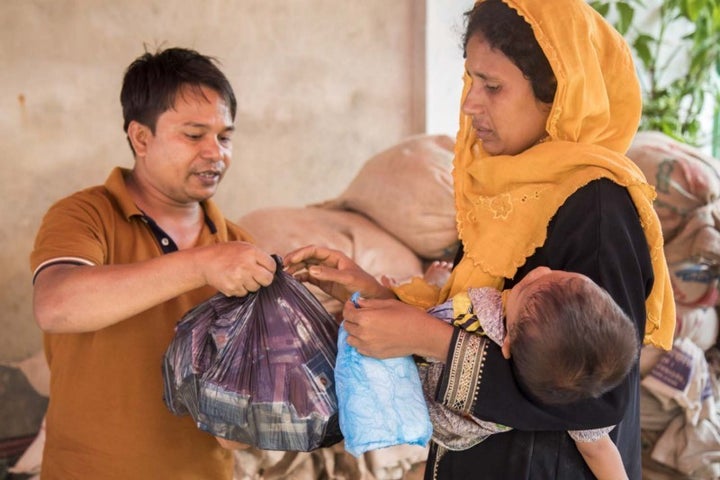 At the WFP camps, refugees finally have access to food, water and shelter after the horror they have been through. Many have lost family members and loved ones back in Myanmar; food can now prevent more casualties. Young children receive Supercereal plus, which helps fight off potentially deadly malnutrition. In a conflict like this, getting food aid to the very young is especially crucial, as their future depends on timely aid to prevent the irreversible effects of malnutrition.
We must support the oppressed Rohingya minority, and the first step now is humanitarian aid.
History has demonstrated, time and time again, the desperate need for humanitarian aid that arises during massive internal conflicts and refugee crises. In 1999, President Bill Clinton responded to the ethnic cleansing of Albanian Muslims in Kosovo not only with promises of military action, but with a pledge to increase U.S. funding for food and supplies delivered to the Albanian refugees, stating "Just as important (as military readiness), we need to sustain humanitarian relief and support."
That statement was delivered in response to war atrocities unfolding in "Europe's backyard:" the western Balkans. Myanmar is farther from the United States geographically, and perhaps this distance makes it easier to ignore the humanitarian crisis erupting in Rakhine.
Now is the time to look beyond our borders and ask ourselves how we can best use our resources to fight a growing humanitarian nightmare. We must not abandon those in need today.
The World Food Programme and its partners must get the funding needed to provide supplies for this fast-growing refugee crisis. This emergency is another reason for Congress to support increasing our international aid budgets, including Food for Peace, the McGovern-Dole global school lunch program, Feed the Future and other initiatives.
The tragedy and hunger in Myanmar is one of many crises across the globe currently. Four nations (South Sudan, Nigeria, Yemen and Somalia) are on the brink of famine and demand massive resources as well.
The scale of the crisis in Myanmar can be daunting: in the face of suffering so great, it is easy to feel paralyzed and ineffective. Thankfully, history has provided us with examples of humanitarian aid alleviating crises, and groups like the WFP are already working to provide food and aid supplies to Rohingya victims on the ground. It is now up to us to support their efforts in any way that we can.
We must feed the hungry refugees and strive for a settlement of the conflict so the Rohingya people can be free from fear and want.
Related
Popular in the Community