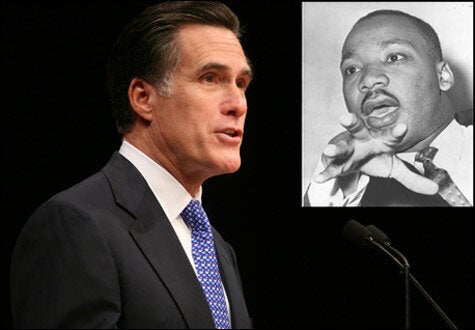 In the most-watched speech of his political career, speaking on "Faith in America" at College Station, Texas, earlier this month, Mitt Romney evoked the strongest of all symbolic claims to civil-rights credentials: "I saw my father march with Martin Luther King."
He has repeated the claim several times recently, most prominently to Tim Russert on Meet the Press . But, while the late George W. Romney, a four-term governor of Michigan, can lay claim to a strong record on civil rights, the Phoenix can find no evidence that the senior Romney actually marched with King, nor anything in the public record suggesting that he ever claimed to do so.
Nor did Mitt Romney ever previously claim that this took place, until long after his father passed away in 1995 -- not even when defending accusations of the Mormon church's discriminatory past during his 1994 Senate campaign.
Asked about the specifics of George Romney's march with MLK, Mitt Romney's campaign told the Phoenix that it took place in Grosse Pointe, Michigan. That jibes with the description proffered by David S. Broder in a Washington Post column written days after Mitt's College Station speech.
Broder, in that column, references a 1967 book he co-authored on the Republican Party, which included a chapter on George Romney. It includes a one-line statement that the senior Romney "has marched with Martin Luther King through the exclusive Grosse Pointe suburb of Detroit."
But that account is incorrect. King never marched in Grosse Pointe, according to the Grosse Pointe Historical Society, and had not appeared in the town at all at the time the Broder book was published. "I'm quite certain of that," says Suzy Berschback, curator of the Grosse Pointe Historical Society. (Border was not immediately available for comment.)
Berschback also believes that George Romney never appeared at a protest, march, or rally in Grosse Pointe. "We're a small town," she says. "Governors don't come here very often, except for fundraisers."
Popular in the Community