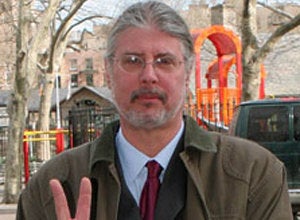 The search to replace Randi Rhodes is over.
Air America has announced that former WABC personality Ron Kuby will be taking over the 3-6pm time slot after a stint as a guest host. He will start next Monday, June 9.
FORMER WABC N.Y. PERSONALITY RON KUBY CHOSEN HOST
OF "AMERICAN AFTERNOON" BY AIR AMERICA RADIO
Weekdays from 3-6pm ET Beginning Monday June 9
FOR IMMEDIATE RELEASE - Air America Radio (www.airamerica.com) today announced that former WABC New York morning drive host Ron Kuby has been chosen to host the 3 pm-6 pm ET show starting Monday, June 9th.
While co-host on WABC news/talk radio from 2000- 2007, Kuby's morning show consistently placed in the top ten for listeners in the highly competitive New York City market.
"We're glad to have such a highly experienced and popular radio personality such as Ron on our network," said Charlie Kireker, chairman of Air America Radio. "Considering his history of strong ratings, entertainment value and thought-provoking opinions, he will have wide appeal to audiences, affiliates and advertisers nationwide."
"I am delighted to be joining Air America's powerful voices in these challenging times," said Kuby. "We'll have the news, analysis, opinion, calls and hopefully a few things that listeners haven't thought of yet, or don't want to think about."
In addition to his accomplishments as a radio personality, Kuby is currently a guest anchor for trial coverage on TruTV's "In Session." In his spare time he is a practicing civil rights and criminal defense attorney with a long-standing commitment to social justice. For over two decades he has represented numerous controversial clients in some of the most high-profile criminal and civil rights actions in the United States. Kuby earned his J.D. from Cornell Law School in 1983 and was associated with civil rights lawyer William M. Kunstler, of Chicago 8 fame for 13 years.
Air America Radio is a national progressive talk radio network representing a smart, independent political voice with a sense of humor. Various Air America shows can be heard nationwide on 60 affiliates as well as on XM Satellite Radio and streamed on the Internet at www.airamerica.com.
Calling all HuffPost superfans!
Sign up for membership to become a founding member and help shape HuffPost's next chapter