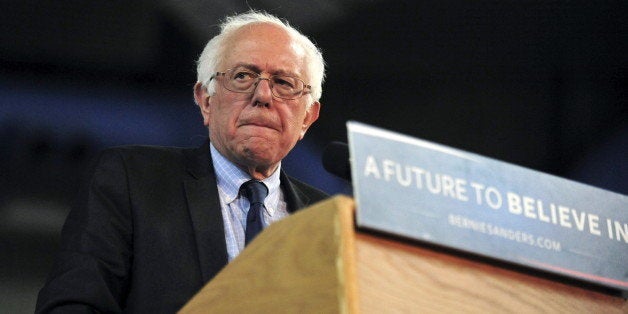 His advocates think Bernie Sanders is a moral candidate who refuses big money; his detractors describe him as a half-dotty old man. But when I knew him, he wasn't running for office -- he was running the mile; and as impressive as I find him now, he was just that good then. There's a gold medal in my study because of Bernie Sanders.
In 1958, Bernie and I were on the James Madison High School track team. He was in his junior year and running the mile in about four and a half minutes, a startlingly good time for a kid training with the minimum coaching and equipment of that era.
He had an unusual style. He ran with his torso vertical rather than leaning forward. His hands hung from his wrists like unwanted goods. Either he thought the energy cost of keeping his hands aligned with his forearms -- the loose-fist position favored by most runners -- did nothing to propel him, or perhaps he believed he could use his downward-hanging hands to streamline himself. I didn't know. But he ran round and round our 1/8th mile track, methodically increasing his endurance as he trained himself to run faster.
The medal in my study was won at a track meet called the Flatbush Championships, which involved many Brooklyn schools. At the end of the day, Madison was tied for first place with Wingate High School, with the mile relay the only event left. Coach Krinsky picked Bernie to run the third leg, probably because we were short on quarter-milers. I, a senior, was to run anchor.
But there was a problem. Put simply, I wasn't all that good. My times of 54 point-something seconds enabled me to place in some New York races but rarely to win. Meanwhile my opponent had run the quarter mile in 49 seconds flat. He was one of the fastest kids in New York.
I figured that from an even start in a 440-yard race, the Wingate boy would finish roughly forty yards ahead of me.
Things did not look good for Madison, nor for my chances of holding up my head in the locker room after I lost my team the meet.
The starter gun fired, the race began and as the space around us emptied, my adversary took brief whippet-like runs along the track to stay warm. He accelerated in short steps, his spikes chewing up the dirt, as though he couldn't wait to get his hand on his team's relay baton, spray me with dust, and light out for glory.
I stretched, and glumly followed the course of the race.
For me to have a chance, I needed the first three members of my relay team to build a sizable lead. But our first runner, bless him, actually lost ground. Our second runner made up the loss, but when he passed the baton to Bernie, things were only even-steven.
I had no reason to think their third runner couldn't out-distance Bernie, who set out without flair or flurry, undramatically vertical, the baton in one partially drooping hand and the other at full droop. His stride seemed choppy as he ran the shorter distance. But he grew stronger as he stepped.
Soon Bernie was ten yards ahead.
"Go Bernie," I whispered.
He had earned the right to coast, but he never let up. Somewhere past the half-way mark, he was twenty yards ahead, and by the time he passed me the stick, he was thirty yards in the lead.
My Wingate competitor stood twitching his bare legs in the exchange zone, staring back down the track, impatient to receive his team's baton. He looked fast standing still. But Bernie had given me the gift of time in which to make tracks, and as many as possible, before the Wingate lad could set out to overtake me.
I did not follow my usual practice of 'floating' on the back stretch to save energy for a rousing finish. I ran every moment as hard as I could. My teammates, strung out along the track, urged me on with cries of "He's gaining on you," which I could well believe.
I was gasping for breath and my legs felt like stumps as I broke the tape. It was my fastest-ever quarter mile at 52.9. It no doubt helped that the Wingate lad that day had run two previous races and surely had less in his legs than usual.
But it was thanks to Bernie that the huge lead I inherited was too great to make up.
So when the media brings up Bernie these days, I smile. I like his political positions but there's more to it than that. I owe him. I've seen him run. I have nothing against Mrs. Clinton, but on Election Day -- if I get the chance -- I believe I'll try winning again with Bernie.
Neal Singer is an Albuquerque writer who runs slowly.