A little under a year ago, Facebook CEO Mark Zuckerberg dismissed as "pretty crazy" the idea that a disinformation campaign could have used his site to influence the outcome of the election.
On Tuesday, Facebook general counsel Colin Stretch, along with his counterparts at Twitter and Google, testified before the Senate Judiciary Subcommittee on Crime and Terrorism, where he disclosed that Facebook facilitated the spread of Russian-backed content to an estimated 126 million Americans during the 2016 election.
That figure is based on Facebook data indicating that 120 Russian-backed Facebook pages published 80,000 posts between January 2015 through August 2017 (with an influence campaign potentially stretching back as early as 2014). Those posts were in turn seen directly by 29 million Americans, who, by interacting with them, distributed the falsities throughout their own personal networks.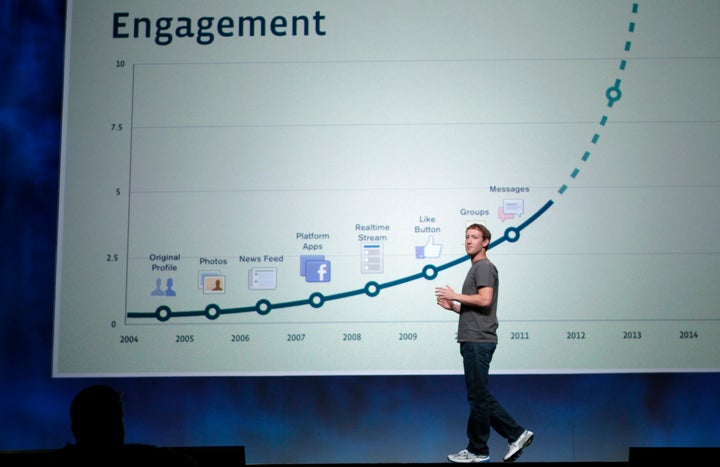 And yet, Facebook continues to downplay its own influence. In testimony, Stretch emphasized that Russian propaganda constituted just 1 out of every 23,000 posts on the site, and therefore couldn't have significantly affected the election's outcome.
Sen. Chris Coons (D-Del.) printed out several examples of the content in question, including one from the now-defunct "Heart of Texas" page, which had around 225,000 followers during the campaign last summer. The post in question ― later identified as Russian ― claims to represent American military veterans' disapproval of Hillary Clinton: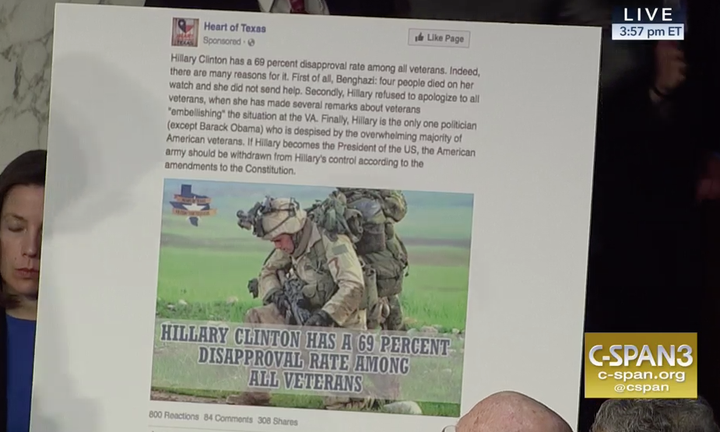 Another of Coons' examples was more than a mere ad, he said ― it represented "a national security issue." The post in question, claiming to represent a "Miners for Trump" group, called on its followers to rally for a "Unity Day" in Pennsylvania on Oct. 2.
″[The page] duped Americans into coming to an event that was nothing but a fake," said Coons.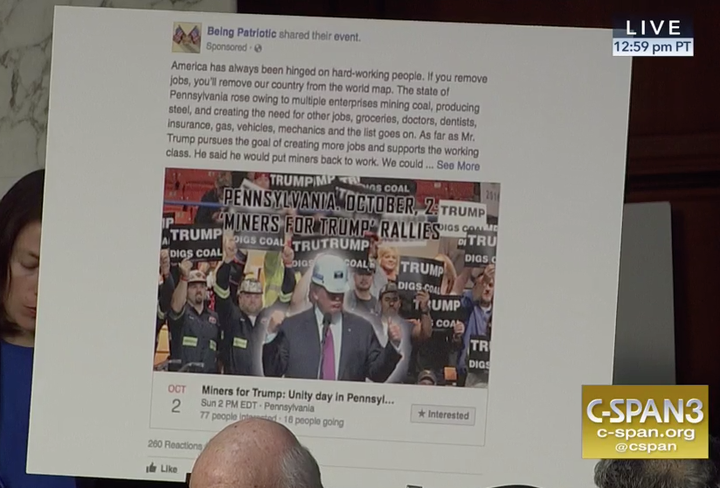 "You've said these things are vile and you take responsibility for changing, [yet] we're nearly a year after the election," Coons remarked, then pointedly asked Stretch: "Why has it taken Facebook 11 months to understand the scope of the problem and begin to address it, when former President Obama cautioned your CEO literally nine days after the election that this was a big problem?"
Stretch deflected, noting that Facebook has taken action since then and that Obama's comments to his boss were more "about fake news generally."
Sen. Mark Warner, the top Democrat on the Senate Intelligence Committee, says he has reason to believe Facebook (and Twitter and Google, which saw similar disinformation campaigns) still has yet to fully uncover the full extent of the meddling.
This cycle ― wherein Facebook denies, then begrudgingly admits, there could have been a small problem, then drastically revises its numbers weeks later, all while still downplaying its own role ― has been the norm since Zuckerberg famously dismissed the possibility that fake news could've influenced the election in any way.
Here's a brief timeline of Facebook's year of denial:
― Amid the fallout of the ad buy news, Zuckerberg minimized the ads' impact, noting the campaigns themselves spent "hundreds of millions" to advertise on Facebook. "That's 1000x more than any problematic ads we've found," he wrote.
― Which brings us to Wednesday, when the company will again amend its data and reveal it exposed 126 million Americans to a disinformation campaign, all while downplaying its own influence.
This story has been updated to include comments from the hearing.
Calling all HuffPost superfans!
Sign up for membership to become a founding member and help shape HuffPost's next chapter