Ryan Skyy is a queer music artist, DJ and producer who just released a heavy new dance track called "DONE."
"DONE" features the impressively powerful vocals of Niki Darling and tells the story of the culmination of one's emotions at the end of a relationship. "DONE" was co-written by Skyy, Anthony Gibson, and Niki Darling, and was produced by Skyy.
The Huffington Post caught up the with the artist this week to discuss this new club-ready track, as well as how his identity as a queer artist informs his work.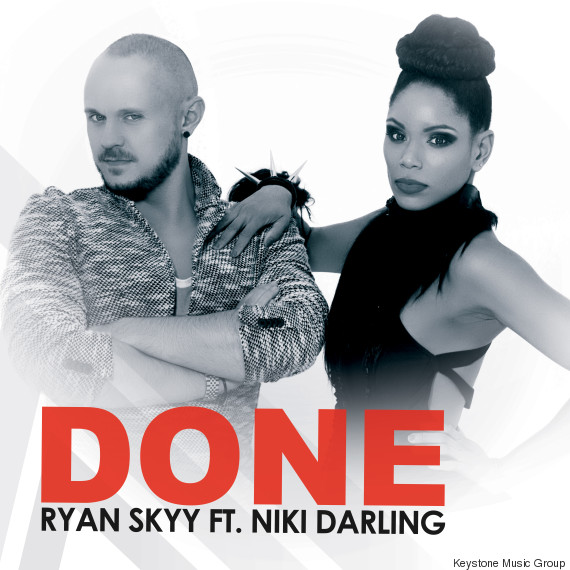 The Huffington Post: What is the concept for "DONE"?
Ryan Skyy: "DONE" is a song about facing the forces or people in your life who are causing you harm, realizing that all you need is yourself to be happy and that it's ok to stand up for your own self-worth and say, "I'm all I ever needed to make me feel completed, and now I see that I deserve so much more. I'm walking out that door! I'm done! I'm done! I'm so done! I'm done with you!"

The song came from a collective experience that my writing/producing partner Anthony Gibson and myself shared in our own individual journeys, along with input from Niki Darling about past relationships and struggles we each faced. We wanted to create a song that people could use to find strength in their own situations to stand up for themselves. "I'm done!" is such commonly used phrase in our culture, and it's something we realized more and more after we wrote and released the song. It's the perfect power statement for what we wanted to convey. I think it's become a universal record that really seems to resonate with people who hear it for the first time.

Why did you decide to collaborate with Niki Darling?
I met Niki in early 2014 when a song I wrote/produced was being considered for Katy Perry's next album, and the record label, interested in the track, asked that I submit a version with female vocals on it. The original one I submitted had my own vocals and they wanted to hear how it would sound if Katy recorded it. Anthony, who is now my record label partner at Keystone Music Group, was styling me at the time and referred Niki to me when I told him I was looking for a female session singer that had the chops for the track. Niki and I worked together on that track and really clicked. About 4 months later she told Anthony and I that she was going to Europe to perform and wanted to move more towards dance music and asked if I'd produce for her. We sat down in November 2014 to write a track for her European trip and "DONE" emerged. Over the next couple of months the track really took on a life of its own and turned into this whole other thing. We never expected the three of us to click so strongly creatively and for the track to be so well-received. It changed the course of all of our careers and really is only just the beginning. I'm excited to see where things lead.

What does it mean to you to be a queer artist? How does your queer identity inform your work?
I wouldn't necessarily say my "queer identity" informs me any more or any less than every other aspect of my life, but I won't shy away from it either. As an artist, the only things I can draw from that are authentic are my own personal experiences and share them with the world. My deepest thoughts, deepest secrets and strongest emotions are the most authentic and interesting things that I can share. If they come from my gay experience, then so be it, but the themes I write about are universal. I may relate to them differently than others but in the end we all relate and are in this together.

Artists are the lucky few who are given a gift to see the world in a way that others can't see on their own and it's our duty to report what we see and serve as cultural historians of what is happening at that moment. Some of my favorite moments with fans are when they tell me that my poem or song helped put into words what they were feeling but didn't know how to express. That makes it all worth it to me in the end.

What's next for Ryan Skyy?
I'm currently in the studio working on my follow-up singles while we're finishing up a remix package for "DONE." The "DONE" remix package will include remixes by the legendary Dave Aude, DJ Strobe and a few other remixers who will showcase "DONE" in a different light and make the single club ready. I've also been DJing weekly in NYC and preparing for a spring and summer club and festival tour.