As I stepped into the airport in Puerto Rico on Tuesday to leave for a content marketing convention in Cleveland, I thought: "What if this is a bad idea? What if I can't come back in a while?" In that moment, and pretty much until Wednesday night, Hurricane Irma represented a devastating potential threat to my beautiful island. Standing at 6am in the line at the airport to buy a cup of coffee, I was still debating whether or not I should leave. I thought, "this is a work trip, you have to go" "My mom asked me to stay, should I?"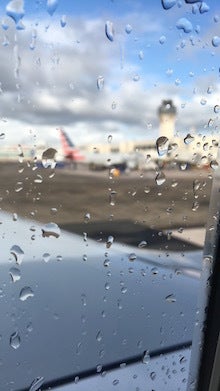 Hurricane Irma is the first hurricane posing the biggest threat to Puerto Rico during the Internet and social media age. We've had a few scares before, but not as close as this one and certainly not in the last few years. I would even say, it was going to be a potential catastrophic menace slowly unfolding in the Island; at least that was the forecast.
As I left the San Juan airport, I wondered for how long I was going to be able to stay in touch with my loved ones. I know that not too long after tropical force winds begin, the first thing people at home lose is power. That means right before or after that, Internet and cell phone services wouldn't probably work. Yet, I had this feeling that during my three-day stay in Cleveland, we were going to keep in touch.
During my layover in Miami, I noticed two of my WhatsApp groups of close friends seriously activated, my sister and other good friends started texting me and others were prompting friends to download a walkie-talkie app, Zello so we could keep in touch, which in the end wasn't relevant because....
The role of the smartphone:
The smartphone and the Internet have become extensions of our lives. They have replaced person to person conversations and interactions; both play a key role when we make decisions, including where we travel and what we buy. These devices, combined with technology, make it possible to stay connected, even when we are about to be hit by a hurricane.
We use these tools to watch news, communicate with family and friends through updates. As soon as we lose power at home and it is no longer possible to watch the latest forecast on TV (for those who do), some are still connected and some even find creative ways to extend the battery life of the device. Because of technology, we crave for information constantly and news organizations are embracing it. At least that is my perception after I saw a few meteorologists using Facebook Live for updates.
Storytelling
One meteorologist, Ada Monzón, did a great job using Facebook Live, even days before the hurricane. She capitalized on the organic aspect of live streaming to keep her audience informed and in a way, keep her community of more than 750,000 followers calm. Through her broadcasts, she translated the latest information in such a way that everyone understood. Everyone was so accustomed to her Facebook Live shows, that when she was "late", people began to miss her. "Where is Ada?" "What did Ada say?" There were others that turned on the notifications to make sure they wouldn't miss the show. Ada became the narrator of this story that had a beginning and hasn't ended; a story about an event in which no one should be alone. I don't think anyone was...
Connection
Thanks to interconnectivity, we were able to keep in touch with friends and family. In my case, those two WhatsApp groups were truthfully a stress relief. My friends were also narrators of a story that began with preparations, followed by deciding and letting everyone know where they were going to be during the hurricane. We were all so engaged in the conversations, that it became very normal for one of us to say something every 10 minutes. On the other side, I was listening to these stories and somehow felt as if I was there.
Content ranged from jokes and photos of food and drinks to weather report updates (from one friend who for some reason had power, thus access to TV), support messages, and motivational messages. Each member of the group was narrating their own experience, from their perspective and point of view. Each story was personalized and we were all united virtually going through this tough time together. The text was the voice and writing was what kept us together; it was the bond.
There were GIFs, videos, photos and, yes, that famous emoji!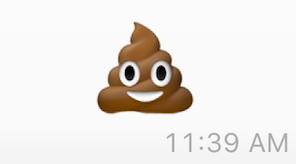 Suddenly, we were all sharing information, including tips to save the phone battery...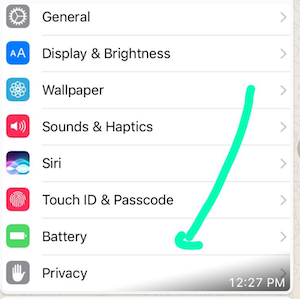 Status updates about the music someone was listening on the TV set...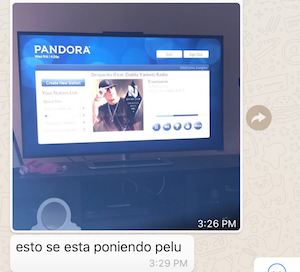 Photos of food prep and groceries...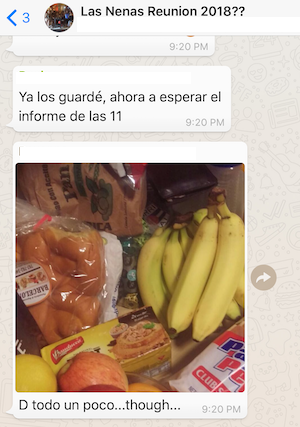 And, occasionally, updated information about the weather...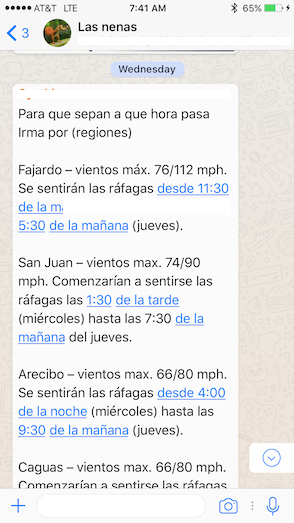 Some members had to leave during the process because they were trying to save as much battery as possible and certainly sharing and videos wasn't the solution. Each time someone left, it felt weird. As much as I knew that nothing would happen to them, I felt I lost the opportunity to know how things were with them. Thankfully, that part is old news because, even though there is still no power, we are back together.
WhatsApp and Facebook were like virtual refugee centers; places in which I was able find comfort. In refugee centers there is always someone who listens to you, helps you, gives information, makes you laugh, and provides whatever is available to make an uncomfortable situation as seamless or uneventful as possible. I have to say that I received more information from social media than I did from news in Cleveland. I think pretty much everyone feels the same. For some reason, my friends feel so relieved after such a threat that we planned a party to conmemorate having spent that time together thanks to those platforms, which served as our own safety net.
Calling all HuffPost superfans!
Sign up for membership to become a founding member and help shape HuffPost's next chapter
This post was published on the now-closed HuffPost Contributor platform. Contributors control their own work and posted freely to our site. If you need to flag this entry as abusive,
send us an email
.