In May, one of the largest bombs contemporary Kabul has known ripped through a busy central area, slaughtering 150 people and leaving a wide, blackened crater 15 feet deep. The sound was terrifying; many residents thought an earthquake had finally sliced the city in two.
As is now second nature to me, I hopped on my phone and frantically tried to connect with the women from the journalism program I founded, Sahar Speaks. Our busy Facebook chat, usually crowded with feminist memes and sparkling heart emojis, had taken a dark turn. The ladies were heavily distraught. Some posted photos of the smashed glass belonging to their homes. One alumna, with heartbreaking candor, asked, "Just survived a bomb blast. Who knows when our turn will come?" Another wrote, "One day we'll be taken, too."
I'll forever worry about them. Because the brutal reality is that they are there, and I am not. I got to choose when to leave Afghanistan; they have almost no agency in the matter.
More than a year has passed since the voices of our first graduates were introduced to the world. After receiving training in Kabul and mentorships with experienced female journalists around the world, all 12 published stories on HuffPost. It was historic, marking the first time a global media outlet published the work of so many Afghan female journalists.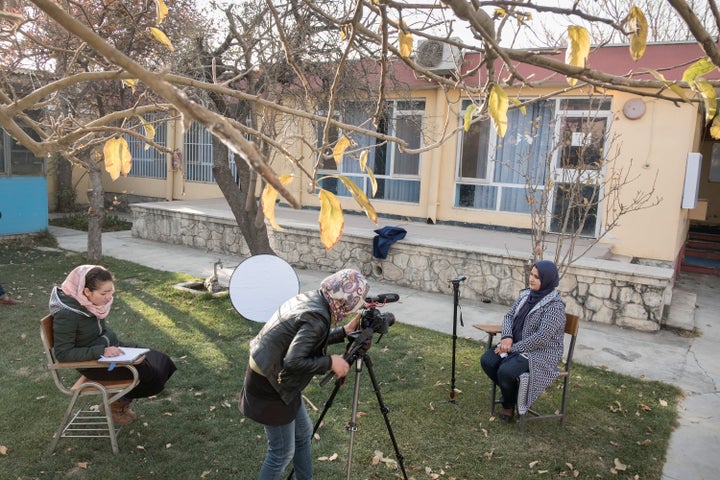 Before Sahar Speaks, there was not a single Afghan woman working for any of the international, English-language media outlets in Kabul. This systemic failure created a gaping hole in the country's foreign coverage, in which the genders are largely separated. Afghan women's stories were being relayed to the world by Afghan men, foreign men and foreign women.
We changed that. As the Afghan proverb goes, patience is bitter but its fruit is sweet. And once we gave a taste of Afghanistan-based, high-quality journalism from local women, they were suddenly in high demand.
Just to name some of the successes of our alumnae over the past year:
And The New York Times made the bold and inspiring step of hiring Afghanistan's first female journalist for an English-language outlet, our alumna Zahra Nader.
Last August, within weeks of beginning at the Times, Nader landed her first co-bylined story on the front page. Despite the Taliban's notorious disdain for women, she managed to speak to several former and current members of the group to get the story. Marking International Women's Day in March, she wrote a full-page spread about how the largely symbolic holiday feels in the worst place to celebrate it.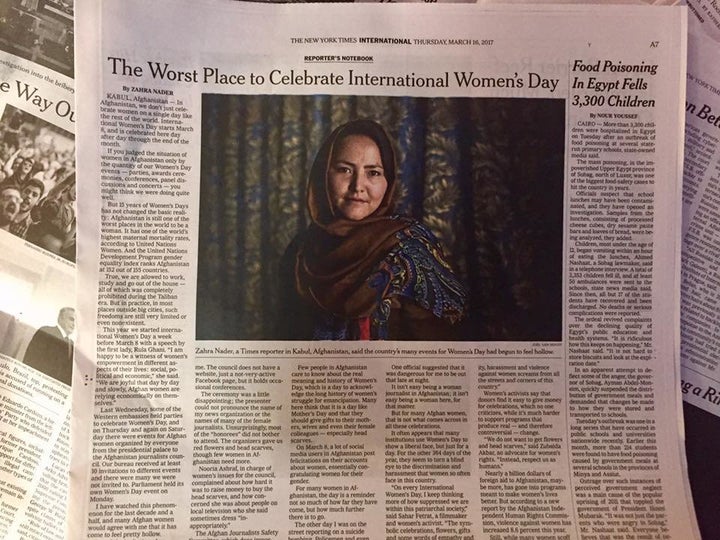 Late last year, a new round of 10 Afghan female journalists were trained in Kabul, focusing on photography and videography skills. This was done intentionally; there is a dearth of visual female journalists in Afghanistan. And, as we have seen with the first round, only Afghan women can gain access to the stories of their women and truly unlock the conversations that affect them.
In the words of one participant from Kandahar, the birthplace of the Taliban, "I see stories when I sleep, and I want to show them to everyone."
Our participants were an eclectic group, coming from across the country. Some were just starting out in visual storytelling; others were passionate photographers. The depiction of women in photography interested them greatly.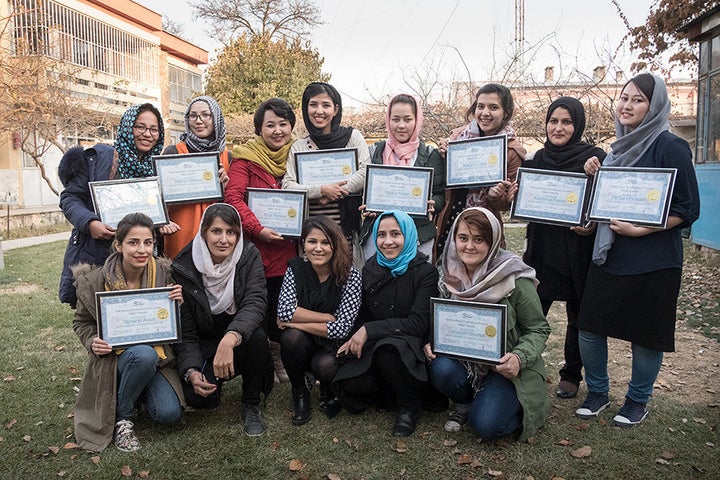 When asked to bring their favorite photo to class, one woman brought the iconic Vietnam War photograph by Associated Press photographer Nick Ut that showed a naked girl running from a napalm attack. The group was inspired by photographer Steve McCurry's "Afghan Girl," which appeared on the cover of National Geographic in 1985. Her piercing green eyes became an enduring image of their country at war. When they discovered that McCurry's work has since been embroiled in a Photoshop controversy, the group was crestfallen.
One of our mentors, Istanbul-based photographer Monique Jacques, managed ― through a spectacularly complicated network of fellow journalists and volunteers traveling to Kabul ― to donate gently used DSLRs, so the women could begin shooting on real cameras instead of using smartphones.
Something felt different this time, a year and a half after the first group had been trained. The women in the second round are mostly young, many still university students, and their lives have been shaped by the NATO-led war. The majority were first-graders when a U.S.-backed coalition ousted the Taliban at the end of 2001.
Now, as Washington wrestles with what to do in Afghanistan, where it has waged its longest-ever war, the United States finds itself in a new position: How to win an unwinnable conflict? Should it have another troop surge, or does it take another stab at nation-building? Either way, everyone knows there is no easy fix when it comes to Afghanistan.
In late July, Afghans were on the receiving end of President Donald Trump's laconic boorishness when he told top Pentagon officials, "We've been there for now close to 17 years, and I want to find out why we've been there for 17 years." After spending his entire presidential campaign criticizing the war as a "disaster," Trump in late August finally said he had a plan for Afghanistan, involving more troops, though the details were vague. Reportedly he was spurred to boost the U.S. presence after being shown a famous 1972 photograph of Afghan women in miniskirts in Kabul as proof that Western ideals can be effective there.
The young women of Sahar Speaks can tell Trump what the U.S. has been doing in their country for most of their lives. Trillions of dollars of U.S. taxpayers' money has been spent, mostly on supplying U.S. troops and training a large Afghan army and police force. Billions of dollars of aid money was notoriously misspent. Civilian deaths are at their highest in 16 years, and Afghan troops are being killed in ever-greater numbers. Islamic State has made inroads. The current unity government led by President Ashraf Ghani is incredibly weak: as of the start of this year, the Taliban controls almost half of the country.
Many of the women also benefited from U.S. intervention. They learned English at American-funded institutions and were given the opportunity to attend university, despite their gender. They were encouraged. They enjoyed some semblance of civil society. They were given a glimpse ― albeit some would say fleetingly ― of what it looks like to live in a world where women have more rights.
But now, where once there was hope, there is a vacuum. The young women of contemporary Afghanistan live under the long shadow of a void, of what was meant to be a better life. This is reflected in their stories, which are told with a mixture of poignancy and urgency, a reaction to what many see as a broken promise.
Popular in the Community