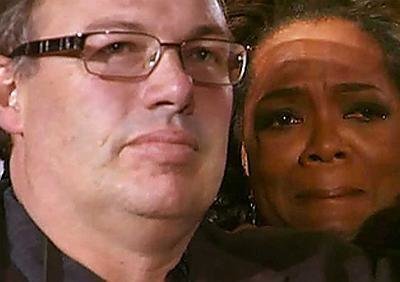 Oprah's random shoulder to cry on has been identified, and he'll be on her show Friday.
Oprah Winfrey said on her show Wednesday that she did not know the man whose shoulder she cried on during the Obama victory event Tuesday night in Chicago's Grant Park.
"I ended up, I don't know who this guy is," she said while showing a photo of her crying on a nearby celebrator's shoulder. "Friends called me around the country saying, 'Who is with you?' I go, 'I don't know him!' But he was very nice to me. At one point I was just sobbing on his shoulder, mascara everywhere. Anyway, thank you Mr. Man for letting me cry on your shoulder."
The Chicago Sun-Times Thursday identified the man as Silicon Valley resident Sam Perry, who was listed as Obama's communications director for the region:
Perry is apparently an Obama volunteer, listed as the communications director for Silicon Valley for Obama.

Giselle Schmitz, regional field director for the Obama campaign, described Perry as "a great guy" and "tremendous asset to the organization."

"He's a great, great supporter," she said. "He did a ton of work on the campaign."
Watch Oprah talk about her mystery man:
<0--1904707128--hh>0--1904707128--hh>