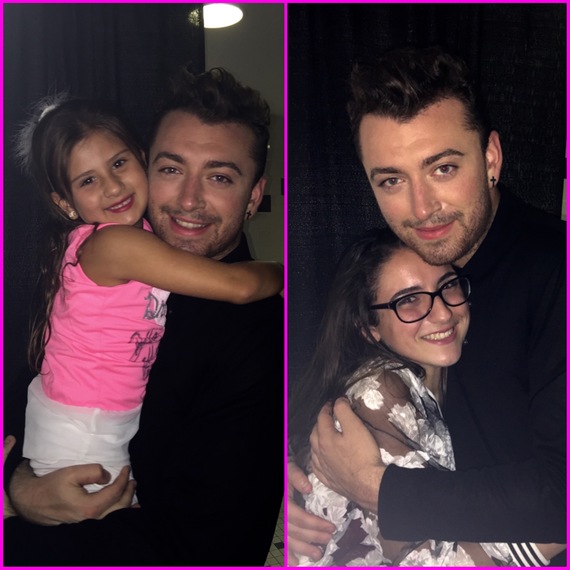 As I press rewind on my mind and try to find the perfect spot to pause my memory and jot down that magical night, I struggle for which point to put pen to paper and begin to write; but I must chronicle my latest Sam Smith experience because it's something I have to share with the world...the Sam Smith World!
It started in Miami; Sam played to a sold out crowd at the American Airlines Arena and although I didn't attend the event, I followed along with Sam's Twitter and Instagram. Not only his either, but the social media accounts of some of his loyal followers too. See, Sam Smith has the support of millions and he lovingly calls those supports his "Little Sailors" and sail away they do, liking his pics and retweeting his tweets hundreds of thousands of times! Following my daughter Bianca's account @SamSmithFacts on Instagram and Snap Chat, made me feel like I was there in Miami and got me even more excited that I would see the concert the following night.
The next day, Sam would play to yet another sold out crowd, this time in Tampa Florida and I would be there. I loaded my Range Rover and two of Sam's Little Sailors (Bianca and Bella) jumped in the back seat, excited to get to Tampa to hear and see the singer whose music they admire such a great deal. Sam's music has a message; be whomever you are and be proud of who you are. That in itself is something all kids, and adults alike, should adhere to, in my opinion at least.
After almost four hours driving north, we arrived. We checked into our hotel and the girls eagerly began applying their makeup, getting dressed and discussing if they would have the chance to meet Sam. I didn't really let them in on the secret; that my friend Nile Rodgers (Chic) had introduced me to Sam Smith and that we had coordinated a private meet and greet just for them! I didn't tell them because I wanted it to be a surprise, but also because I knew concerts were complicated for artists and time was a difficult thing to manage. I didn't want them to be disappointed if it didn't happen so I decided to let it unfold organically.
Sam rocked the packed out Amalie Arena and as the concert concluded, and the fans filed out, I told my girls we should stay in our seats and let everybody leave; it would be less chaotic that way (wink wink). The ushers began to clean the arena and tell fans it was time to go. An usher looked over at us and asked if I was Uncle Louie. I nodded and he told the other ushers we could stay, but everybody else had to depart. My oldest daughter Bianca (14) heard this and almost instantaneously started to tear up. Shortly thereafter, Colin greeted us at our seats. Colin is Sam's security who reminded me slightly of my big brother Bill Goldberg! Colin was a big imposing guy, bald with tattoos wearing a black shirt with a burly British accent. He was all business, focused and task oriented. Clearly good at his job.
Colin escorted us across the arena and into a tunnel where Sam's personal assistant Andrea greeted me with a wonderful "Hello Uncle Louie" and a kiss on each cheek. Then she led us to a door, a closed door, with a printed sign that read Sam Smith. Colin opened the door and there, on a black couch, sat the man himself, Sam Smith. Beside Sam, on the couch, laid his yellow gold Presidential Rolex. Symbolic of time and, if you ask my daughters, Bella (6) and Bianca, they would both have liked to stop time at that very moment! Sam greeted my girls and I with a smile and made us feel very welcome. Bianca asked for a hug; she told Sam how much she loved him, and then asked for more hugs! By this time, Bianca was crying, tears of joy, but tears nonetheless and she was so happy, so moved, that she would cry for hours to come! Sam was wonderful, humble, hospitable, courteous and patient. It was clear he had a gentle soul. He picked up Bella, kissed her on the cheek and said how she made him want to have a kid. They took a wonderful photo together, both smiling big and so happy. Sam told Bianca how much he loved her jacket, how he recognized her from Instagram and how much he liked the poster we made together for his concerts. She was in awe and these little gestures were huge moments for Bianca.
After lots photos and plenty of autographs (Sam signed baseballs I brought, a shirt, a book, poster, etc.), I gave Sam a pair of headphones from the Marley Family, some Fat Boys shirts and we chatted about Eric B and Rakim (Eric B mostly), and my work with old school hip hop and sports entertainment.
Sam's new song will be released on Monday July 27th which coincidentally is my birthday. The song, aptly entitled Omen is sure to be another hit for Sam Smith. I believe in Omens, in signs, and that everything happens for a reason. Don't you?
Calling all HuffPost superfans!
Sign up for membership to become a founding member and help shape HuffPost's next chapter