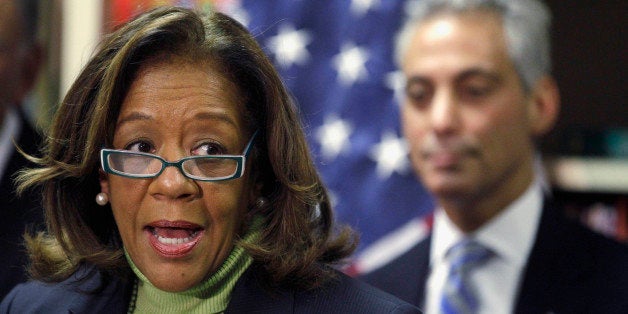 A tenacious journalist does some digging and uncovers highly suspect -- perhaps criminal -- conduct by a top CPS/Chicago Board of Education official.
Board members are unable to cobble together any explanation for the conduct that will pass the straight-face test, despite having a team of well-paid communications specialists at their disposal.
The mayor, who meets regularly with the official at the center of the scandal, professes no knowledge of the alleged financial wrongdoing.
With investigative pressure mounting on the official in question, it becomes obvious that the individual can no longer lead the cash-strapped organization, and in relatively short order a new insider is handed the reins.
As the first order of business, the organization's new chief tells reporters that because there is an ongoing investigation, it wouldn't be proper to answer questions about the subject of that official inquiry.
Hoping, however, to reclaim some shred of institutional credibility, the new top dog announces that the organization will hire outside experts (on the taxpayers' dime, of course) to undertake a thorough review of the conduct at issue and the circumstances that gave rise to it.
That's the CliffsNotes' version of recent events concerning CPS CEO Barbara Byrd-Bennett and her $20.5 million no-bid SUPES contract.
But it's also the plot summary for the 2009 investigation of former Chicago Board of Education president Michael Scott, who used his school board credit card to take his wife to Copenhagen.
Things didn't end well for Scott, who was found in the Chicago River, dead from a gunshot wound, just two weeks after a Chicago Tribune reporter sent the board a FOIA request concerning board members' expense accounts. (Scott's death was eventually ruled a suicide, though many individuals close to Scott have questioned that conclusion.)
Only time will tell how the SUPES controversy plays out for Byrd-Bennett and her CPS colleagues. At minimum, the scandal will almost certainly end Byrd-Bennett's CPS career -- she's currently on paid leave from her job -- and go down as a political embarrassment for Mayor Rahm Emanuel. A federal grand jury will ultimately decide whether things are to get more complicated for Byrd-Bennett and others involved with the SUPES contract.
In any event, smart money says the new face of CPS will announce this summer that a large consulting firm has completed its study of both the SUPES deal and the CPS policy for awarding no-bid contracts. We'll likely be told that the consultants found nothing improper about the conduct of board members (who unanimously approved the SUPES contract), but we'll also be told that the consultants have made a number of "significant recommendations," which will be riddled with phrases like "best practices" and "public trust," about CPS's continued use of such no-bid deals.
As Yogi Berra might have said, "The more things don't change, the more they stay the same."
Calling all HuffPost superfans!
Sign up for membership to become a founding member and help shape HuffPost's next chapter