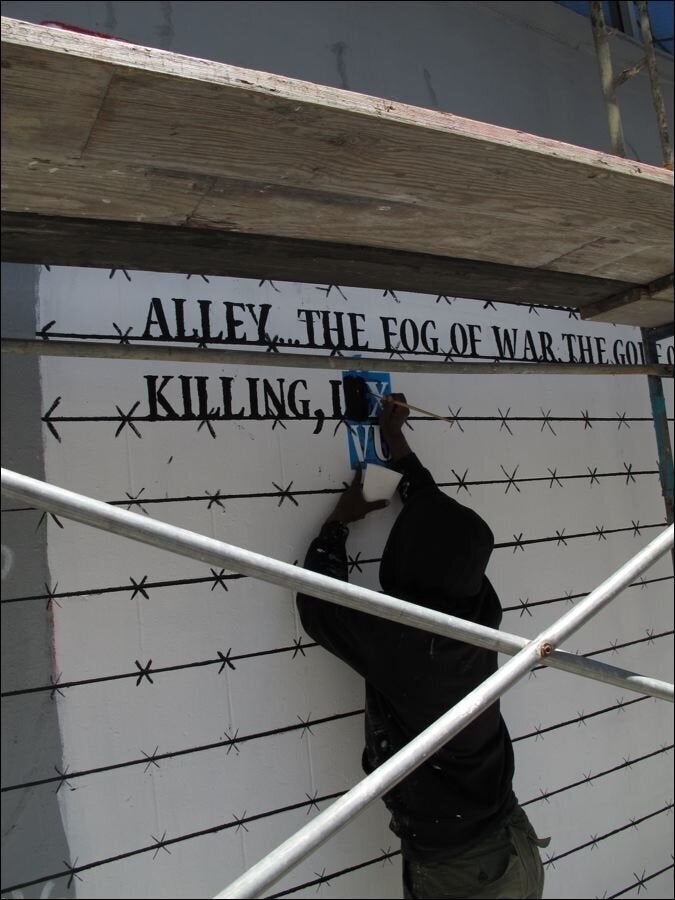 The names of 4,484 U.S. soldiers killed in Iraq are currently being painted on the walls of the Tenderloin's tastefully-nicknamed corridor. The Name Project, a 78-by-30 foot endeavor, is just one of many murals that have recently transformed the alley into a piece of art.
(SCROLL DOWN FOR PHOTOS, VIDEO)
The strip of pavement between Geary and Shannon Streets hopes to find a new nickname in "San Francisco Veterans Mural Alley." It's currently covered in nearly 30 murals painted by U.S. Veterans.
Amos Gregory, a veteran of the Persian Gulf War, started the project in an effort to provide fellow veterans with an outlet to cope with their war-time experiences.
"Art regarding veterans is often done by artists who do not understand the experience of war and are not veterans themselves," he said in a statement.
Gregory told CBS San Francisco that the final push for beginning the mural project was watching his friend and fellow veteran, Ruben Chip Santos, suffer from PTSD and eventually commit suicide at age 27.
"This alley will give veterans a permanent voice and presence within the community," Gregory's website reads.
Gregory gained permission from four of the six alley building owners to paint. His project officially began on June 26, which was also Post Traumatic Stress Disorder Day.
Although the murals are well under way, Gregory has received only $390 in donations of the estimated $40,000 cost. The Names Project alone is projected to take at least two months.
"As many people that want to participate or want to show solidarity, come pick up a paintbrush," Gregory said.
PHOTO GALLERY
San Francisco Veterans Mural
Calling all HuffPost superfans!
Sign up for membership to become a founding member and help shape HuffPost's next chapter