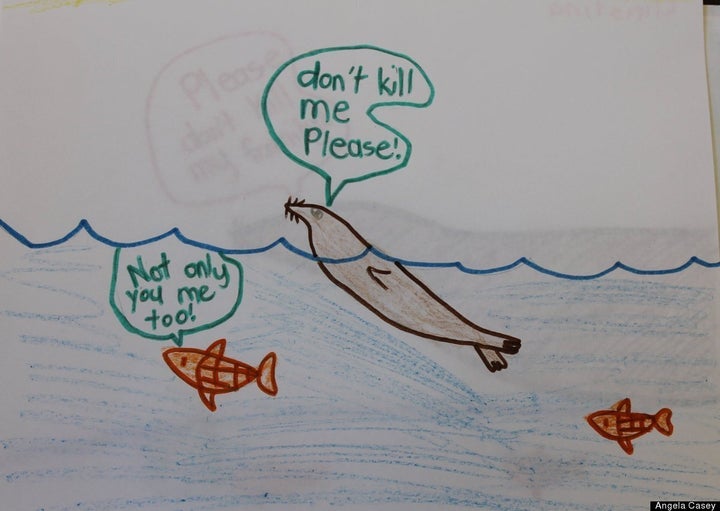 A local class of third graders at San Francisco's Lafayette Elementary School has started a letter campaign to save California sea lions who live around Boneville Dam.
Angela Casey's class is directing its efforts towards the governors of Oregon and Washington as well as President Obama, asking them to prevent any more sea lions from dying on the Columbia River.
Oregon and Washington state officials have captured and euthanized California sea lions caught eating the salmon in the Columbia River. The two states are exempt from the federal Marine Mammal Protection Act, allowing officials to kill the creatures by claiming they have a significant negative impact on the endangered salmon population.
The heroic effort of Casey's third grade class to prevent any more killings has caught the attention of politicians, news outlets and activists along the west coast.
On May 10, Casey traveled to Oregon to try to hand-deliver her students' letters to Oregon Governor John Kitzhaber. Kitzhaber, however, was not able to meet with her in person.
"I'm very upset that sea lions in Oregon are being killed for salmon! It's your fishermen's fault because they are over fishing," one student's letter reads. "There are better ways to save salmon without hurting sea lions."
"My office received 15 letters from Lafayette Elementary students," State Senator Mark Leno said in a statement. "I applaud these young people and their teacher for taking a stand on this animal protection issue and thank them for their advocacy and passion."
But the fight won't end here.
Pending a judge's decision, Oregon and Washington are currently allowed to remove twenty more sea lions this year. Casey, however, remains hopeful that the judge will rule in the sea lions' favor.
"The school year ends this Friday, but this issue does not. We await the judge's ruling and my third graders continue to get a lot of press," said Casey on the Facebook page she created to feature her students' efforts.
The sea lion sent to Chicago's Shedd Aquarium was named Casey after the teacher's efforts.
The judge is set to release his final decision on the fate of the sea lions later this month. In the mean time, take a look at the sample from the students' campaign below:
PHOTO GALLERY
Save the Sea Lions of Boneville Dam
REAL LIFE. REAL NEWS. REAL VOICES.
Help us tell more of the stories that matter from voices that too often remain unheard.