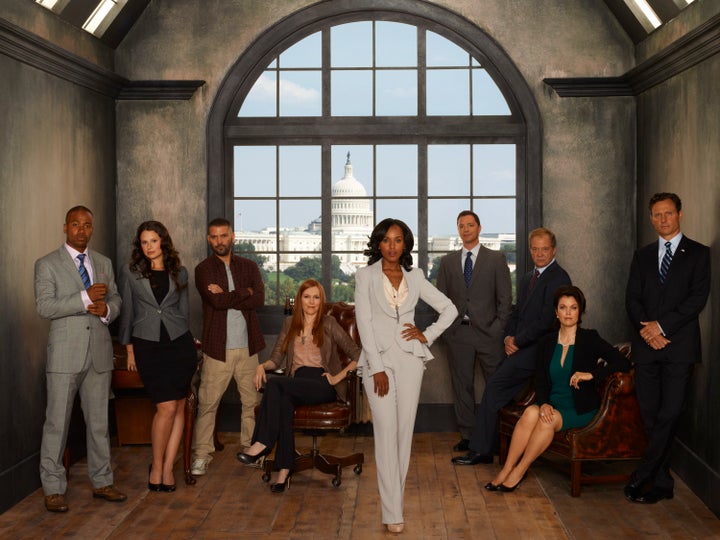 "Scandal" had such an insanely intense first season that fans have all been wondering how Shonda Rhimes and Co. will top themselves in Season 2 (premieres Thurs., Sept. 27 at 10 p.m. ET on ABC).
HuffPost TV visited the show's set to talk to "Scandal" stars Kerry Washington, Katie Lowes, Guillermo Diaz, Darby Stanchfield and Columbus Short from the office of Olivia Pope & Associates; their White House pals Tony Goldwyn, Bellamy Young and Jeff Perry; and Josh Malina, who plays Olivia Pope's favorite sparring partner, U.S. Attorney David Rosen.
We've got questions that need answering right off the bat, mainly: Who is Quinn Perkins? Is the First Lady pregnant? And does that mean Olivia and the president are done for good? But how much will actually be answered in Season 2 remains a mystery -- even to those playing it. "You never know," Lowes said with a laugh. "Freaking anything is possible, for sure."
Keep reading for scoop on the big Quinn Perkins reveal (and subsequent questions) that happens in the Season 2 premiere, new twists for the characters, evils that lurk in the Oval Office, more major flashback reveals and to find out who's getting down to just their skivvies this season. (Hint: It's not who you'd expect.)
Who is Quinn Perkins?
Washington: "There are a couple of really big questions after you find out who she is -- it opens up a whole new box of drama."
Lowes: "You find out right out of the gate. Well, the who answer ... in classic, amazing Shonda Rhimes world, you might answer one question, but it has led you to like 15 others. Then it becomes why? How? What? When?! The why is really what I think is going to be explored this season."
Short: "Right away you find out. I was unsatisfied though, because you find out, but you still don't really know. It's nuts! We waited all this time ... Shonda's gonna make you work for it, every single bit."
Stanchfield: "Fans are going to be love-hating it. It's like a lot of other things on this show where you'll get a quick peek under the rug, but they're not gonna pull the rug up all the way. You're gonna leave this first episode of the second season with more questions than answers."
New Twists
Short: "I think Quinn is closest to Huck, but Harrison and her have a very special relationship that's different -- Harrison kind of protects her. She's somewhat of his little project, you know? And that bond is going to grow exponentially this season, and you'll get to see some crazy relationship dynamics happening, not only between Harrison and Quinn, but Quinn and Abby, Liv and Huck. I'm not talking about romantically, but the relationship factor in this ... the dynamics are shifting and changing and growing. It's a tug-of-war of crazy relationships right now. This is one dysfunctional office -- at the highest level."
Diaz: "This season you're going to see a lot more flashbacks of Huck's past life -- there's a lot of flashback stuff! -- so just in tha, you find out so many different new things. There's also stuff going not too far back to right when he first joined Olivia Pope & Associates. It's really interesting. You start to see where he came from and his relationships with Olivia and how that developed. It's kind of like when you take in a stray dog and they just want to walk next to you all the time and they get very protective. When I'm playing Huck, that's exactly what I have in my head: She saved my life."
Lowes: "There are some new colors. [Laughs.] Quinn's been around the block now -- she's definitely learned some stuff from Olivia Pope and from all the crazy ass situations that she's found herself in."
Love In The Air
Stanchfield: "Well Abby's crush Stephen [Henry Ian Cusick] is gone now. Abby deals with it ... he's not forgotten ... I think it's going to be a really, really interesting season for Abby, let's just say that. It might free her up to find a new available man. She needs to -- she's so straight and tight-laced. I stomp around and sneer and call everybody a whore for 15 hours playing her and I need a break. [Laughs.]"
Goldwyn: "I don't know if there are other lady scandals in Fitz's past, but I doubt it. I think that in Season 1, the whole Amanda Tanner thing led you to believe, 'Oh, he's one of those guys.' And then you start to realize that he's much more complicated than that. I can tell you he's still painfully, desperately in love with Olivia Pope, and it's a real problem."
Lowes: "She's got a bad history, huh? [Laughs.] She definitely murdered someone with a scissor by accident, so her scandals do not lie in the opposite sex at the moment, but other people's might. It's freaking Shonda Rhimes -- she knows the way into people's hearts! Whenever we get the scripts and there's some sexy sh-- going on, we're more excited than anything. Doing a sex scene on television is like the worst experience ever. It might look really hot, but it's so uncomfortable. The guy I got to make out with, Brendan Hines, is so hot! It was awful. Like, I love him to death, but it was awful -- there's tons of people around, you're in little pasties, it's sweaty and your bodies are getting stuck to each other. It's not hot."
In The Oval Office
Goldwyn: "It gets crazier. Things are not happy in the West Wing as a result of what Olivia and Mellie engineered at the end of Season 1. Fitz is struggling, and things explode very, very quickly. Shonda doesn't mess around. [Laughs.] We're not wasting any time getting to big stuff. We were all really thrilled with the first episode -- it's just like a cannon shot, and the second episode tops that. Season 2 is gonna be good."
Lowes: "The White House drama is not finished -- it's still happening. The actors are here -- Tony Goldwyn, Jeff Perry and Bellamy Young has been made a lead of the show. So they will be around and there will be mucho scandaloso involved in the White House."
Perry: "We have just barely saved the presidency from some gigantic messes that could've sunk us at the end of Episode 7, and as we begin this season, we get the feeling that that near-career death experience has left the president and I, Fitzgerald and Cyrus, really strained. It's kind of an emotional Cold War. He's been left very, very unhappy and is in a pretty volatile emotional state, and I'm just trying to sort of get by. It's just very strained in the beginning, but some things get healed in the first couple of episodes."
Washington: "I love that our guest stars from last year are so deservingly series regulars this season -- Bellamy Young and Josh Malina. Bellamy is ridiculously talented, and her stuff is pretty amazing again this season."
Young: "There's so much to learn about Mellie and Fitz in the first episode -- it'll be so tasty! Mellie is fraught with ... let's just say there's a lot of potential coming to bear in that first hour. Shonda answers every question with a thousand more questions. Her answers tease you into so many other directions that your head spins! I mean, I had two lines in the pilot, and they just started writing more and more, and it got deeper and deeper, and more and more fun to play. She pulls stuff I would never have the balls to pull. Ever. It's freeing to get to come to work and be totally unhinged."
Evils That Lurk
Goldwyn: "Fitz has no idea how deceptive Cyrus can be. Not yet. Fitz's problem with Cyrus is that Fitz operates from his heart, which is a bit of a flaw, but also an attribute, and from a sense of purpose in the office. And Cyrus has become increasingly politically motivated, so their trust has been kind of broken in that way. But Fitz doesn't have a clue about Amanda Tanner and all of that. I'm guessing that's left for him to find out."
Perry: "I had no idea how evil Cyrus was going to be. Just today, I was saying to one of my acting mates, Annie Cusack, who is playing a national security agency chief, that there's such a beautiful dichotomy written into all of these roles. Shonda kind of writes to people and then sees the yin to their yang. I thought for about three episodes that I was the moral center of this universe, and then I started doing things that would make Richard III blush. [Laughs.] And then I realized, 'Oh, well maybe not.'"
Washington: "Like everybody on the show, Cyrus is not that simple -- he's incredibly charming and loving, and he cares very deeply about the president and the country, and that's where his decisions and his actions stem from. I don't think he's purely evil ..."
Young: "We were just saying that Cyrus and Mellie are going to have to get up to some mischief together this season. They're alike in so many ways, but there's also plenty of friction there. We have a combined agenda."
Other Scandals
Stanchfield: "The first scandal of the season, outside of the White House, is really interesting for my character. And Episode 3 actually fooled every single one of us. We read the script and we all thought we knew where it was going, and we were all duped."
Diaz: "There's a lot of really sad stuff that's happened, like the shootings in Colorado. I'd like us to maybe tackle something like that to tell that story."
Short: "I'm fascinated by athletic scandals -- there's so much scandal in sports. As a sports fan and having a vast knowledge of sports, I'd love to dive into that world and see what's going on."
Washington: "I really trust these writers. Every time I've said, 'Oh, it'd be cool if ...' I get the script and it's 10 times better than any idea I could come up with. I'm just on the ride now. There's that beautiful little symbol at the end of all of Shonda's shows -- this rollercoaster with a beating heart in the middle -- and that really is the world. It's a tremendous rollercoaster, and it's so easy to trust the ride and enjoy it."
What's Next?
Goldwyn: "Right now, in addition to doing the second season of 'Scandal,' I'm also producing and directing a new pilot for AMC, so I'm busy with that when I'm not shooting 'Scandal,' so maybe when I get that done, hopefully I can direct a 'Scandal' episode. Shonda and Betsy [Beers] had asked me to, so I'm just trying to fit it in. Mainly because these guys at Olivia Pope & Associates, we never get to work together -- they don't cross -- so that would give me an opportunity to come in here and be a part of it."
Young: "We have so many great guest stars, again. And I'll tempt you with a little something ... Josh Malina is in some college boxers in an upcoming episode."
Malina: "Where did you hear that? I don't know what kind of clearance I have, but I may be wearing boxers at some point this season -- America, brace yourselves! But I will say, since you mentioned the boxers, that occasionally being out of my suit altogether this season means that there's more going on in his own life and his world outside or work, which I didn't think they'd necessarily explore. But really -- who told you I was in boxers?!"
Diaz: "I would love for them to kind of delve into more of Huck's family -- where they are, if he's ever going to see them again, because I feel like he struggles with that. Imagine never being able to speak to your husband or mom or dad ... that's how he's living right now. Maybe some more old friends of Huck's."
Lowes: "I definitely want to keep the scandal going. I love that there are all these layers and complexities to her backstory that keep getting peeled back, episode by episode. I'm super into that."
"Scandal" Season 2 premieres Thurs., Sept. 27, 10 p.m. ET on ABC.
REAL LIFE. REAL NEWS. REAL VOICES.
Help us tell more of the stories that matter from voices that too often remain unheard.
BEFORE YOU GO