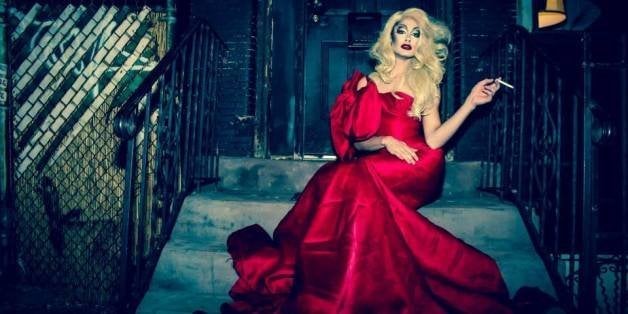 This is the first installment in an ongoing series that explores drag culture and the nightlife scene in Brooklyn, N.Y. Over the past several years, following the large-scale exodus of artists across the East River and into northern Brooklyn, those engaged in drag culture in this outer borough have created a new, queer world entirely their own. Accompanied by a larger movement to understand drag culture outside of the pageant circuit, many individuals engaged in the drag community in this borough approach drag culture through a nontraditional lens of "alternative" drag or performance art, enabled largely by the malleable and queer nature of this part of New York. Visit HuffPost Gay Voices regularly to learn not only about the individuals involved in Brooklyn's drag community, but more about the culture of the community itself.
The Huffington Post: How did you get your start in the drag world? Where did your journey begin that led to you becoming a staple in Brooklyn nightlife?
Scarlet Envy: If you consider yourself to be one, are you really a staple? I entered my college drag pageant a couple of years ago and learned that I am not a natural born dancing queen, nor do I enjoy pageants, but that I loved this insane drag world. One day I woke up realizing that a majority of my friends were drag queens and continued to fall deeper into the scene from there. My journey into nightlife has only continued because of the energy and acceptance accompanying the underground.
How would you characterize the kind of drag that you do?
Generally, I stay fairly close to a classic yet twisted female impersonation. I am the cheapest lady with the highest price tag.
You host a drag show called Scarlet Fever every Friday night at This n' That. How did you get to this position in the Brooklyn drag community?
I honestly fell into my first weekly gig. My friend Jenna Tonic brought me on as a cohost for a show we shared for awhile. Eventually she had to leave the show, so there I was with a handful of opportunity! I am very happy with how Scarlet Fever has developed; my vision behind the show is to provide an escape from daily life, a reason to drink fireball whiskey and an opportunity to kiss hot Williamsburg boys.
Describe the drag scene and community in Brooklyn -- how is it different from drag culture elsewhere?
There are rotten apples in every family tree, but the family I have in Brooklyn nightlife are some of the best people I could ever imagine sharing life with. Manhattan is fabulous, I have plenty of family and gigs there too, but sometimes I find mindsets a little closed comparatively. At the end of the day (or night) we are all clowns celebrating our freedom to run around in high heels without being shot for it, right?
In what ways would you say that the queer scene in Brooklyn is pointing to the direction that drag is moving?
The Brooklyn queer scene is a conglomeration of love and energy that is executed beautifully. It's so much more than drag queens lip-sycing; it's a cultural shift in attention to the outskirts of Manhattan -- too many big words there. Brooklyn has always done whatever the hell it wants, people are tuning in now because of press coverage of events like Bushwig, Mr(s) Williamsburg and The Brooklyn Nightlife Awards.
(The interview with Scarlet Envy continues after the slideshow.)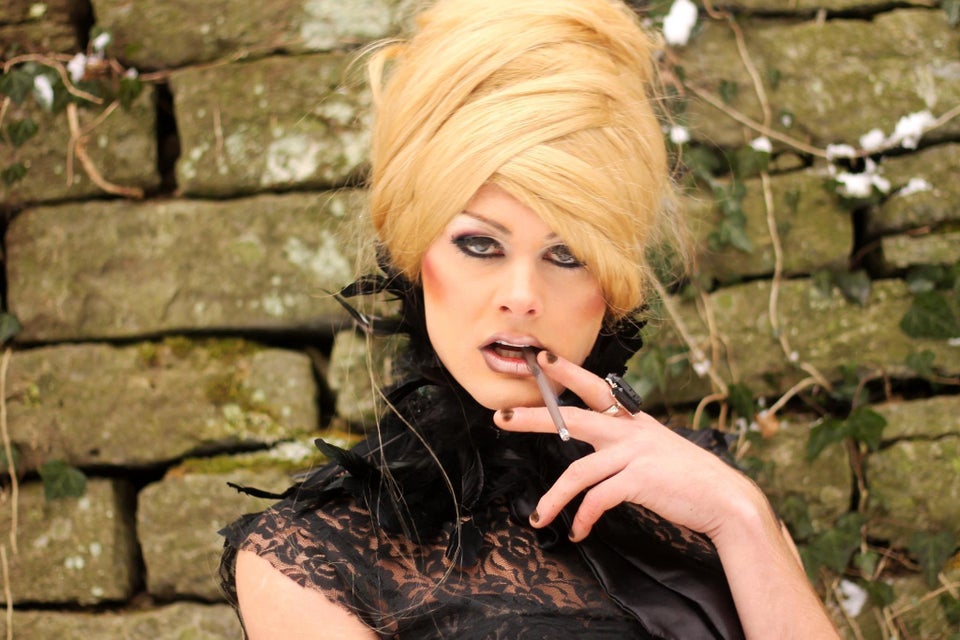 Scarlet Envy
Drag culture is becoming increasingly more mainstream, particularly with the popularity of "RuPaul's Drag Race." How would you say this has affected the nightlife community?
I have never personally submitted an audition tape, yet I don't see the harm in the show, as some do. Reality TV will continue regardless and I would rather see RuPaul's lashes than a Kardashian's ass.
In what ways is the type of drag being done in Brooklyn different from these mainstream representations?
Almost everything. The show is publicly edited for production purposes and it's a competition at its core. Drag in Brooklyn is not a competition, rather than a celebration. There is a massive sandwich at my local deli called the "Heart Attack" (It's chicken, cheese sticks, curly fries and white sauce on a hero, with a single shred of lettuce and a tomato as an afterthought). It has become an occasional tradition to share one with a few queens on my fire escape in celebration of a good night out -- everyone still in full makeup. I doubt you'd see that much "realness" on Drag Race, much less the accompanying conversation. Drag is a means of developing a support system of real people and finding confidence and bonding in a late night "Heart Attack."
Where can you be found throughout the week?
My own show "Scarlet Fever" is every Friday at This 'N That Bar in Williamsburg. Drag shows for your nerves, showtime at midnight. 108 N 6th St, off the Bedford Ave L train.
I host for a new party in Nolita on Saturdays called Downtown Debbie with my sisters Vivica James, Elle Emenope, Minnie Cupcakes, and Milk Queen. Presented by Michael Cohen and Scott James, it's a lounge situation with lots of bottle service. LairNYC is on 201 Lafayette Street.
I also frequent many Susanne Barsch parties, along with Brooklyn venues for parties such as White Diamonds at Bizarre Bar and Dizzyland at Spectrum. I also work private events around the city and surrounding areas.
Missed the previously featured drag performers and installments in this series? Check out the slideshow below.
Support HuffPost
Every Voice Matters
Before You Go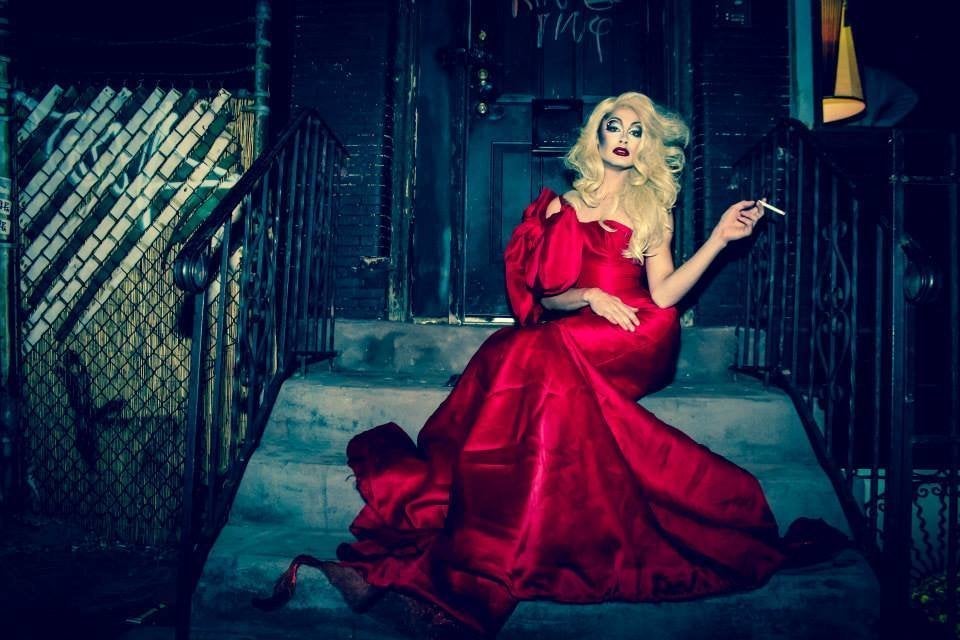 Queer New World: Brooklyn Drag Culture
Popular in the Community