 Have you looked inside the kids food freezer section of your grocery store? Okay, so maybe you only buy frozen waffles -- and those are by the breakfast section -- and frozen veggies -- again, another section.
If you really look inside the kids' freezer-meal section you might come to believe that kids' food comes in fun shapes and brightly colored boxes. From fish-shaped fish nuggets to animal-shaped raviolis, fun-shaped kids' food is everywhere.
One thing food marketers have right: younger kids love brightly colored and fun-shaped foods. It's just the way it is!
Frustrated parents email me all the time asking how they can get their kids to try new things -- from vegetables to eating sandwiches -- and their issues are many.
Getting kids to try new foods is a huge challenge for many parents. Kids seem to be set in their ways about what they like and don't like. And now add parent's desire to pack a variety of foods inside a lunch box, and the challenge just got a bit more complicated.
Why? Because parents want to send their kids to school with a nutritious lunch that will actually get eaten, as opposed to one that comes home, uneaten and mushy, by the end of the day. This is one of the reasons parents get stuck in a school lunch rut. They pack "safe" foods that their kids will eat.
Diana Hansen, of Diana Rambles, uses inexpensive cookie cutters to shape her daughter's lunches. From sandwiches, cheese, deli meats, fruits and veggies... everything gets "butterflied."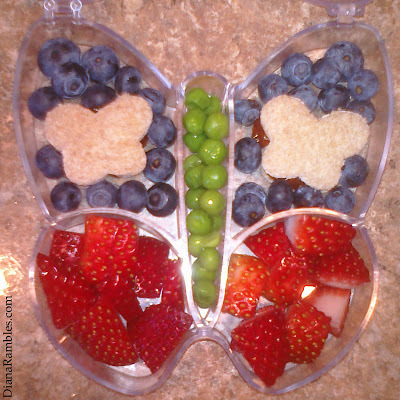 My daughter loves butterflies so I pack all her favorite healthy choices in a butterfly container. I cut her sandwiches, fruits and veggies in just a couple of seconds...and anytime I want her to try anything new I use the butterfly cutter too!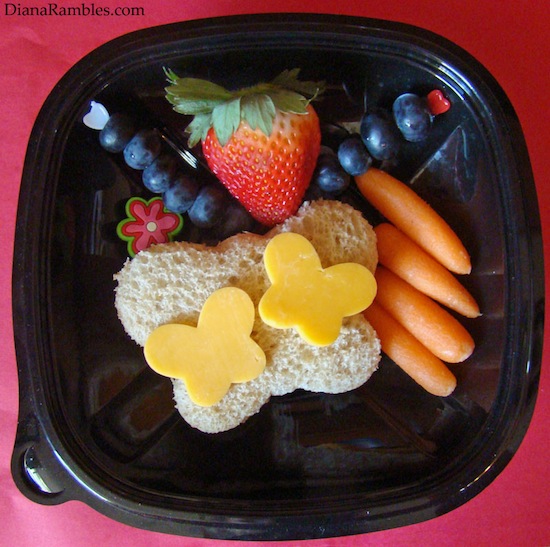 The fact is, that taking a few extra seconds to make fun food for our kids isn't a new concept. JeeJee of AllThingsForSale.com sells every bento accessory imaginable. Her tip is to use a knife to cut fruits, like strawberries, into hearts and use cute bento picks instead of a fork or toothpicks.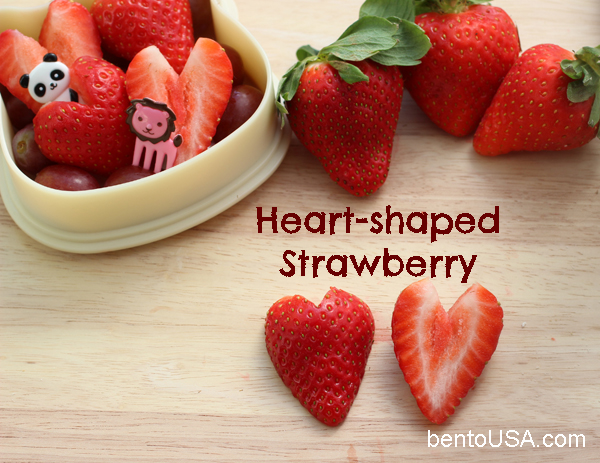 Here is a simple tutorial that shows you how:




The following lunch by Rina of Bento School Lunches, shows how you can piece it together without making it complicated.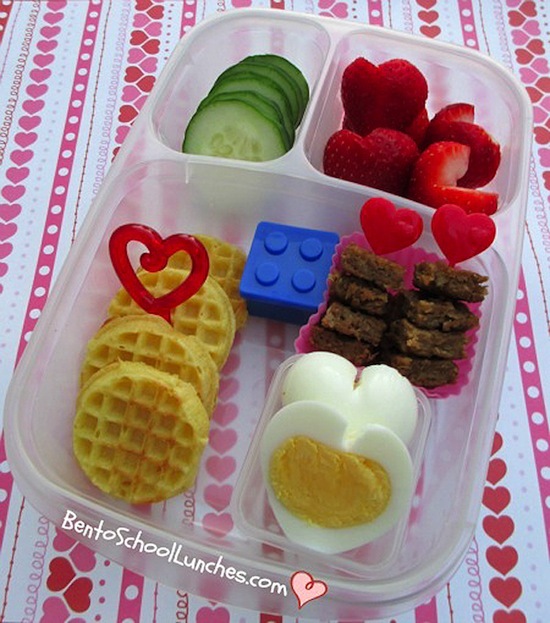 A hard-boiled egg has been pressed into a rice mold for a few seconds and, voila! now you have a heart shaped egg. The strawberries were cut just like JeeJee's tutorial and the lunchmeat is held together with food picks.
And there you have it... a few seconds of cutting and shaping food might just be the trick you need to get your kids to try new things.
What are some of the things you do to make your kid's lunch more fun?