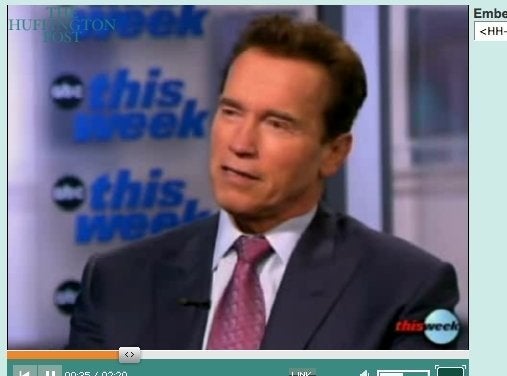 While some Republican governors with presidential ambitions struggle to balance their state's budgetary needs with their own ideological opposition to the stimulus package, others don't find themselves feeling nearly as constrained.
Appearing on ABC's This Week with George Stephanopoulos, Gov. Arnold Schwarzenegger giddily embraced the idea that more money would be available for California should his GOP colleagues -- like Govs. Mark Sanford of South Carolina and Bobby Jindal of Louisiana -- refuse stimulus funds.
"Well, Governor Sanford says that he does not want to take the federal stimulus package money. And I'll say to him, I'll take it," Schwarzenegger said. "I'm more than happy to take his money or any other governor in this country that doesn't want to take this money. I'll take it, because we in California need it. I think it's a terrific package. I think if you ask a thousand people for their opinion, what is their ideal stimulus package, you will have a thousand different answers. So everyone's is a little different. I think he's done a great job and I think California benefits tremendously from that $80 billion of tax benefits there, for around $35 billion. There are other advantages: $45 billion of money that go to transportation, to education, to health care, all those different areas. There's even some money that could benefit our revenues or, I should say, our budget itself...."
<0--438--hh>0--438--hh>
Schwarzenegger, of course, faces sharply different circumstances than some of his Republican brethren, not least because he is constitutionally restricted from running for the White House. The governor just went through a messy and dramatic budget process in which he was forced to raise income and sales taxes and slash spending in a variety of places.
Other governors face similar, albeit smaller economic crises. And, when it comes to the stimulus, they are trying to walk the difficult line between fiscal conservatism and budgetary needs. Gov. Jindal announced this past week that he will take some portion of federal funds but would decline stimulus money that would expand state unemployment insurance coverage.
Calling all HuffPost superfans!
Sign up for membership to become a founding member and help shape HuffPost's next chapter