Ray Bradbury once said "Science fiction is always the art of the possible, never the impossible." This quote particularly haunts me after experiencing the array of gripping one act plays known as Sci-Fest, Los Angeles' inaugural science fiction theatre festival running until June 1 at the Acme Theatre (135 North LaBrea).
Unfolding like exquisite, lost Twilight Zone episodes, Sci-Fest is a theatre festival unafraid to journey into the bleakest, most gut-wrenching corners of human nature to the sheer delight of the thoroughly mind-bended audience.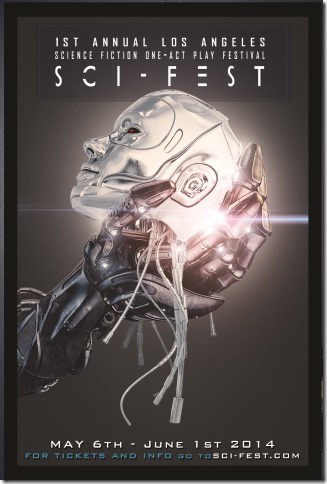 With two alternating weeks of programs ("Evening A" and "Evening B") that feature four or five short plays each, and an inventive late night sci fi comedy show on the weekends, Sci-Fest is as ambitious as it is delicious.
Conceived by actor/writer David Dean Bottrell (True Blood, Justified), Sci Fest proves that this genre can thrive in an intimate live theatre space. In fact, one of the fest's most impressive qualities is its creative use of digital technology for the stage -- including a dazzling video message from a sexy, brooding android (Adrienne Wilkinson) to kick off the chilling festivities.
Los Angeles has played a huge part in the development of the genre. This city put science fiction on the global map, and it is our hope to grow the festival into an annual destination event for Sci-Fi fans around the world.
Dean Haglund, Patricia Tallman, and Philip Anthony Rodriguez in Kaleidoscope (Photo by Alissa Krumlauf)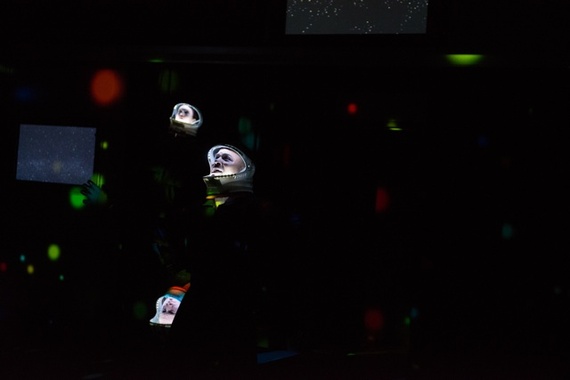 Most of Sci Fest's one act plays are new, original pieces with the exceptions being Bradbury's classic Kaleidoscope, and Ursula LeGuin's mini-masterpiece, A Wife's Tale, featuring Tony Award winner (and Lost star) L. Scott Caldwell in a tour-de-force performance, one of the most powerful to be seen on any stage in L.A. Truly, a must see.
For rabid fanboys and fangirls everywhere, Sci Fest goes the extra mile by casting actors from established science fiction franchises including Nelson Ascencio (The Hunger Games), David Blue (Stargate: Universe), Dean Haglund (The X Files), James Kyson (Heroes), David H Lawrence XVII (Heroes), Madison McLaughlin (Supernatural), Julie McNiven (Stargate: Universe and Supernatural), Jasika Nicole (Fringe), Linda Park (Star Trek: Enterprise), Tim Russ (Star Trek: Voyager), Armin Shimerman (Buffy the Vampire Slayer & Star Trek: Deep Space Nine), Faran Tahir (Iron Man and Star Trek movies), Patricia Tallman (Babylon 5) and the aforementioned Bottrell, Caldwell and Wilkinson (Xena: Warrior Princess).
The Sci-Fest ensemble of TV/film franchise actors (photo by Rob Hollocks)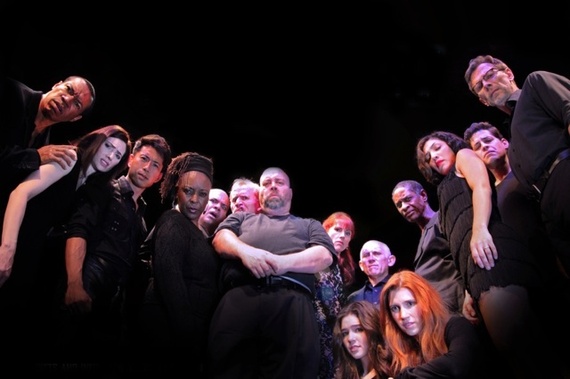 In addition to the impressive onstage talent, Sci Fest's roster of directors are a who's who in entertainment including Jack Kenny (Executive Producer of SyFy Network's Warehouse 13), Dan Castellaneta (The Simpsons), Philippe Mora (The Howling 2 and 3), Jon Kroll (Amanda & The Alien), Jim Fall (Trick), Pat Towne (Frank Zappa's Joe's Garage), Rob Hollocks (The Watcher), Jeff Liu (Yellowface), and Steve Kaplan (The Manhattan Punchline).
Part of Sci Fest's fun is the eclectic variety of stories and tones. Fleeting moments of jest wither quickly into the abyss as best exemplified by Evening A's curtain raiser, Forwarding Address, a lighthearted romp between two couples celebrating New Year's Eve (with wonderful comedic moments by Angeline Rose Troy and Greg Duke) until an unexpected visitor ravages the celebration. Evening A takes a much darker turn from there with Adam Esquenazi Douglas' Freedom of Speech crowned by a stellar wordless performance from James Kyson.
A profound desolation permeates Minnesota Plates' The Ringer, a Stephen King-esque foray into sci fi inspired horror (with sublime turns by Bottrell and 10 year old Jakob Wedel) and the fest's deep space centerpiece, Bradbury's unforgettable Kaleidoscope highlighted by visceral special effects, a masterful ensemble, and genius direction by Pat Towne. Somewhere Ray Bradbury is smiling.
Sci-Fest creator David Dean Bottrell onstage with Jakob Wedel in The Ringer (Photo by Alissa Krumlauf)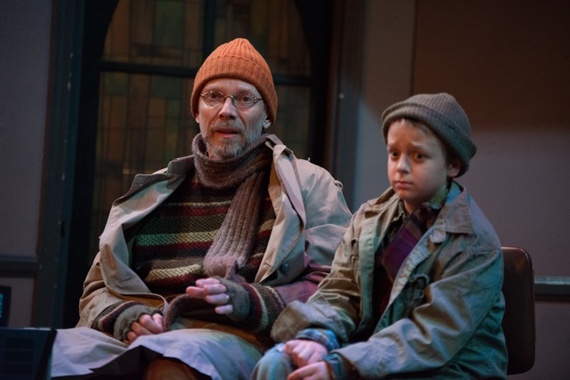 Evening B is even more eclectic with pieces both harrowing (A Wife's Tale) and hilarious (A-li-en The Family).
You need not go any farther than LaBrea for the best otherworldly experience in L.A. theatre. Call me a geek, but I'm already getting my astronaut helmet ready for Sci-Fest 2015!
REAL LIFE. REAL NEWS. REAL VOICES.
Help us tell more of the stories that matter from voices that too often remain unheard.