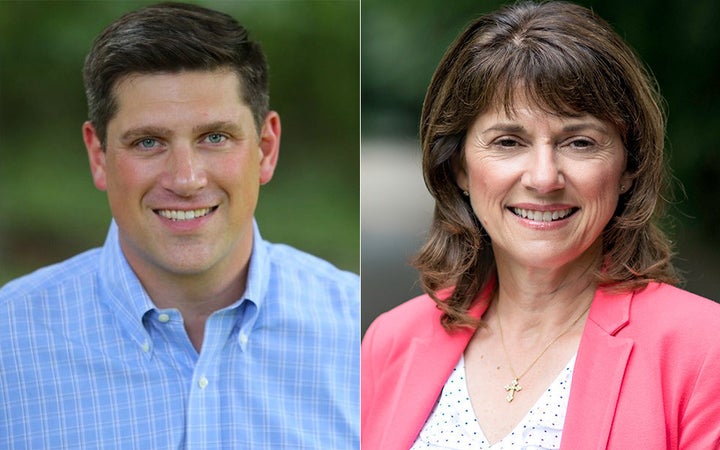 State Sen. Leah Vukmir won Tuesday's Republican Senate primary in Wisconsin, with Gov. Scott Walker's GOP political machine and his allies carrying her to victory and a November matchup against Democratic Sen. Tammy Baldwin.
Vukmir, who had the endorsement of the state's battle-tested Republican Party and long-time billionaire Walker-backer Diane Hendricks, topped Kevin Nicholson, a businessman and military veteran who had the support of megadonor Richard Uihlein and a wide variety of national conservative groups.
Vukmir outperformed Nicholson in the traditional Republican heartland of Wisconsin ― Milwaukee's suburbs ― while Nicholson did better in more rural areas.
Vukmir will now be an underdog against Baldwin in November. Private and public polling gives Baldwin, the most progressive of the 10 Democratic senators running for re-election in states won by President Donald Trump, a substantial lead. But the race is one of a handful targeted by the powerful Koch network of conservative donors and Democrats are fearful of another GOP comeback in the Badger State.
Republicans have a 51-49 advantage in the Senate, and a Baldwin win is essential to Democrats' hopes of winning back Congress' upper chamber in November. None of the major Democratic or Republican outside groups have reserved airtime in Wisconsin yet ― a sign they may not consider it a core part of the Senate battleground.
The matchup between Vukmir and Nicholson pitted a long-time GOP insider against an outsider with the backing of Uihlein, one of the single biggest donors in Republican politics. While Vukmir didn't have Walker's official endorsement, his son worked for her campaign and many of his allies supported her.
Vukmir was able to triumph by relentlessly hyping Nicholson's past as a Democrat ― which included a stint as president of the College Democrats of America and a speech at the 2000 Democratic National Convention. Wisconsin Next, a super PAC backing Vukmir and largely funded by Hendricks, released ads highlighting parts of the speech where Nicholson defended abortion rights.
Nicholson relied heavily on his background as a veteran, with ads focused on national security and a simple motto: "SEND IN THE MARINE." With help of heavy advertising from Uihlein-backed groups, he built large leads in public polling in the spring, but Vukmir was able to slowly chip away at his lead with the help of the state party's renowned field and data operation.
Popular in the Community