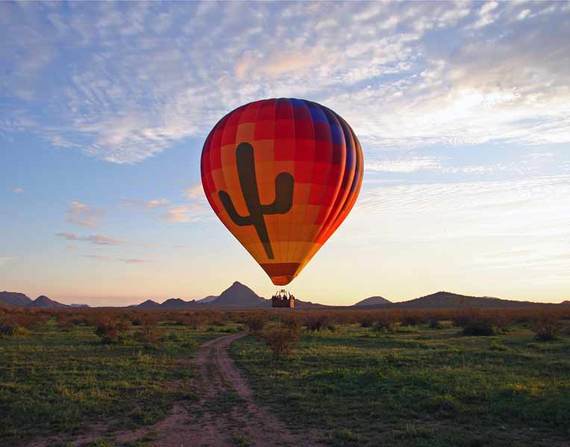 Nothing hastens the expiration of a hangover quite like a sunrise balloon ride over Arizona's Sonoran Desert with its rugged mountains, lush arroyas and distinctive flora. The crisp early morning desert air, the fiery fuel blasts keeping the massive balloon afloat and the exhilaration of silently soaring a mile above the cacti combine for a perfect morning-after-the-naughty-night before tonic.
Bright lights, big desert
Just a few hours earlier I was lounging on the WET pool deck of the swanky W Scottsdale, surveying the immaculately tanned and toned Saturday night scenesters and feeling like Frank Sinatra summoning the rat pack for round after round of signature craft cocktails. On this sultry Arizona night Scottsdale's 'in' crowd is looking as chilled as their cucumber infused martinis.
Vegas cool minus the kitsch
If there's one town in America that's taking a strip out of the Vegas Strip, it's Scottsdale. Long synonymous with retired snowbirds and devoted sun seekers, this historic frontier community adjacent to Phoenix as recently become a chic desert version of Miami's South Beach and a hipper alternative to the proverbial long weekend in Vegas.
In addition to offering easy access to this affluent city's high-end shopping, innovative restaurants, historical architecture and eclectic arts scene, the W Scottsdale anchors a swanky new entertainment district packed with glitzy hotspots that rival the best Vegas clubs and featuring big name acts such as Steve Aoki, Dada Life, and more. Think Vegas minus the slots and sleaze.
Architectural oasis
It's refreshing to also discover that Scottsdale isn't all winter suntans and nocturnal salaciousness. The surrounding Sonoran Desert has inspired generations of gifted architects, including Will Bruder ( the Scottsdale Museum of Contemporary Art) , modernist master Alfred Beadle (Phoenix's Executive Towers) and the legendary Frank Lloyd Wright. Their creations run the architectural gamut from earthen structures of glass, copper and steel that seamlessly blend into the natural environment to boldly contemporary designs that reflect this landscape's harsh beauty.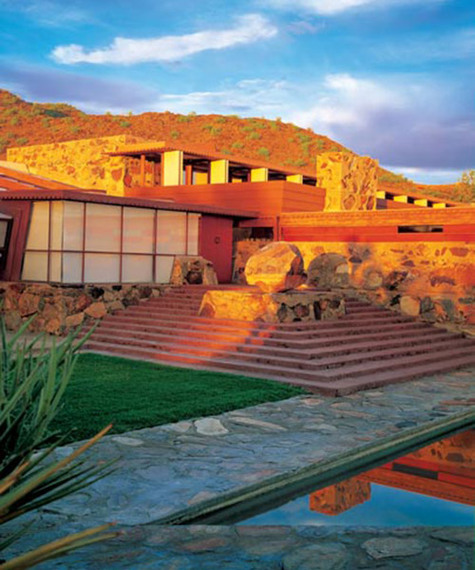 On an afternoon tour of Taliesin West , Frank Lloyd Wright's residence and legendary school set on 600 acres just outside Scottsdale, I explore America's most famous architect's ingenious response to the starkness and beauty of the rugged environment. Today this creative commune where he wintered from 1937 until his death in 1959 at the age of 91 is the main campus of the Frank Lloyd Wright School of Architecture along with his eponymous foundation.
Built by Wright's devoted apprentices, the Taliesen West campus includes a residence and adjacent studio, a theater and music pavilion. At one point during its construction Wright ordered the endemic red, yellow and gray boulders strewn across the surrounding desert to be collected and set into the concrete walls. In some spaces redwood beams support canvas panels mounted onto wooden frames. Other rooms are covered with board decks, tar, and gravel, their original canvas doors and windows now replaced with glass. The overall effect is a remarkable synthesis of earth and architecture.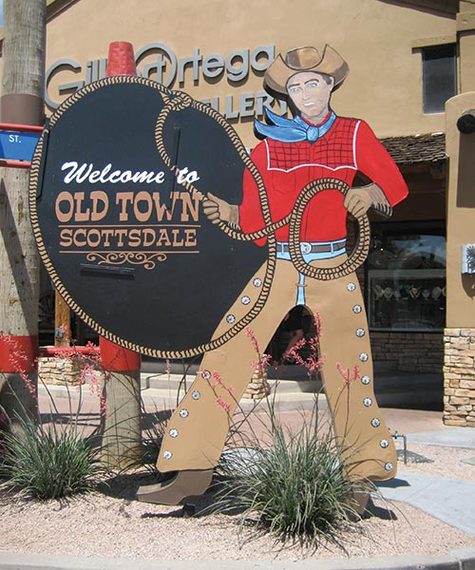 Culture crawl
In 1888, United States Army Chaplain and Scottsdale namesake Winfield Scott bought 640 acres of Sonoran Desert farmland in what is now the city's downtown. The settlement that he founded still retains its sense of history largely thanks to diligent efforts to preserve Scottsdale's heritage. On a walking tour through the Old Town I encounter a century old Little Red School House, a still operational blacksmith shop housed in a remarkably well preserved Adobe building, a Mission Church constructed of 14,000 adobe blocks and the popular Rusty Spur Saloon, occupying a former bank building; its vault now holds liquor instead of money.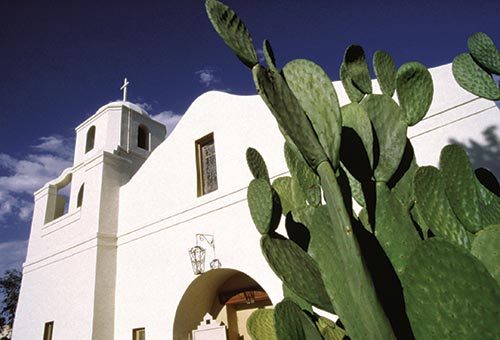 My Old Town culture crawl also takes me down shady streets lined with jewelry stores specializing in turquoise, Native American crafts shops and dozens of art galleries . Scottsdale's photogenic Sonoran Desert setting has inspired generations of artists and today their creations can be viewed in more than a hundred spaces, one of the most concentrated collections of accessible art in the country.
The Thursday night guided ArtWalk is a great way to sample everything and all galleries stay open from 7 p.m. to 9 p.m. with many hosting artist receptions, exhibit openings and live entertainment.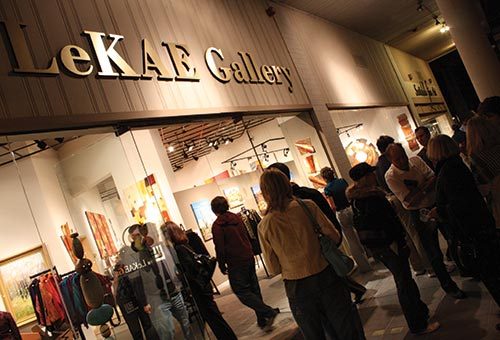 Tasting tour
Another highlight of my brief Sonoran sojourn is a mid-day culinary meander of Old Town Scottsdale operated by Arizona Food Tours. Over the course of a few hours I sample distinctive food and wine from some of Scottsdale's unique restaurants and shops.
Highlights include stops at Grimaldi's, an authentic coal-fired pizzeria that serves up the most award winning pizza in the U.S. and AZ88, a slick bistro known as much for its innovative cocktails and beautiful artwork as for its funky takes on classic American favourites like blue cheese burgers and bonfire chicken. At the final stop, Outrageous Olive Oils and Vinegars, I sip samples from over 35 unique flavored vinegars and oils infused with a farmers market full of flavours, including blood orange, Persian lime and lip scorching cayenne chili pepper.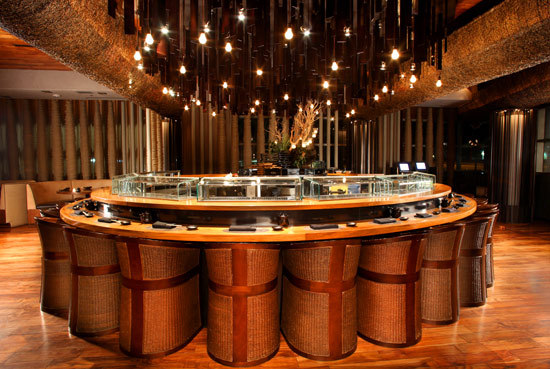 Burlesque bash
Back at the W Scottsdale that evening, a vintage vibe awaits me after dining at hotel's posh Sushi Roku restaurant. The main floor Living Room lounge has been transformed into a 20s style speakeasy, complete with live blues and jazz performances and short burlesque performances every half hour.
Sipping a margarita and watching lithe dancers performing routines to the Moulin Rouge!, Chicago, and Burlesque soundtracks, I briefly ponder the next day's looming 5AM hot air ballooning wakeup call.
But only briefly. Between now and the dawn's early light looms a deliciously long evening of decadence here and later, at the WET pool deck. While in surprisingly swinging Scottsdale "I'm in for whatever gets you through the night" as the king desert rat packers, Sinatra, famously declared.
If You Go
With its slick and sophisticated vibe and prime location in the heart of Scottsdale's shopping, dining and entertainment district, the W Scottsdale is a great base for exploring the city and surrounding desert. The hotel concierge can arrange tours to visit Frank Lloyd Wright's Taliesin West.
Hot Air Expeditions offers sunrise and sunset rides over the Sonoran Desert on the outskirts of Scottsdale.
Popular in the Community