Legal action is underway following an undercover investigation by The Humane Society of the United States that has alleged inhumane treatment at a pig breeding facility linked to the nation's largest grocer, Walmart.
On January 31, HSUS filed complaints with the Securities and Exchange Commission and Federal Trade Commission against Seaboard Foods' parent company, Seaboard Corporation. The action stemmed from a 2011 HSUS probe conducted at two pig breeding facilities in Goodwell, Okla.: Prestage Farms and Seaboard Foods, a Walmart pork supplier.
A HSUS video shows pigs in cramped gestation crates with torn ears and noses, and other wounds and abscesses.
Seaboard Foods produces an estimated 4 million hogs each year, making them one of the largest U.S. producers. The Oklahoma facility operates at double-shift capacity, processing about 18,500 hogs per day.
Seaboard Foods projects itself as an organization that uses humane practices. The company's 2008 "Sustainability And Stewardship Report" states: "We are committed to proper animal care and have a moral and ethical obligation to the humane treatment of animals ... Our barns are designed to give pigs adequate room to eat, drink, rest, sleep and move without injury."
HSUS found otherwise, alleging that the treatment witnessed during the investigation contradicts those statements. HSUS asked the SEC to stop Seaboard from "misleading stakeholders through unlawful statements and omissions about Seaboard Foods' animal welfare practices." HSUS has not filed any complaints against Prestage Farms, which could not be reached for comment.
The HSUS complaint against Seaboard alleges that an estimated 2,700 sows had their movement severely restricted; dead pigs and piglets were found in pens around the facility; and sows with large sores, torn vulvas and ripped skin were left untreated.
As of Tuesday afternoon, HSUS had not heard back from Seaboard regarding the SEC complaint. HSUS senior attorney Peter Brandt told The Huffington Post in an email, "We've also attempted to privately communicate about animal cruelty concerns with Seaboard for more than a year, but the company refused to even respond to us."
Seaboard Foods referred HuffPost to their statement posted Tuesday, which read, "We've reviewed documented employee actions alleging abuse and listened to the recent discussions questioning U.S. industry practices of sow gestation, swine tail cutting (or docking) and swine castration, and strongly dispute any allegations of abuse."
As for Walmart's role in the allegations, company spokesperson Dianna Gee confirmed to HuffPost that Seaboard Foods is one of Walmart's estimated 100 pork vendors. She added that "they supply a very small percentage overall of pork products" and Seaboard products are "not a Walmart-exclusive item."
Brandt claims the HSUS has "tried working in a private capacity with Walmart on this issue, but our concerns have fallen on deaf ears."
Gee said that Walmart expects all pork suppliers to meet regulatory requirements and animal welfare industry guidelines set by the American Meat Institute. "As soon as we were made aware of the allegations, we immediately reached out to Seaboard to begin investigating the issue," she said. "Pending our review, we will take any action necessary."
Seaboard Foods' statement notes that the company follows industry protocol, that stalls and group pens are used to house gestating sows, and that best practices are being researched. The statement continues, "Furthermore, swine tail docking and castration are essential industry practices for the health and well-being of food animals as stated by the American Veterinary Medical Association."
According to the AVMA website, tail docking is conducted to prevent biting and cannibalism, while castration can control aggressive behavior. "The AVMA recommends the use of procedures and practices that reduce or eliminate pain" for both procedures. "Development and implementation of practical analgesic and anesthetic protocols for, and alternatives to, swine castration" are also encouraged.
Beyond the validity of Seaboard's animal treatment claims, morality is also in question: Even if the facility's process is legal, is it also ethically sound?
Matthew Penzer, HSUS special counsel told HuffPost in an email that these facilities are normally subject to state laws. "In Oklahoma, the law prohibits willful torture, destruction, cruelly beating or injuring, maiming or mutilating animals ... It would be within the power of state legislatures to strengthen laws relating to farm animal care and to mandate investigation and prosecution of offenses. Presently, though, acts of cruelty involving farm animals are rarely prosecuted and many states have explicit exemptions from the cruelty laws for routine farming practices," Penzer wrote.
Outside of HSUS' SEC and FTC efforts against Seaboard, the organization is separately pushing Seaboard, Prestage and the rest of the pork industry to end the use of pig gestation crates. An online action alert was recently launched for concerned citizens.
While some states are phasing out the use of gestation crates for pigs, the HSUS website writes that millions more breeding sows on U.S. factory farms are kept in the crates "so small the animals can't even turn around." They are moved to give birth in a different crate "and then are soon re-impregnated and put back into a gestation crate for the cycle to repeat."
For Brandt, it comes down to the industry-wide issue of animal treatment. He wrote, "These investigations, and others like them, highlight the urgent need for the factory farming industry to step up to the plate and treat animals in a way that's more aligned with Americans' values about animal care."
Watch the HSUS undercover footage and scroll down for photos. Be advised: Some readers may be upset by the graphic nature of this content.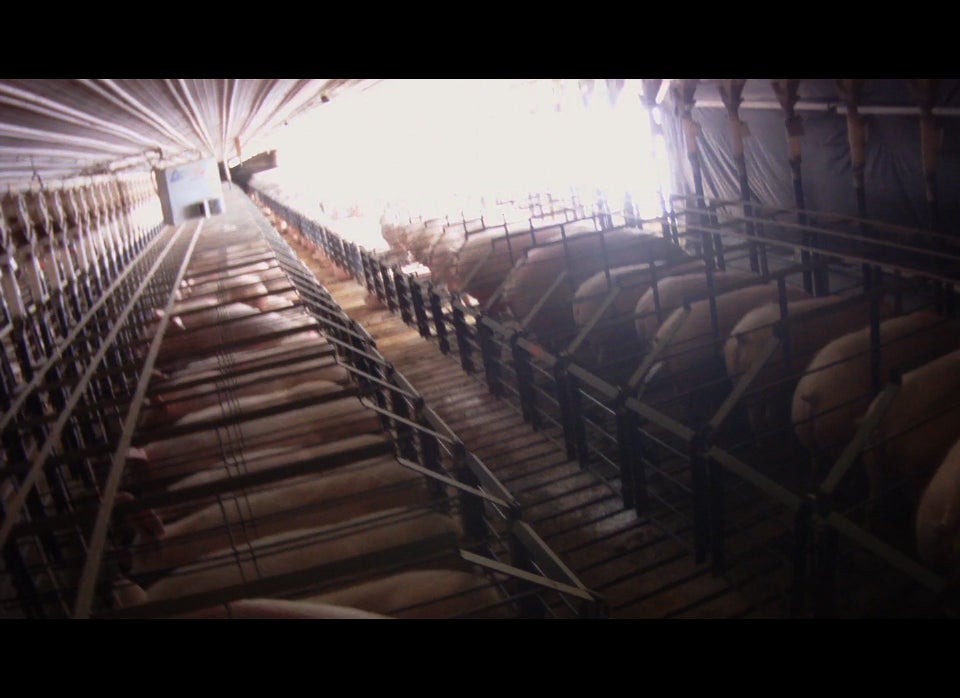 HSUS Undercover Pork Investigation
Related
Popular in the Community