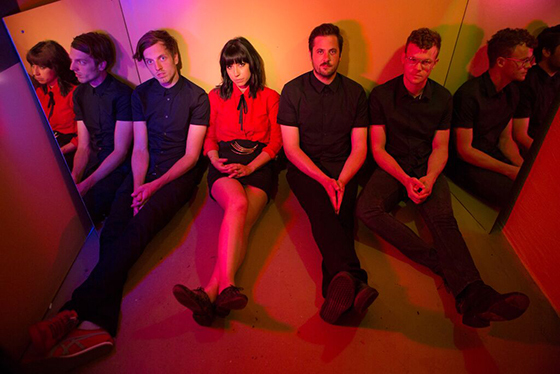 Deep Sea Diver is the baby of singer/songwriter/musician Jessica Dobson that was birthed out her own desire of the collaborative fruits that could come out of working with like-minded musicians. With their new sophomore album Secrets, Dobson and her Seattle-based band chose to take an adventurous step in writing this album, hoping to progress from the their previous album History Speaks (2012) and their two EPs New Caves (2009) and Always Waiting (2014).
By this time, Deep Sea Diver is no longer the singular moniker of Jessica Dobson as it once was, but a full-fledged band entity of its own that's become an amalgamation of all the band's members. Currently, Deep Sea Diver is on the road with Radiation City, and I was able to chat over the phone with Jessica Dobson at the start of the tour for a future episode of my Fresh Is The Word podcast, and here's an excerpt from the interview where we talk about how Deep Sea Diver started on through recording Secrets.
In the past, you were a part of The Shins for a little while, and then played with a few other bands, how does it feel to have your own thing now?
It's very fulfilling. That role in other bands has its place and is so much fun. The pressure is off you because you are not the front person. So when you come back to your own thing, your own baby, what you put the most time and energy and to give it your all and then to run it and let it populate, that's to me is more fulfilling. I very much did cherish my time touring with other bands.
Back when you were 19, you got signed to Atlantic Records, but the albums that you made were shelved. Looking back, how do you feel about that time?
I feel good about it. It is what it is. I don't regret the decisions I made at that age because I didn't know any better. I learned a lot about the music industry, which it fluctuates, can be ugly, can be fun. You learn to make decisions for yourself and surround yourself with the right people. I feel the lessons were invaluable that's for sure, but now that we have our own record label, I feel very equipped and am still learning.
After that all that, you start recording under the Deep Sea Diver name. Ultimately, what led to those initial steps to do your own thing?
At the time, I was constantly searching people to be "in a band with", who I can write songs with and I itched for the collaborative experience, but couldn't quite get that arranged. So well, until then, I'm just going to go under the moniker Deep Sea Diver. I had already been playing as a solo artist, but I wanted to call it something with hopes that in the future that it would become more of a band effort because I do best in collaborative experience. I can write my own songs and do that fine on my own, but I think they really come alive when I'm with other people who I trust that have great ideas.
Going into recording the new Deep Sea Diver album Secrets, what was your mood going into it? What were you trying to accomplish?
We were trying to get our footing with the Always Waiting EP and realized what we did and did not want to do as we were recording this sophomore album. Mainly, we did not want to make a long drawn out record where months and months in the studio and too much time on your hands to over think things, change things. That's so easy when you're recording digitally; you keep adding tracks and track and tracks. So we ended up recording for this record most of the basic tracks in LA. We booked time at a studio with one of our favorite engineers who worked with Radiohead, Beck, Air. Those were his main records. We were forced to bring it because we had so little time. We wanted the record to sound like we sound live, and that's a really hard thing to accomplish, to get that spirit. We wanted to make a bolder record and played a lot more guitar on this record and not just JUST play guitar, but experimented more and tried to step up as a front person, lyrically, the way I sang the songs. I think everybody took a step forward in a bold direction.
I see that your drummer Peter Mansen is actually your husband. How does that work out within the band?
Well, it works itself out daily (laughs). It has its ups and downs. Mostly, when we are on and getting that big butt heads about whose ideas are better or having a bad attitude in practice, it's easy to break the spirit of creativity. But, its one of the most fulfilling things ever because I get to do what I love doing most with the person I love the most, we get to do what we love to do.
Deep Sea Diver plays the Marble Bar (1501 Holden St.) in Detroit on Monday, March 7th with Radiation City and White Bee. Visit now available at brownpapertickets.com. Deep Sea Diver's new album "Secrets" is now available. For more information on Deep Sea Diver, visit thedeepseadiver.com.
Calling all HuffPost superfans!
Sign up for membership to become a founding member and help shape HuffPost's next chapter