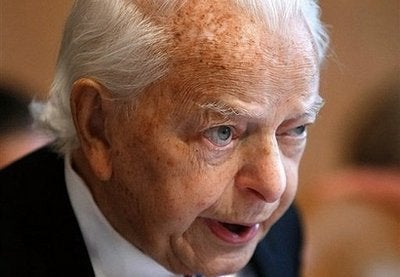 Sen. Robert Byrd (D-W.Va.) called on Wednesday for health care reform legislation to be named after the late Sen. Ted Kennedy (D-Mass.)
"My heart and soul weeps at the loss of my best friend in the Senate," he said in a statement. "In his honor and as a tribute to his commitment to his ideals, let us stop the shouting and name calling and have a civilized debate on health-care reform which I hope, when legislation has been signed into law, will bear his name for his commitment to insuring the health of every American," Byrd, 91, said in a statement.
"Neither years of age nor years of political combat, nor his illness, diminished the idealism and energy of this talented, imaginative and intelligent man," he added.
"God bless his wife Vicki, his family, and the institution that he served so ably, which will never be the same without his voice of eloquence and reason," Byrd said. "And God bless you Ted. I love you and will miss you terribly."