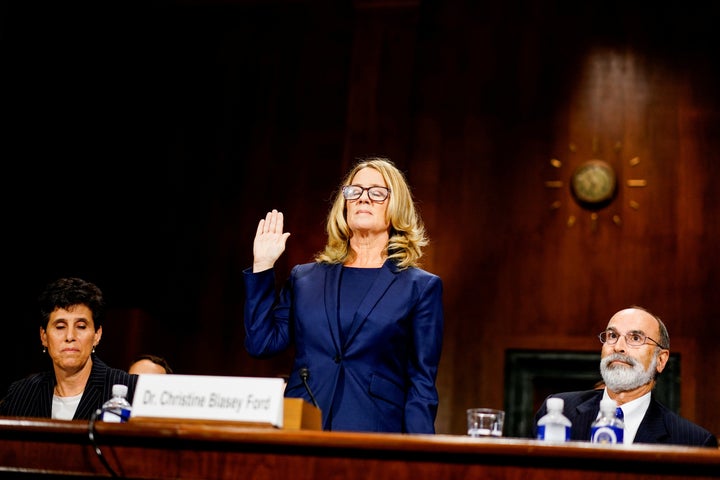 They didn't speak to her.
They didn't question her about her claim that she was sexually assaulted by Brett Kavanaugh, now a Supreme Court nominee, when they were teenagers.
Instead, they enlisted outside counsel, a female prosecutor with expertise in sex crimes, to do it for them. In essence, they hired a woman to do their dirty work.
On behalf of the 11 Republicans, all men, Rachel Mitchell questioned Blasey. She asked the California research psychologist to recall trivial details from the night in question, trying to poke holes in her story. She searched for inconsistencies in her statements. She questioned whether Blasey was truly afraid of flying or had lied about it. She wanted to know who paid for Blasey's polygraph test, and if she'd been coached by the Democrats, and why her allegations came out when they did. 
All the while, the Republican men stayed mute. They had nothing to say.
That changed when it was time for Kavanaugh to testify.
Suddenly, they didn't need Mitchell to do their bidding anymore. 
The sex crimes prosecutor, who questioned an alleged victim over the course of four hours, did not get the opportunity to do the same to the man accused of committing the act. Mitchell was tapped to ask only a few questions before being sidelined. The men decided they could take it from there.
One after another, the Republican senators spoke out, like the cat had never got their tongue.
"This is the most unethical sham since I've been in politics," said Sen. Lindsey Graham (R-S.C.), seething with anger. "What you want to do is destroy this guy's life, hold this seat open and hope you win in 2020."
Sen. Orrin Hatch (R-Utah) emphasized that Blasey's claims were from Kavanaugh's teenage years.
"He was an immature high schooler," Hatch said.
"You're not guilty if someone makes an allegation against you in this country. We're not a police state," Cornyn said. "We don't give the government that kind of power."
Once the Republican senators began speaking to Kavanaugh directly, Mitchell was not heard from again.
Cornyn explained her absence, saying there was "some frustration among the senators that they thought there were arguments that needed to be made, that she frankly was not equipped to make."
A HuffPost reporter ran into the prosecutor as she was leaving the hearing. She declined to answer questions about how the hearing went or about not being relied on during Kavanaugh's testimony.
But during her questioning of Blasey, Mitchell conceded that a televised hearing was perhaps not the best place to evaluate claims of sexual violence. 
"The best way to do it is to have a trained interviewer talk to you one-on-one in a private setting, and to let you do the talking," she said. 
Take it from the prosecutor. The hearing was a sham. 
Igor Bobic contributed reporting.
REAL LIFE. REAL NEWS. REAL VOICES.
Help us tell more of the stories that matter from voices that too often remain unheard.