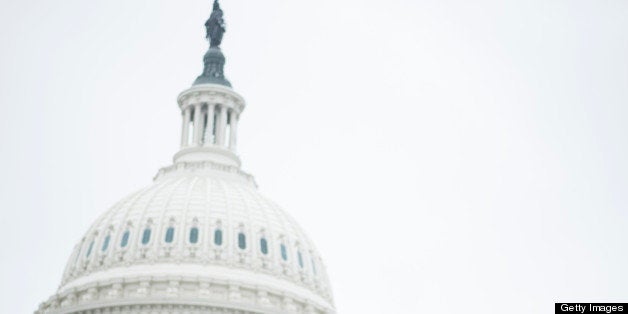 Now we've learned what it takes to get legislators to do something smart about at least a part of the sequester: make them wait for hours on the tarmac because air traffic controllers are on furlough caused by mindless budget cuts.
So how do we get them similarly outraged about mindless cuts in medical research funding?
An advanced stage cancer diagnosis used to be almost a death sentence, but that wouldn't have to be the case if we were wise in sustaining cancer research funding. Statistics say that almost as many legislators (or more) will be affected by cancer in their lifetimes as were affected by these flight delays:
One in two men and one in three women will be diagnosed with cancer in their lifetimes.
Three quarters of American households will find themselves caring for a cancer patient at some point in their lives.
For the 535 members of Congress, every day they live, the odds get higher that they, family members, or friends will be affected by cancer in some way. The numbers are even more stark when these statistics are applied to the total population:
More than 1.6 million people (more than the entire population of Phoenix, or of two average-sized congressional districts) will be diagnosed with cancer for the first time this year.
More than 580,000 people (more than the population of Washington, D.C.) will die of the disease this year.
More than 12 million people (more than the entire population of Ohio) are still alive who have experienced or are currently fighting cancer.
Inconvenience vs. Saving Lives. Cancer is more than an inconvenience to those affected by it, but because these people are geographically scattered, the impact is less obvious to legislators than a jet plane filled with people, all on the same tarmac. The American Cancer Society estimates that one in every four deaths in the United States is caused by cancer.
Many of the cancers studied by federally funded grants are serious, so both patients and their caregivers depend on advanced research for hope of survival or to postpone death. The federal government is the largest funder of cancer research, and the sequester threatens to cut this funding by almost 23 percent in real purchasing power, to nearly 2001 levels.
According to the American Cancer Society's "Catalyst for Cures" report, NIH funding represents less than 1 percent of the federal budget, and only 17 percent of that amount goes to cancer research. Such research has led to every major cancer prevention, detection, and treatment advance for decades. Many drugs that received FDA approval in the past 10 years were based on research initiated more than 30-35 years earlier; such work takes so long that few private enterprises can commit to conduct it. Once stopped, promising research programs won't restart like flipping a light switch back on because unfunded scientists will leave the field to make a living elsewhere.
Cancer Research Means Jobs and Growth. Those who supported allowing flexibility to the NIH in how it cut its budgets would argue that the FAA furloughs posed a negative drag for the economy and that our national priorities in tight times should be jobs and economic growth. The facts show that cancer research funding is about jobs and growth:
The NIH estimated in 2008 that the total cost of cancer was over $226 billion each year, including both direct medical costs and lost productivity from illness or premature death.
$23.6 billion in NIH-supported medical research in 2011 generated $69 billion in other economic activity, including 432,000 high-paying jobs in every state.
Each dollar in federal research investment is matched by around 32 cents in private sector research funding.
The long-term impact of research cuts for the American public intensifies the economic argument. Many proposals that won't get funded deal with:
Sustaining genetic research initiatives that are leading to drug development for the most stubborn cancers, like pancreatic cancer, brain tumors, ovarian cancer, metastatic melanoma, and cancers caused by genetic mutations.
Understanding fundamental biological mechanisms that cause cancer or allow it to spread in the body.
Improving pain control and quality of life for those suffering the most severe cancers.
Unless the large number of people who are affected by cancer ― as patients, family caregivers, health care providers, employers, and friends ― stand up and tell Congress to get serious about cancer research funding, affected families will be left with few options and little hope.
Cutting cancer research now hurts the nation both medically and economically. Restoring it won't take just political courage: it will take wisdom to acknowledge the facts of research funding and its payback in lives, jobs, and the health of the national economy. The problem is clear, and the time for each of us to act is now.
Deborah J. Cornwall is an experienced advocate on behalf of cancer patients and their families. She is the author of Things I Wish I'd Known: Cancer Caregivers Speak Out, a new book based on interviews with 86 cancer caregivers and dozens of patients and survivors. For more information or to purchase the book, go to www.thingsiwishidknown.com.
Popular in the Community