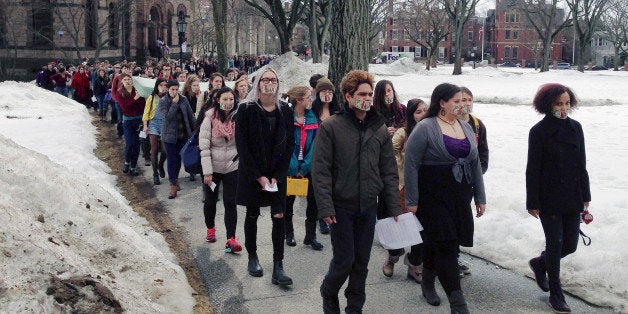 In the time it takes you to read this article, at least one woman in the U.S. will be raped. According to the Department of Justice, somewhere in America a woman is raped every two minutes, and most of these women will never report the crime.
Once you start to think about the challenges that victims of sexual assault face when they try to get help, you may better understand why fewer than 10 percent of victims end up reporting the crimes. But a simple technology tool promises to make it easier to protect victims and end the culture of silence around sexual assault.
Some estimates claim that 90 percent of assaults are committed by people for whom it is not their first offense, which means that the vast majority of unreported sexual assaults are being committed by repeat offenders. Reducing barriers to reporting would almost certainly reduce instances of sexual assault.
Imagine the awful questions that any victim of sexual assault confronts. Will anyone believe me? By reporting the crime will I become isolated and alienated from my community and my family? How will I overcome the shame? The barriers of isolation, credibility, and shame can paralyze young women and prevent them from ever reporting the crimes, which unfortunately puts even more people at risk. But these barriers diminish with every additional person who comes forward and reports a crime committed by the same person.
You might think by looking at the recent rash of famous cases of sexual assault -- most notably former Penn State football coach Jerry Sandusky, who was convicted in 2012 of sexually assaulting at least 10 young boys, and Bill Cosby, whom 50 women have accused of sexually assaulting them, often with debilitating drugs -- that there isn't much of a barrier to reporting. After all, look at all the alleged victims who came forward. But look closer at how the victims came forward. For decades, no one reported the crimes, presumably because being the first person to report a sexual assault carries significantly more of a burden than being the second person to report. In this case, the fame of the accused alerted other victims that they aren't alone.
A technology called "information escrow" might be able to help close the reporting gap. The idea behind information escrow is that information -- in this case a victim's report of sexual assault -- can be held confidentially by a third party, and only released under certain conditions. The most common condition is that reports are kept confidential unless another person accuses the same perpetrator of committing a similar offense. Once the tool received two or more accusations against the same person -- and only on those conditions -- those accusations are forwarded to law enforcement.
An organization called Sexual Health Innovations recently launched a tool called Callisto, an information escrow tool that focuses on helping students on college campuses (the oft-cited statistic claims that 20 percent of college students will suffer some form of sexual assault before they graduate).
The technology involved is simple, but potentially lifesaving.
Callisto and similar technologies are an extremely low-cost way to help end the culture of silence. Technologies like these should be deployed everywhere--college campuses, in companies, in the armed forces, and in any other large community where sexual assaults are underreported. Which, I'm sad to say, is everywhere.
Related
Popular in the Community