Shad Moss aka Bow Wow needs no introduction. In some way, shape, or form we've known this talented young man since he was 5 years-old.
As Bow Wow, he impressed us with his ability to flow via his highly successful career as a rap music artist. To date, he has sold more than 10 million albums
As an actor, Moss has appeared in the films Like Mike, Roll Bounce, and The Fast and the Furious: Tokyo Drift; and such television series' as Entourage, The Steve Harvey Show, and Ugly Betty among others.
Now, this gentleman can be seen as former renegade black-hat hacker Brody Nelson on the CBS series CSI: Cyber which returns for its second season on CBS Sunday, October 4th.
The new installment in the CSI franchise is not only solid entertainment, it's timely as cyber crimes are a daily occurrence in an age where bank accounts and identities are stolen by the second. In our conversation, Moss will clue us in on some exciting changes we can expect to see in season two.
We all know the rapper and are continuing to get to know the actor. In our conversation, we'll get to know a little bit more of the entrepreneur and the man behind all of the various roles.
Thanks for taking the time out with me, I know you're just home from the set of the show, am I right?
Thank you for your time. Appreciate it. Yes sir, just waiting to take that shower.
Sounds like you might have had an action-packed day.
There's not a whole lot I can say, but it definitely was an action-packed day.
I know that we're in store for some exciting changes on CSI: Cyber this season. What can you tell us?
Season two is going to be very different from the first season. We're taking full advantage of the opportunity to correct and perfect things based on the response from our fans.
The writers have done a fantastic job this season as far as bringing in more action, and making the show more than just Federal agents catching and beating up the bad guys. This season deals with who these agents are outside of the workplace.
There's nothing better than to be able to relate with these characters; the CSI shows have always created relatable characters.
Exactly. These people are real people. All of us as working people have things in our personal lives that affect us at our 9-5s. We've done a terrific job of bringing the stories of who these people really are to all of our fans -plus, we have Ted Danson from the original CSI series joining us. It's going to be great!
Fantastic! You guys are all set to have an amazing season. What's it like to be working with a television icon?
To be able to work with Ted Danson who has been involved in so many amazing things, has so much experience, and been kicking some serious ass; working with Patricia Arquette who just won an Oscar, and an all around great person. The whole cast is great. Working with them, you really get to see how good you are. These people are so good at what they do, they've been doing it for a long time; they've earned the accolades and respect for being so good at what they do.
What can we look forward to with Brody Nelson this season?
Nelson is a black hat hack from Baltimore. He is more himself this year; we're getting to know him and he's loosening up quite a bit. He was coming to work in a shirt and tie every day, but that's not him - he's not a suit guy, he only did that to fit in. He was trying to be something he's not and that he doesn't have to be. Nelson is more like Bow Wow, he's going to be in some joggers and some other fly outfits.
You manage to stay in really great shape, what's your secret?
We just became clean eaters. It's been hard, no fast food or anything. Even though it's considered fast food, El Pollo Loco is so good, but I have to stay away. As far as working out, I'm normally in the gym every day. I've been kind of slacking lately. The cool thing about my body is that no matter how much or how little I eat, I never gain or lose a pound. My body stays tight, no flab and I stay with a six-pack.
You had a two-year stint as host of BET's 106 & Park. Can we expect to see you return to the role of TV host?
I am thankful to BET for the opportunity that they gave me and I learned a lot in my job there. I believe it even helped prepare me for my role on CSI: Cyber. I definitely see myself doing more hosting.
You've had some seriously major successes in a variety of different avenues in both the business and entertainment world. Which of these avenues is your primary focus at the moment?
Acting and running my business - that's the main thing. It's all about acting, branding and just becoming an all around mogul/entertainer. My dream is to become the new era's P. Diddy and to do it my way.
Music is still there, but it's so easy for me - it's not really a challenge. To be honest with you, I don't really like to deal with the headache that comes from music. I like to wake up knowing what I'm going to do every day at the set, and running my different businesses. There's my bottled tequila which I'm closing a big deal for really soon, I'm really excited about that.
Speaking of P. Diddy, you just signed a deal with him recently? Record deal perhaps?
Yeah, a lot of people are thinking that it's a record deal. It's actually a management deal with James Cruz, a heavyweight in the game; he actually manages P. Diddy. It's a terrific opportunity for me to learn from Diddy and to definitely learn more about the business side of things.
Congratulations, on this, as well as all of your success. Have you always had an entrepreneurial spirit?
Growing up in New York and living on Wall Street as a youngster, I always wanted to be a business man. I wanted to be Jerry MacGuire when I was a youngster. That was my dream. Rap has opened so many doors for me; it would be so hard to drift back to [being] that person.
Ultimately, it seems that your focus has shifted from music.
I was on the stage recently with Chris Brown and Omarion. A friend asked me, "Did you see how the fans reacted? They miss you. Did that do anything to you?" It definitely did, not like it would if I was at the podium accepting my Emmy award.
I feel like I've done that [the music industry] already. I've sold over 10 million albums, headlined numerous tours. I have no hardware for acting. It's all about acting, branding, and running my business - having the same impact that I would as if I were dropping a new song. It's about influence; it's about getting people behind you, leading a new generation, that's power, that's what I want to do.
In your position and in the eyes of your fans, you are their inspiration. All eyes are on you and everyone is watching? How does that feel?
It feels good. I see every day in my Instagram comments that I've inspired someone to follow their dreams, it helps get me through. I understand the power of influence. There are times where I go to the people I look to, and I ask 'How did they get through this?'
How about a time where someone you look to gave you something meaningful and powerful to take with you?
Floyd Mayweather, good friend of mine, I went to his last fight. I walked with him up to the podium when he did his speech, at that moment I remembered something Floyd always said, "All work is easy work."
What does that mean to you?
What he really means is that it's mind over matter. The work is definitely hard, but if you continue to program your brain to think that it's easy - you won't stress as much, it worked with me and there's definitely a change for me from last season to now. I know it works. I was so stressed and nervous just from saying that it was hard. I had to tell myself, 'This is nothing; you were put on this Earth to entertain. You got this!' How can this be hard for a guy like me? So, once I broke down that barrier and got my confidence, that's what I share with everyone.
How do all your friends and family feel about your fame? Is it something they've all gotten used to now? Or is it still surreal?
They're pretty used to it now. I've been entertaining since I was 5 years-old. Whenever I see my daughter dancing to a rap song, I start tripping out because I stop and think - uh-oh, she's going to be second coming.
I hear all the time about people getting used to everything and losing that excitement, do you still get excited at some of your accomplishments?
I was just watching football recently and I saw an ad for CSI: Cyber, it was Ted, Patricia and I all suited up and looking fly. I did get really excited when I saw that. I love what I do, that's just that passion.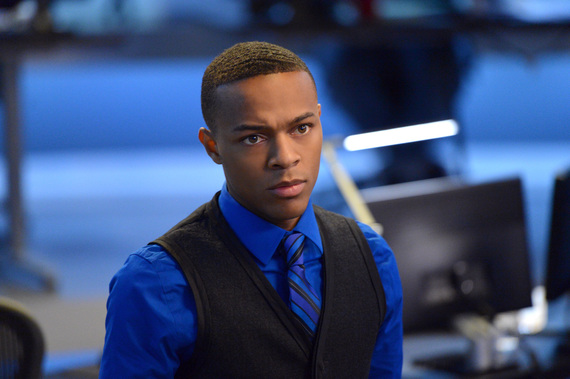 All Images are courtesy of and used with permission from CBS
Be sure to watch the Season Premiere of CSI: Cyber October 4th at 10/9c on CBS.
Calling all HuffPost superfans!
Sign up for membership to become a founding member and help shape HuffPost's next chapter