Liang Sicheng (1901-1972) is known as China's "Father of Modern Architecture," but he expressed strong sentiments throughout his career when it came to preserving the country's heritage and identity. In the 1950s, when Beijing was selected as the nation's capital, he lobbied to keep its ancient buildings intact and urged the government to build an entirely new city instead. The ruling party disagreed, and ancient Beijing has become a distant memory.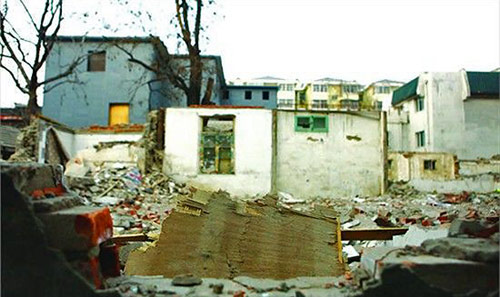 The remains of architect Liang Sicheng's former residence / Photo: Guo Yingguang/GT
Now, in yet another symbolic slight, developers razed the Beijing home Sicheng shared with fellow architect Lin Huiyin, his first wife (and an aunt of artist Maya Lin). The demolition, which came over the Chinese New Year holiday, sparked the outrage of preservationists, who were able to save the home in 2009, after the home was partially knocked down. The government had then designated it as a permanent cultural relic, which meant developers would need express permission to knock it down. Many of Liang and Lin's greatest accomplishments -- their book "History of Chinese Architecture," the design of China's national emblem, and the Tiananmen Square Monument to the People's Heroes, just to name a few -- occured while they lived in that house in the courtyard house in the Dongcheng district of Beizongbu Hutong in the 1930s.
The timing is questionable -- laborers rarely work during this particular holiday, which sparks suspicions that developers Fuheng Real Estate scheduled it purposely to avoid attention. A spokesman claimed the house was falling into disprepair and that it was destroyed "in preparation for maintaining the heritage site." Dongcheng officials, who had never approved the demolition, have demanded that the developers rebuild the house -- though some view this as merely adding insult to injury.
"Building a replica only makes things worse," Chen Zhihua, an architecture professor at Sicheng's Tsinghua University, the Telegraph reported. Experts estimate that other hutong - the name for the lanes of like low-rise homes -- are being demolished at a rate of about 600 a year.
-Janelle Zara, BLOUIN ARTINFO
More of Today's News from BLOUIN ARTINFO:
Like what you see? Sign up for our daily newsletter to get the latest on the market, emerging artists, auctions, galleries, museums, and more.
Calling all HuffPost superfans!
Sign up for membership to become a founding member and help shape HuffPost's next chapter