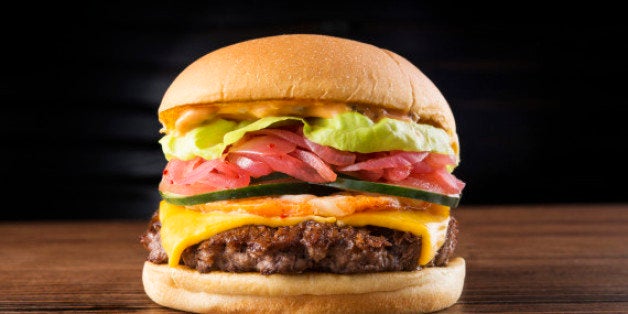 Ten years ago today, Shake Shack opened its doors in Madison Square Park and rocked New York City, and later the world, with its burgers and fries. What started as a hot dog cart in Madison Square Park grew into a permanent fixture in the park selling way more than just hot dogs. Today, Shake Shack has almost three dozen locations worldwide, with stores in London, Dubai, Turkey and Russia.
Almost as famous as Shake Shack's burgers are Shake Shack's lines. All locations, but particularly the original Madison Square Park one, sees long lines that have become infamous among food lovers and fair-weather fans alike. Shake Shack told The Huffington Post that wait times at the Madison Square Park average 30-45 minutes, but it really depends on the weather, the time of day and the special menu items available. Wait times could be as short as five to 10 minutes -- if you're lucky.
As the Shake Shack brand grew and the line continued to grow, wait times became a fixture in the brand's image -- almost a badge of honor for some. In 2006, Shake Shack introduced the ShackCam, whereby customers can "check the line to plan [their] time."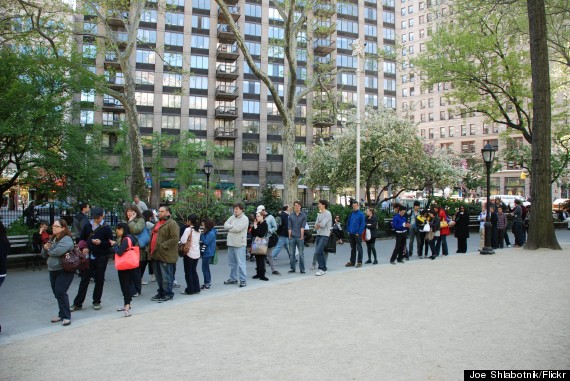 Users of the ShackCam or not, people are still flocking to Shake Shack in Madison Square Park. Shake Shack told The Huffington Post that this location serves an average of 1,500 customers a day. Based on Shake Shack's wait-time estimates, you could conservatively estimate a wait time of at least 20 minutes. With 1,500 customers a day waiting at least 20 minutes each, people are standing in line for a long, long time for a ShackBurger. How long to be exact? Over the course of 10 years, with 1,500 people a day waiting at least 20 minutes, seven days a week, Shake Shack fans have been waiting:
109,500,000 minutes
182,500 hours
76,042 days
10,863 weeks
208 years
This past Tuesday, June 10, Shake Shack in Madison Square Park saw its longest line ever. The occasion was a special burger dreamed up by Momofuku chef David Chang. In honor of its anniversary, Shake Shack has been celebrating all week by collaborating with some of New York's best chefs to serve up an impressive collection of burgers. Each day of the week, Shake Shack is serving a new burger made in collaboration with a different chef.
David Chang worked with Shake Shack Culinary Development Manager Mark Rosati to create his burger, which is called the Shrimp Stack. It's a Shack beef-blend cheeseburger topped with a smoked and griddled shrimp patty, Momofuku Hozon Sauce, Bibb lettuce, pickled onion and salted cucumber. The hozon sauce comes from Momofuku's very own culinary lab, and has never before been tried by the public before the Shrimp Stack. Chang told The Huffington Post that he's a fan of Shake Shack -- and that he prefers it to In-N-Out. He certainly knew what to do to make Shake Shack's burger his own.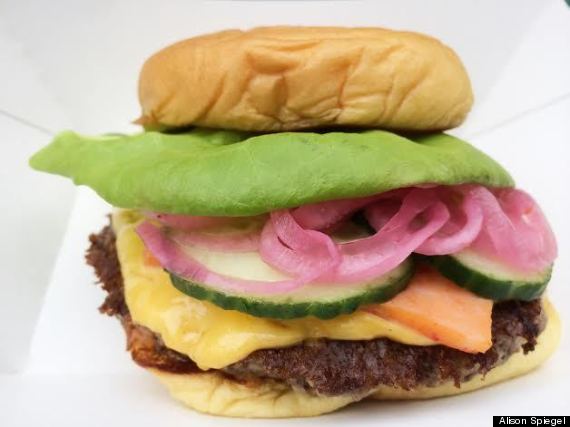 Chang's burger drew a line over 400 people long. A mere 30 minutes after Shake Shack opened, the line had already broken a record. The Shrimp Stack Burger was amazing, in case you're wondering. The line was a true testament to the talent and global appeal of both David Chang and Shake Shack.
How long would you wait in line to try this burger?
Related
Before You Go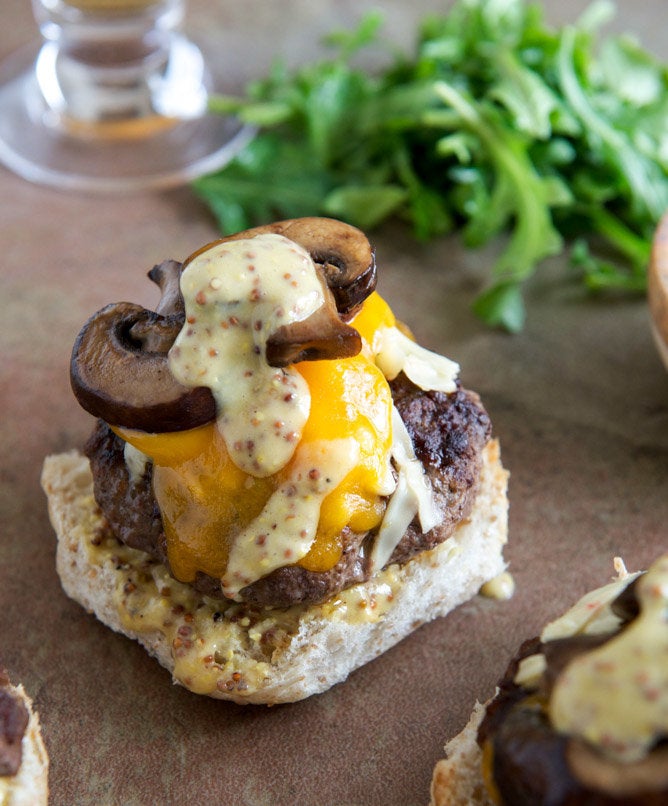 Burger Recipes