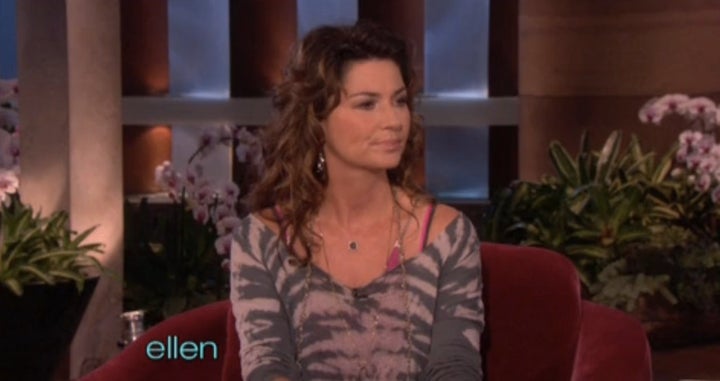 Shania Twain opened up to Ellen DeGeneres Thursday about her new memoir, "From This Moment On", and her heartbreaking divorce from producer Mutt Lange.
She revealed that it was Frederic Thiebaud -- her new husband -- who told her about Lange's affair with Thiebaud's then-wife Marie-Anne, a close friend of Twain's.
"Of course I didn't believe him and I thought for sure he was making it up," she said. "It was obviously just denial on my part. But he just said, 'You know I have proof if you want it, and I've been following it now for a few weeks and I've got hotel bills and all kinds of details.'"
After confronting Marie-Ann about the affair, and eventually separating from Lange in May 2008, Twain began "a very slow grieving process," during which she and Frederic Thiebaud leaned on each other.
"It was a very difficult time emotionally for both of us. I would say that he was probably stronger through it than I was," she said. "He was a tremendous support; we were a support to each other and really found something beautiful in the end and unexpected."
Their friendship soon turned to romance, and she and Thiebaud married in January 2011.
"Life just has to play out the way its meant to, and how can I complain about the way it ended up?" she said.
Twain said that writing her memoir put the betrayal -- and her divorce -- in perspective.
"[Divorce] doesn't define who I am and it doesn't define my whole life. My whole life is a much bigger picture and writing the book from the beginning gave perspective to that one very difficult time that really is just a part of my life and not my whole life," she told DeGeneres.