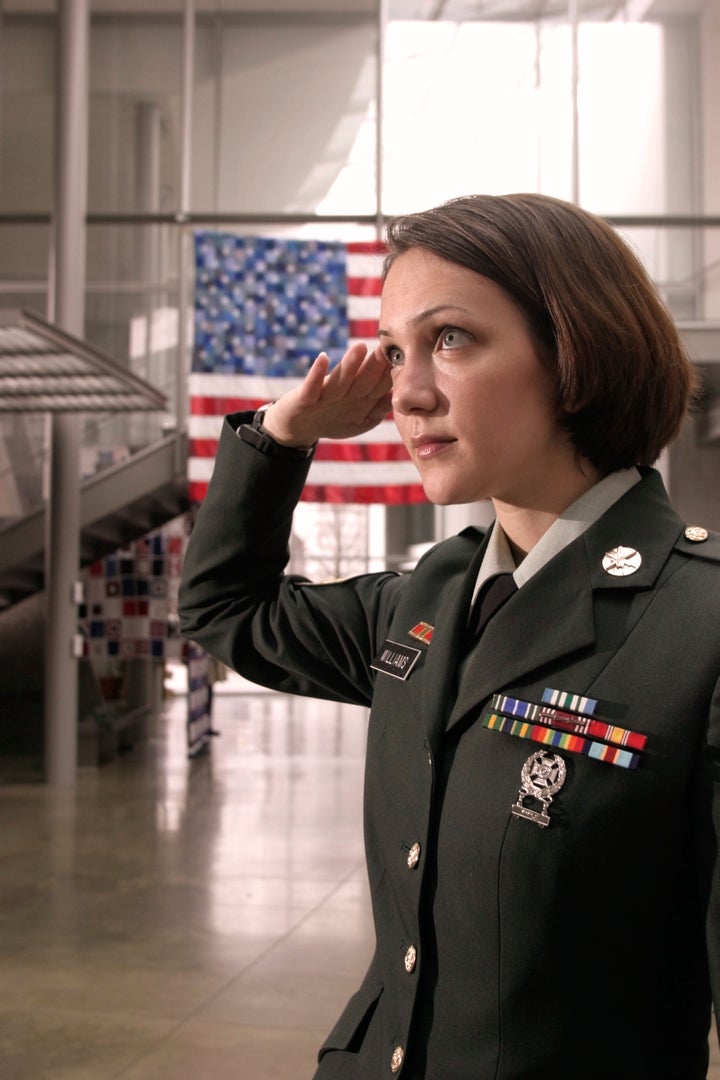 I remember asking my father if he had ever been a soldier, and he said no, but that he'd once spent a year behind the front lines, entertaining the troops with Marlene Dietrich.
"Oh," I said, rather disappointed. "So you weren't a real soldier."
"No," he said, "we didn't carry the guns. But we helped heal the boys who did. You know, honey, right after the Red Cross comes the U.S.O."
So whenever Veterans Day rolls around, I think of my Dad off in North Africa or somewhere in the Pacific, leaving his family behind to help comfort with laughter the boys who also left their families behind.
Except now it's not only the men who need the healing -- the women are out there, as well. And they need it when they come home, too.
If your image of a troubled veteran is a homeless man, you're half-right. Yes, he needs your help. But so does his military sister. There are 1.8 million women veterans in this county, 230,000 of whom have served in Iraq and Afghanistan -- and 600 of them have won Purple Hearts. And like the guys they've fought alongside, they face the same challenges when it comes to returning to civilian life, from struggles with post-traumatic stress syndrome to problems of finding employment, and some with addictions or recovery issues, as well.

But women have added burdens that are singular to their gender: Forty percent of our female soldiers are mothers, often the primary caretaker, so when mom is deployed it puts critical stress on the family and the marriage. According to a report from the Iraq and Afghanistan Veterans of America (IAVA), "Women Warriors: Supporting She Who Has Borne the Battle," the marriages of women soldiers are failing at three times the rate of male soldiers.
And, sadly, like their male counterparts, women veterans are discovering that our nation is not fulfilling its promise to provide the health care that they need and deserve after their service. Only 14 percent of Veterans Affairs facilities offer specialized, comprehensive women's health clinics, says the IAVA report, and the VA is also suffering dire shortages of qualified women's health and mental health providers. That's a tragedy.
This is why I'm so glad that there are hands reaching out to help women veterans everywhere. Earlier this year, I spoke to Stephanie Moles, the founder of a group called Grace After Fire, which offers peer support for women veterans through a 24/7 hotline that allows them to connect with each other -- veteran to veteran. Stephanie originally began the organization as an online group for women in some kind of recovery, but when she discovered that nearly 40 percent of the women using it were veterans, she quickly reorganized and Grace After Fire was born.

"The mission of Grace After Fire is to protect the women," Stephanie told me. "It's to make sure they know that this is a safe place where they can come and be who they are, and then give them that opportunity to renew."

That's the motto of Grace After Fire, in fact: "Protect. Connect. Renew." Not a bad motto for anyone to follow, really, but it seems particularly important as we celebrate all of our nation's veterans this week, for risking their lives, their homes, their careers and sometimes even their families to keep our home front free.
"All of our troops, whether male or female -- and all of their families, regardless of their composition -- are sacrificing for America and deserve our support," says Kathy Roth-Douquet, CEO of Blue Star Families, a national organization of military families of all ranks and services, including National Guards and Reserves. "So it's especially valuable to see that we've begun to shine a spotlight on our women veterans and others who we don't as readily see. That's the way it should be."
Happy Veterans Day, America. To all our active-duty solders, we pray for your safety and honor your service. And to all our vets -- thank you. We're glad you're home.

REAL LIFE. REAL NEWS. REAL VOICES.
Help us tell more of the stories that matter from voices that too often remain unheard.