Animal shelters aren't ideal environments for dogs. Oftentimes, they can be noisy, stressful and isolating.
But some shelters across the country are helping pups get a taste of what a typical home can feel like. These facilities give their dogs time in "real-life rooms" (RLRs for short), which are spaces set up to look like rooms in a house. The RLRs help ease the dogs' transition into a more normal living environment.
In Madison, New Jersey, the behavioral rehab center for the American Society for the Prevention of Cruelty to Animals has four RLR's. The areas are modeled after living rooms and bedrooms.
The Toledo Area Humane Society, a shelter in Maumee, Ohio, opened an RLR of its own a few weeks ago. Jessica LaValley, spokesperson for the group, shared with The Huffington Post details about the new room's usefulness.
"The Real Life Room's most notable benefit is the opportunity for dogs to relax in a natural environment," she said.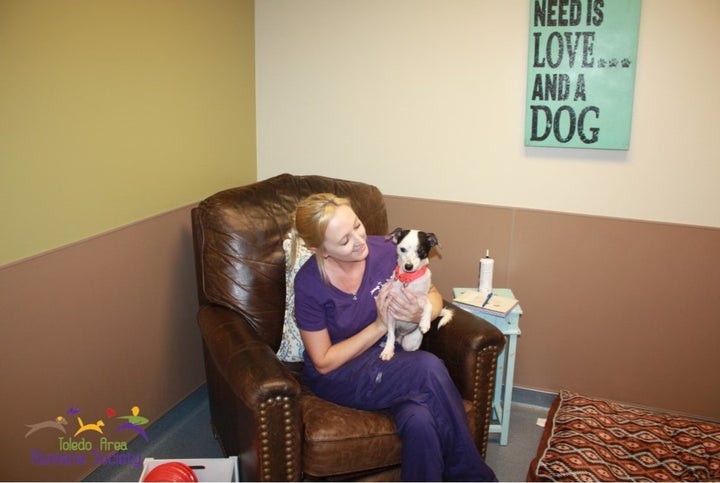 Most shelters have at least a few dogs, and they are often housed in individual enclosures and surrounded by noise and barking. Such an environment can prove tough for canines.
"It's very common for dogs to become anxious in a kennel environment ― anxious and frustrated and bored," Collins, who's also an animal behaviorist, told HuffPost. "Although we can try to meet their needs, a dog is meant to be in a home environment."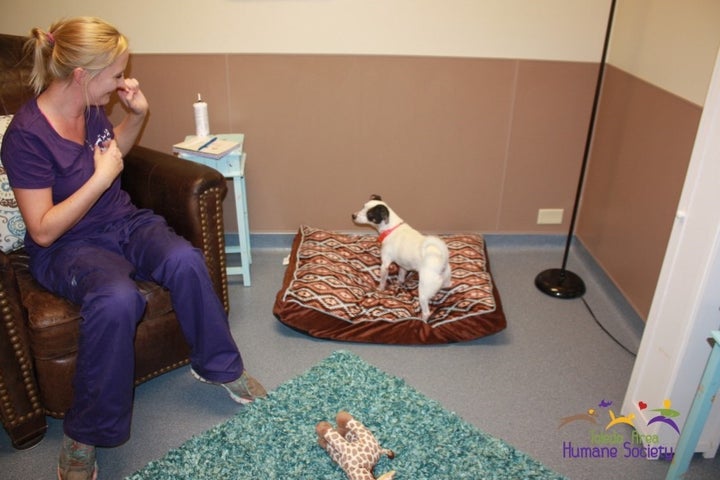 That's where the RLRs come in. These spaces gives the dogs an escape, however briefly, from the din of the kennel room and the confines of their cages.
"It is a special safe haven," LaValley said.
At the Toledo Area Humane Society, the RLR includes items you might recognize from your own living room: a recliner, a rug, a box of dog toys, a television and a lamp, along with other items.
"The lamp is particularly important because it allows the dogs to get out of the bright lighting in the kennel room and enjoy natural home lighting," LaValley explained.
The ASPCA's behavioral center, which works with dogs rescued from puppy mills, hoarders and cases of cruelty and neglect, uses its RLRs in part to get the dogs acclimated to typical household items, which many of the center's animals have never encountered. This way, the items won't be frightening to the canines, Collins said.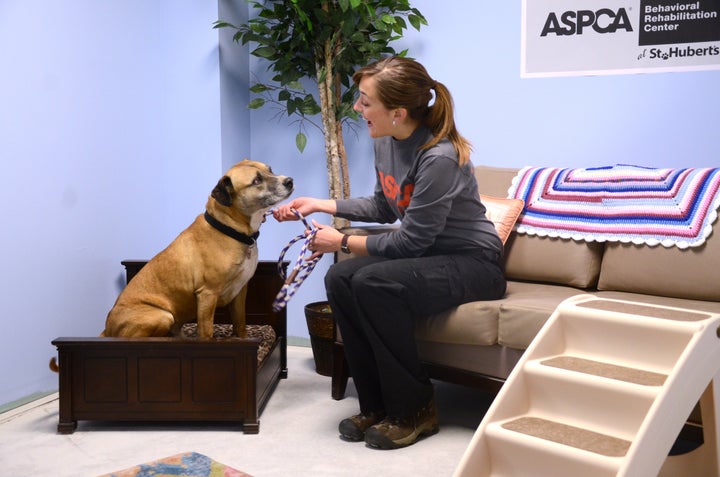 RLRs help shelter staff rehabilitate dogs who have anxiety issues and gain a better understanding of how the animals might behave once they're with their new families, LaValley explained to HuffPost. Because of that, the Toledo Area Humane Society suspects its RLR will assist in reducing the number of animals returned to the shelter.
LaValley says that her organization has already seen some success with its new RLR.
"We have had animals that were able to meet potential adopters after their time in the Real Life Room and go home that same day!" she told HuffPost.
Related
Popular in the Community