Part II interview with comic book writer genius Martin Powell as the new film Sherlock Holmes: A Game of Shadows is just released! To find Part I please click here.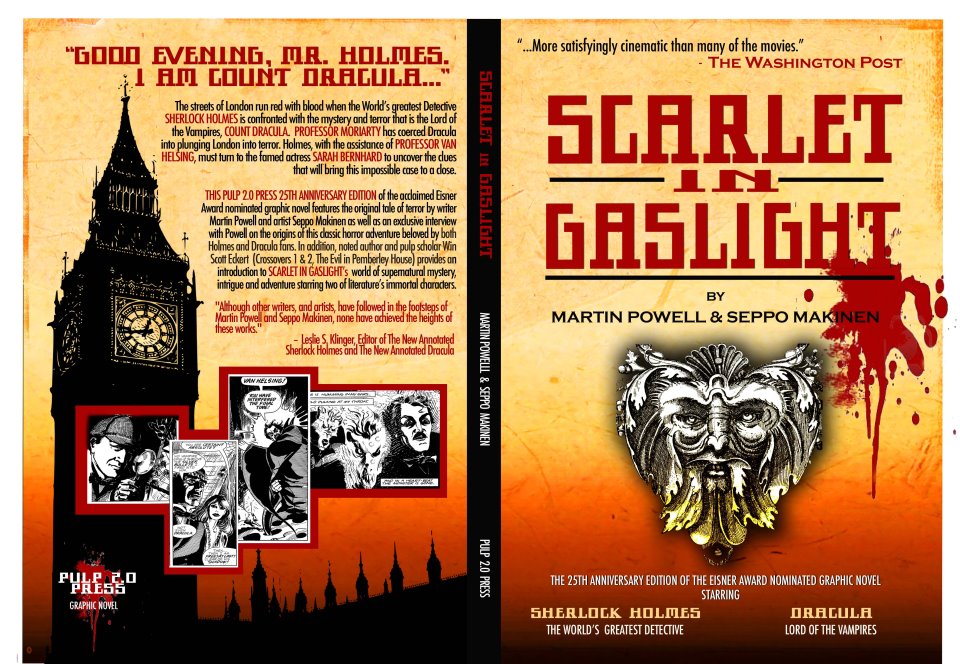 Alexandra Holzer: Congratulations on the new release of your 25th Anniversary Edition of Scarlet in Gaslight! How has that been going for you?
MARTIN POWELL: Thank you. It's been wildly gratifying for me, to say the least. When the book was first published, twenty-five years ago, I never dreamed it would last so long. Who could know? I remember hoping I would catch a bit of attention, at most, and then I moved on to the next project. After all, Scarlet in Gaslight took almost two years to find a publisher, so hardly felt as if I had a hit on my hands. Still, it was an important story for me, being the first thing of any length and significance I ever attempted. Ultimately, of course, it was published and it worked out better than I could ever have hoped, selling out its original print run, and receiving an Eisner Award nomination, and was even very favorably reviewed in the Washington Post just this past year. Although I'm passionate about the book, I was more surprised than anyone that it ended up making my career, professionally, and has remained in print all these years. By the way, I want to express a special thanks to Pulp 2.0 Press, who restored the pages with artist Seppo Makinen, and added cool new special features which has made this volume the definitive edition of the book. They've really given Scarlet in Gaslight the star treatment. It looks gorgeous.
AH: I understand that this book has a bit in common with the new Sherlock Holmes film opening today in theaters. Can you explain a bit about that?
MP: Well, although both the new film and my book feature Sir Arthur Conan Doyle's famous detective, I'm really not sure at this point what else they may share in common--as I haven't yet seen the new movie. I understand Professor Moriarty, Holmes' arch-nemesis, is in this film and he plays a major role in Scarlet in Gaslight, too. Beyond that, I'm not certain about any other similarities. We'll have to wait and see. It's exciting to see a resurgence of popular interest in Sherlock Holmes again, that's for certain, although he's never really ever gone away.
AH: In closing, being that this graphic novel which pits "The World's Greatest Detective, Sherlock Holmes against Count Dracula, the Lord of the Vampires, is amazing in its own right, do you see more series like this in the future, maybe for television?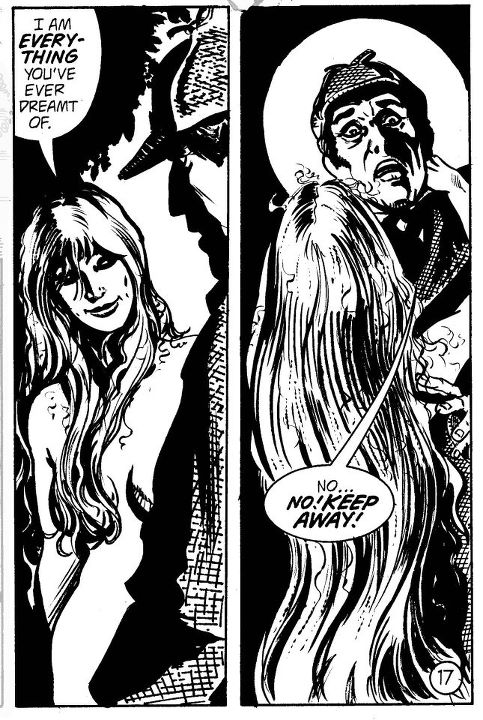 MP: I have written nine other Sherlock Holmes adventures over the years, and just finished my interpretation of The Hound of the Baskervilles as a graphic novel for Sequential Pulp/Dark Horse Comics. I've had several other Dracula tales published, too. All of these will be getting their own new editions in 2012 and for some time to come. Regarding Scarlet in Gaslight itself, there will be merchandise soon, too, t-shirts and the like, and I would very much like to see a film come from it. When I originally wrote the book, I did it as a sort of tribute to the British Hammer Studios horror movies, which I love. I constructed the mystery-adventure like a screenplay, which is one of the reasons it's so visual. I longed to see such a movie when I was in my teens, which partially influenced my writing years later. Although there have been such things since from other writers and artists, Seppo and I were the first to present Sherlock Holmes and Count Dracula together in comics. It seems inevitable one day such a film will be produced, and obviously I hope Scarlet in Gaslight is the one which makes it to the screen. For now, I'm thrilled the book has been released in such an elegant new package. It's my own early Christmas present.
To find this graphics novel for purchasing, please go here.
Popular in the Community